Random Morning Thoughts

I was talking yesterday about how our joy at being here in the Gorge fades over time. Something similar came up while I was windsurfing yesterday. I looked down at my feet to watch the wake (and rainbows) I was creating, and the change in perspective shifted my mind back to the first time I'd planed on a windsurfer. And suddenly, windsurfing was a lot more fun! I had no preconceived notions of what I could or couldn't do, and I became more playful on the water.
Over time, we fall into ruts, both in life and in our playtime, and if we want to keep the stoke at maximum level, it's important to keep a spirit of adventure when we go play. The Japanese call this "Shoshin", Beginner's Mind. "It refers to having an attitude of openness, eagerness, and lack of preconceptions when studying a subject, even when studying at an advanced level, just as a beginner in that subject would." (thanks, Wikipedia, for the quote)
Try it next time you're out shredding. See if you can convince yourself that this is the first time you've been planing on a kite or windsurfer. Pretend this is your first jibe, your first reach, your first good ramp, and of course, the first unicorn (breaking wave) you've ridden and the first rainbow you've seen. If you can disconnect the layers of expectations from your shred-sesh, you might just be surprised at what you can accomplish.

Thank you for using this forecast! Please donate to support it!
Thank you to everyone for using this forecast. Does it save you time, gas money, or help you find more wind, powder, or just plain fun stuff to do? Please consider making a donation to keep it going! Use it here for free or make a donation and get on the mailing list for wind for the summer and Mt. Hood snow in the winter. It's not $99/year. Not $50/year. No, just $12.34 or more gets you on the list for 12 months. Do it via PayPal/CC by clicking on my happy photo below. Don't PayPal? You can send a check to Temira @ PO Box 841 in Hood River. Thank you for your support, and thank you for trusting my forecast. You guys mean the world to me.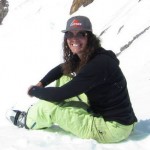 ---
Gorge Wind
We're starting off with another partly cloudy morning with lots of lenticular clouds and a marine layer starting near Viento. There was probably a pretty sunrise that I (but possibly not you) missed. The 6am gradients were .09 (pdx-dls) and .10 (dls-psc), and those gradients were reflected in the wind speeds on the river: teens in the west and low twenties east of The Dalles.
As the desert heats up today, we'll see the wind pick up again to gusty 23-26 near Hood River with 26-30 from Lyle to Rufus, picking up further to 28-32 from Doug's to Rufus by mid-afternoon. Arlington will see 23-26. Today's monkey wrench in the system is yet another weak weather system headed our way. When this happens, most of the time (but not all of the time), we'll see not-so-good wind from Stevenson to Doug's with steadier conditions further east. So keep that in mind for your windsporting today.
Tomorrow brings a very complicated weather pattern as a weak upper low moves into place along the coast in the afternoon. We'll start our Thursday with 16-19 through much of the Gorge, picking up to gusty 26-30 in the afternoon from Swell to Rufus.
Friday sees a low pressure system over the PNW with a chance of showers. Wind will be 13-16 or so early with gusty 23-26 in the afternoon. At this point, it looks like the coast will have a better shot at wind this weekend than the Gorge will, with models predicting light gradients across the Cascades and big north-south gradients at the coast. But that, of course, is a long ways out and could change.
Today at the coast, you'll see (north/central/south): light/10-15/30, NW swell 5-6'@11 seconds. Tomorrow: light/light/20-25, W swell 5'@9 seconds. Friday: light/light/25-30, W swell 5'@10 seconds.

Today's Gorge Wind – these are ranges for the average speed, not a predicted wind range. =)

Your favorite beach
Dawn
Patrol
9am-
11:30a
11:30a-
3pm
3pm-
dusk
Rooster's Rocks
it's
cloudy
there
now
Steven's Locks
light
5-10
10-13
15-18
Hatchery/White Salmon Sandbar (minus a few for Hood River)
8-12
gusty
16-19
gusty
23-26
gusty
25-29
Doug's, etc.
10-15
20-23
26-30
26-30
Rufus, etc.
18-22
22-25
26-30
28-32
Roosevelt, etc.
10-15
15-18
23-26
23-26
Temira's sail: 35-40: 2.9 / 30-35: 3.2 / 26-30: 3.5
23-26: 4.0 / 20-23: 4.5 less than 20: something bigger!
Tonia's kite: 35-40: 4m / 30-35: 4-6m / 26-30: 5-7m
23-26: 7-9m / 20-23: 8-10 / 15-20: 10-12 / 10-15: 13-15.
Advertising Worth Reading
Hood River Adventures: fishing tours, mountain bike shuttles, brewery and winery tours

Hood River Adventures is a local company owned by Drew Scharns, master guide specializing in fishing tours, mountain bike shuttles, and well as brewery and winery tours. Biologists predict this is going to be the biggest salmon run since 1938. Get some of it: Spend a day with Drew on the Columbia fishing for salmon, steelhead, and sturgeon or try fly fishing on the Klickitat. Feeling active? Head to the trails for shuttle laps with end-of-day car retrieval. Want to taste the local libations? Take a brewery or winery tour with HRA: no more arguments over who's going to be the designated driver – that's Drew's job! (541)4zero0-1216 hoodriveradventures.com
Gorge Weather
If you looked out your window this morning, you saw partly cloudy conditions. That will likely continue today. Temps will be in the low 60's this morning and the upper 70's this afternoon. Tomorrow looks mostly clear with temps in the upper 50's early and upper 70's in the afternoon. Friday looks partly to mostly cloudy with a slight chance of showers and a 19% chance of rainbows. Temps on Friday will be in the mid 50's early and mid 70's in the afternoon.

White Sprinter Van of the Day – Baby White Sprinter Vans Hoping to be Adopted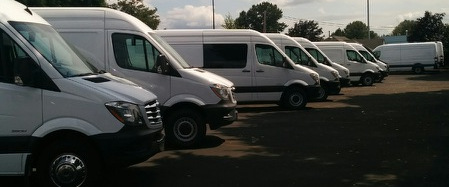 Road and Mountain Biking
It's nice and cool outside with light wind, a perfect morning for either a road bike ride or a mountain bike ride. The wind and temps will pick up later today, so ride early if you can.


The Clymb: free membership. Cheap gear.
Temira approves. Click to join.
River Levels / Cheezburger update
The John Day Dam is reading 101-106kcfs. The Dalles Dam is putting out 107kcfs. The White Salmon is around 2′. If you plan on running the White Salmon yourself, remember that there is a riverwide log about 150 yards below Cave Wave. The Columbia River is 72 degrees. I have not heard from Cheezburger since he told me he saw a snowy owl at his house.

Events – email me if I've missed any outdoor-related events
Tonight's a fun night in the Gorge. If you have kids, take them to Family Man in Post Canyon for families at Family man with snacks and pizza. There's free Tai Chi at Wilson Park in Hood River at 5:30, there's sailboat racing at the Hood River Marina tonight, you can play pickup ultimate frisbee at May Street Elementary in Hood River at 6, there's a track workout in Stevenson at 6, and there's ping pong at the Hood River Armory at 6:30.
Coming up this weekend, the best standup paddlers in the world will be here for the Naish Columbia Gorge Paddle Challenge. The best young paddler, Kai Lenny will be teaching a kids SUP clinic on Friday – give Big Winds a call for details. Finally, Saturday is the Bigfoot Bash and Bounty in Home Valley.
Have an awesome day today!
Temira