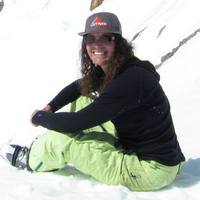 Hello. I'm Temira Amelia Lital, designer of this website and the writer behind the Mt. Hood snow forecast and the Gorge wind forecast. Welcome! I suspect you'll find more fun in your world by using the information you find here. Now, a little more about me…
I fell in love with skiing when I was ten, windsurfing when I was thirteen, and snowboarding when I was sixteen. My love for windsurfing landed me at Reed College in Portland, just an hour from the Gorge, in the early 90's, and then my love of Japanese and Aikido drew me to the University of Washington for the next few years. I spent my weekends driving to Hood River, and quickly realized that it made more sense to move to the Gorge. In 1997, I built a bed in the back of my Toyota 4-Runner and moved to Hood River to chase the wind.
Windsurfing took me to Maui for six winters, it brought endless joy to my world, and it introduced me to a huge network of people who shared my love of the sport. My desire to windsurf more drove me to learn to forecast. With the help of former radio star Bingen Bart, I started writing forecasts for a few friends. Within a year, my email list had, without any intent on my part, grown to a couple hundred, I had a daily spot on the radio, and Mt. Hood Meadows had chased me down to record their snowphones and write their snow report.
Somewhere in there I decided to start a website, this website. Where did "The Gorge is my Gym" come from? A friend asked me one November, "What gym are you joining this winter?" My reply, "I'm not joining a f**king gym… the Gorge is my gym." She and I stared at each other for a moment, and I ran home to buy the domain name.
So here we are. You want to ride your bike or windsurf or ski or snowboard or row your boat or do anything that requires an accurate forecast. I'm here to give it to you, because helping you find more fun in your world brings me great joy. I love thinking of all my readers being happier because I've helped them find good wind, great snow, or a fantastic ride.
Thanks for using this website. If you find it useful and would like to make a donation, you can do so by clicking here. Your donations support my pursuit of a Master's in clinical mental health counseling at Portland State University. And yes, the forecast and website will continue into the future. I love counseling, and I love forecasting. Thank you for support, and have a great time using the Gorge as your gym.
Have an awesome day today!
Temira Amelia Lital, twomirrors@gmail.com
---
Published Articles
The Art of Finding Sponsors and Keeping Them
Women's Windsurfing Competition
The Inversion
Why Learn New Moves?
Broughton Landing: Windsurfers' Bane or Jewel?
Article about Sean Aiken for Windsurfing Magazine – Windsurfing Magazine
Call of the Wind: The Windsurfing Lifestyle – Windsurfing Magazine
Sports in Tsuruta, Japan – The Hood River News
Where to Play When in the Gorge – Gorge Guide
Helmets, a Smart Choice – Windsport Magazine
A Week in the Life of a Cultural Ambassador to Japan – The Hood River News
Japanese Culture from the eyes of a Gaijin – The Hood River News
Japanese Schools for American Laymen – The Hood River News
How I Ended up Windsurfing Japan – Windsurfing Magazine
The Snow Burial of Tsuruta – The Hood River News