Random Morning Thoughts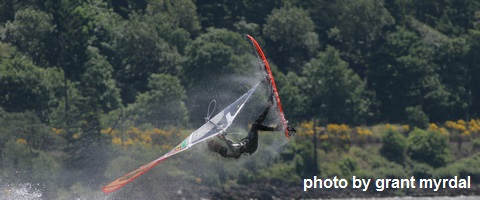 My friends Kyle and Nicole headed back to Seattle yesterday afternoon, and my friend Wayne headed back to Canada last week, and the week before that my friends Liela and Michael headed back to Michigan. And this morning I'm missing all of them, and that has me thinking about the end of summer and how empty and wistful the Gorge feels after Labor Day.
Locals spend the summer complaining about the traffic and crowds (as locals will anywhere, of course!), but there's a very happy vibe that goes along with the crowds. It's the vibe of people escaping the work-world worries. It's the vibe of people doing the things they love to do, whether that's kiting, windsurfing, kayaking, walking around a new place, eating ice cream from Mike's, or chowing down waffles and fried chicken with gravy at Nora's. Anyway, my point is that the Hood River vibe in summer is happiness incarnate. And when the people experiencing all that joy start leaving, our town has a little less excitement, a little less joy, and a little less color.
So maybe it's time for us locals to remind ourselves what an awesome place we live in. Maybe it's time for us to recreate and re-experience the joy that convinced us to move here in the first place. Damnit, people, you live in one of the most awesome places on the entire planet. Be happy about it! And now I'm going to be sad because I miss my friends. And then I'm going to go shred some ripping wind and have an awesome time doing it!

Thank you for using this forecast! Please donate to support it!
Thank you to everyone for using this forecast. Does it save you time, gas money, or help you find more wind, powder, or just plain fun stuff to do? Please consider making a donation to keep it going! Use it here for free or make a donation and get on the mailing list for wind for the summer and Mt. Hood snow in the winter. It's not $99/year. Not $50/year. No, just $12.34 or more gets you on the list for 12 months. Do it via PayPal/CC by clicking on my happy photo below. Don't PayPal? You can send a check to Temira @ PO Box 841 in Hood River. Thank you for your support, and thank you for trusting my forecast. You guys mean the world to me.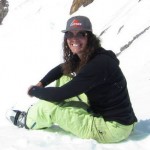 ---
Gorge Wind
It's going to be a windy day in the Gorge today. Heck, it was already a windy day when my alarm went off at 6am, telling me I'd had 81% sleep quality last night. The 6am gradients (which I looked at after a cup of iced coffee) were .11 (pdx-dls) and .03 (dls-psc), and those gradients are slated to increase as a weak weather system moves through. So, expect gusty, up-and-down 23-26 early this morning at Swell, picking up to much better 28-32 by late morning from Swell to Mosier as this weak weather system clears the Gorge. Rowena (etc) and Rufus (etc) will fill in by early afternoon. Roosevelt should also join the 28-32 fun mid-afternoon. Stevenson will eventually hit the mid 20's today. If you need something to do after you get off the water today, swing by Big Winds for a talk by waterman Dave Kalama at 5pm.
Tomorrow starts with 22-25 from Swell eastward, possibly all the way to Arlington. The wind will back off at the far-east beaches by late morning and pick up to 28-32 from Swell to Rufus.
Thursday starts with 23-26 and picks up to 26-30, probably strongest near Hood River. Friday looks a little bit lighter.
One thing to note: there will be several weak weather systems moving through over the next three days, and those will have an impact on both wind speed and quality. So expect some gusty periods, some up-and-down periods, and also some just-plain-awesome sessions.
Out on the coast, you can expect this today (north/central/south): light/5-10/25-30, NW swell 6'@7 seconds. Tomorrow: light/10-15/25-30, NW swell 5'@9 seconds. Thursday: light/light/20-30, W swell 4'@10 seconds.

Today's Gorge Wind – these are ranges for the average speed, not a predicted wind range. =)

Your favorite beach
Dawn
Patrol
9am-
11:30a
11:30a-
3pm
3pm-
dusk
Rooster's Rocks
sandblast
your
pale
parts
Steven's Locks
8-11
15-18
18-23
23-26
Hatchery/White Salmon Sandbar (minus a few for Hood River)
gusty
23-26
24-28
28-32
23-27
Doug's, etc.
10-15
20-23
26-30
28-32
Rufus, etc.
10-15
20-23
28-32
28-32
Roosevelt, etc.
10-15
15-18
22-25
28-32
Temira's sail: 35-40: 2.9 / 30-35: 3.2 / 26-30: 3.5
23-26: 4.0 / 20-23: 4.5 less than 20: something bigger!
Tonia's kite: 35-40: 4m / 30-35: 4-6m / 26-30: 5-7m
23-26: 7-9m / 20-23: 8-10 / 15-20: 10-12 / 10-15: 13-15.
Advertising Worth Reading
Hood River Adventures: fishing tours, mountain bike shuttles, brewery and winery tours

Hood River Adventures is a local company owned by Drew Scharns, master guide specializing in fishing tours, mountain bike shuttles, and well as brewery and winery tours. Biologists predict this is going to be the biggest salmon run since 1938. Get some of it: Spend a day with Drew on the Columbia fishing for salmon, steelhead, and sturgeon or try fly fishing on the Klickitat. Feeling active? Head to the trails for shuttle laps with end-of-day car retrieval. Want to taste the local libations? Take a brewery or winery tour with HRA: no more arguments over who's going to be the designated driver – that's Drew's job! (541)4zero0-1216 hoodriveradventures.com
Gorge Weather
We all woke up to partly cloudy sky this morning in the wake of a passing weak cold front. As the clouds move eastward, the sky will clear, leaving us with a sunny day in Hood River. Temps will be in the low 70's (and muggy) early with highs right around 80, thankfully 10 degrees cooler than yesterday. Expect a mostly sunny day tomorrow with a few high clouds. Temps will be in the mid 50's early and low 70's in the afternoon. Thursday looks just like Wednesday.

Love Sees No Color – White Sprinter Vans of the Day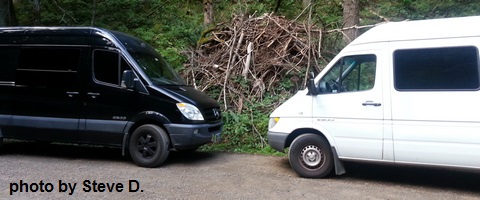 Road and Mountain Biking
You could go for a bike ride this morning, and it would be nice and cool, but it's already windy, so getting on the water is probably a better choice. You can ride any day you want. But you can only windsport when it's windy.


The Clymb: free membership. Cheap gear.
Temira approves. Click to join.
River Levels / Cheezburger update
The John Day Dam is reading 111-133kcfs. The Dalles Dam is putting out 114kcfs. The White Salmon is around 2′. If you plan on running the White Salmon yourself, remember that there is a riverwide log about 150 yards below Cave Wave. The Columbia River is 72 degrees. I have not heard from Cheezburger in a few days.

Events – email me if I've missed any outdoor-related events
In events tonight, the Hood River Triathlon Club has tri practice at Mayer park at 6:15. Beginners are welcome – be ready to go by 6 if it's your first time. There's a downriver kayak race at Husum at 6:30 tonight, there's free outdoor music at the Ruins starting at 5 (free and all ages before 7pm, $3 and 21+ after 7pm), and there's pickup rugby at the Hood River Marina at 5:30.
Tomorrow night is very busy: there's sailboat racing at the Hood River Marina, free Tai Chi at Wilson Park at 5:30, the Post n' Pinot women's mountain bike ride (free glass of wine or pint of beer if you finish) at 5:30 at Dirty Fingers, a track workout with the Columbia Gorge Running Club in Stevenson at 6pm, and ping pong at the Hood River armory at 6:30pm.
Coming up this weekend, there's the Naish Gorge Paddle Challenge, sailboat racing in Cascade Locks, and the Bigfoot Bash and Bounty in Home Valley.
And finally, one last thing – if you want to meet world-famous waterman Dave Kalama, he'll be at Big Winds tonight at 5pm.
Have an awesome day today!
Temira