Please support this forecast by clicking on the photo of the forecaster!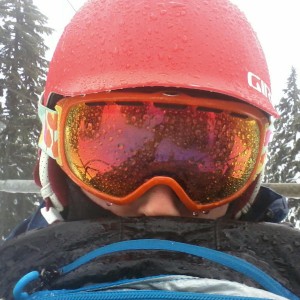 Your forecaster. Click on her to donate. Thank you!
Thank you for using this forecast. Please tell your friends about it! And if you or your friends think this service is awesome/useful/saves you gas money/makes your life more fun, make a donation by clicking on my photo above. Is more fun worth $50/year? $20/year? Donate what it's worth to you (and thank you!), but $12 minimum gets you on the email list (with occasional giveaways) for a year. Thank you for your support, and have fun today!
Random Morning Thoughts
There's nothing like the feeling when someone you completely respect gives you a fist pump for something big you are considering doing.
Mt. Hood Snow Forecast – 5000′

4a-8a
8a-12p
12p-4p
4p-8p
8p-4a
Wednesday
Thursday
Friday
Mt. Hood Snow Forecast
It's rain-not-snow this morning on Mt. Hood. The snow level today will be 6500′ until 4pm, when it will drop just a bit to 6000′ and then fall to 5500′ around 1am. We'll see ~2" of rain between 7am and 4pm, followed by a bit of a break, with increasing precip 10pm-4am Thursday for another .6-.8" WV rain switching to snow, for 3-6" of new, depending on when the switch happens. Wind today will be WSW 50 early, dropping to 40 in the afternoon and increasing to SW 50 overnight.
Thursday starts off with snow flurries, becoming clear mid-morning with clouds moving in mid-afternoon and rain starting after midnight. The snow level will be 3000′ for much of the day, rising to 6000′ around 10pm and 7000′ around 1am. We'll get around 1.5" WV between midnight Thursday and 4am Friday, and that will fall as rain. Wind will be WSW 45 early, becoming W 35 midday and dropping to SW 20 in the afternoon as the next system approaches. The wind will pick up to SW 45 overnight.
Friday starts very, very rainy, switching to snowy, with 2" water value falling between 4am and 4pm. The snow level will be 8000′ early, 6500′ at 7am, 4500′ at 10am, and 3500′ at 1pm, holding overnight. It's hard to make a good prediction this far out, but it looks like we'll see a lot of rain followed by some snow. How many inches of snow is hard to say at this point. Wind will be SW 55 for much of the day, becoming W 50 early afternoon, and fading to SW 25 in the evening.
At this point, Saturday looks warm and rainy, Saturday night looks cold and very snowy, and Sunday looks cold and snowy followed by warm and rainy. But that's a long way out to be predicting details, despite unusual agreement across the models. Please wear a helmet this week to protect yourself from falling pineapples during the Pineapple Express.
Gorge Weather
Today's going to be a rainy day, with the rain decreasing a bit after noon. Temps will be in the mid-30's in the morning, rising to the low 40's this afternoon. Tomorrow looks partly cloudy with a chance of a few sprinkles with temps in the upper 30's early and low 40's late. Rain increases late Thursday night. Friday will be very wet until the afternoon, when the rain will taper off. Temps will be in the mid-40's Friday. Saturday starts off dry, but quickly becomes rainy.
Gorge Wind Forecast
Over the next few days, we'll have a bunch of weather systems moving through. That's going to give us west wind in the Gorge. Unfortunately, it's not going to be great wind – we really need weather systems followed by offshore high pressure for that, and all we have is weather systems lined up one after another. So, expect some gusty westerlies at 23-26 this morning, with a little more out east, fading this afternoon. Repeat that pattern tomorrow. Repeat it with a little stronger and longer-lasting wind on Friday.
Road and Mountain Biking
I had an EPIC session on my trainer yesterday.
The Clymb: free membership. Cheap gear. Temira approves. Click to join.
Events – email me if I've missed any outdoor-related events
There's Karma Yoga (free or by donation) at Flow tonight at 4pm. There's ping pong ($5) at the Hood River Armory at 6:30pm.
Have an awesome day today!
Temira