Please support this forecast by clicking on the photo of the forecaster!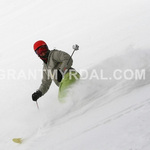 Your forecaster. Click on her to donate. Thank you!
Thank you for using this forecast. Please tell your friends about it! And if you or your friends think this service is awesome/useful/saves you gas money/makes your life more fun, make a donation by clicking on my photo above. Is more fun worth $50/year? $20/year? Donate what it's worth to you (and thank you!), but $12 minimum gets you on the email list (with occasional giveaways) for a year. Thank you for your support, and have fun today!
Random Morning Thoughts
I went skiing in the Gorge again yesterday. It was, despite the heavy, wet snow and the freezing rain falling on my head, another magical Gorge skiing experience.
Mt. Hood Snow Forecast – 5000′

4a-8a
8a-12p
12p-4p
4p-8p
8p-4a
Tuesday
Wednesday
Thursday
Mt. Hood Snow Forecast
It's dumping snow on Mt. Hood this morning. And that's a good start to the forecast, but I want to digress a bit, because I just took a look at the Northwest River Forecast Center's 10 day precip model. Now, you're well aware of how I feel about long-range models, but this model is currently showing approximately 13" of water value falling on Mt. Hood in the next 10 days. That will alternate between rain and snow, but it's going to do a lot for our snowpack totals.
Expect a wild week on Mt. Hood. Today starts with snow. The snow level will be 4000′ early, 5500′ at 7pm, and 9000′ around midnight. We'll see decreasing snow flurries this morning for .1-.2" water value and 1-2" more snow before 4pm, with increasing precip after 4pm, for 1.5-2" WV overnight. We'll likely see 2-4" of snow before we see a switch to rain. Then we'll see 1.5"+ of rain overnight. Wind today will be W 35 early, dropping to W 20 midday. Then we'll see the wind ramp up out of the SW, slowly climbing to SW 45 around 10pm and WSW 60 by 1am.
Wednesday morning starts with the snow level around 8000′, dropping to 7000′ mid-morning and finally falling to 5500′ by 10pm. We'll see 2" or so WV fall as rain before 4pm. Then we'll see a break in the weather, followed by increasing snow mixed with rain after 10pm, for .4-.6" WV and 2-4" of new snow by Thursday morning. Wind on Wednesday will be a most difficult W 60 early, dropping to W 45 mid-morning and becoming WSW 45-50 in the afternoon and evening.
Thursday sees the snow level fall to 3000′ by 4am and then rise to 4500′ at 4pm, 5500′ at 7pm, and somewhere around 6500-7000′ overnight. It actually looks partly cloudy with sunbreaks during the day on Thursday before the next system moves in during the afternoon. When the next system moves in around 7pm, it will likely hit as rain, 1" or so of it. Wind Thursday will be W 40 early, dropping through the day to W 20, and becoming SW 30 overnight.
Friday is a little far out to be predicting the exact timing of things, but as of now, it looks like Friday will start with massive rain and then switch mid-morning to massive snowfall with strong wind.
Gorge Weather
Well, this is annoying. It was 31 degrees and pouring rain at my house in Hood River when I woke up this morning. I thought for sure we were done with this when the roads thawed and the temps climbed above freezing yesterday. With no forecast of increasing west gradient today, we're waiting for the power of the sun and an incoming warm front to scour the rest of this cold air. Hurry up, sun. Hurry up, warm front.
Models are not handling this at all. So, expect a slow warmup to the upper 30's this afternoon with decreasing rain during the day picking up to a torrential downpour after 7pm tonight. Make sure your storm drains are clear of snow.
Temps will be in the mid-40's tomorrow morning in the Gorge, rising to near 50 in the afternoon with torrential rain falling during the day, with a chance of partly cloudy sky mid-afternoon, with lighter rain falling overnight.
Thursday starts off with temps in the low 40's, rising to the upper 40's in the afternoon. It will be partly cloudy during the day, with rain starting again in the evening. At this point, it looks like we'll see massive amounts of rain again on Friday into Saturday.
Gorge Wind Forecast
We have a W .02 gradient this morning, which apparently isn't enough to scour out the cold air, and that's not going to increase today. We'll see a switch to light east this afternoon as the next low pressure system approaches the coast. As the system passes tonight, we'll see west wind at 24-28 tomorrow morning, fading to 15-18 in the afternoon. Another system swings through tomorrow, giving us west wind at 26-30 on Thursday morning, fading quickly.
Road and Mountain Biking
My friend Morgan wanted me to come over and ride bike trainer in the garage with him yesterday. Instead I made him go skinning at Super Secret Spot #1 in the Gorge. The snow was heavy, but the slope was fantastic, with no rocks and a continuous line down. It was so much fun that we made two laps despite the freezing rain.
The Clymb: free membership. Cheap gear. Temira approves. Click to join.
Events – email me if I've missed any outdoor-related events
The rugby people will be playing rugby in the wet snow tonight at Collins Field at 5:30. The kayakers will be playing polo in the wet pool tonight at 8pm. And Cebu will be serving up moist $12 prime rib in the warm and cozy bar tonight from 5pm-9pm.
Have an awesome day today!
Temira