Please support this forecast by clicking on the photo of the forecaster!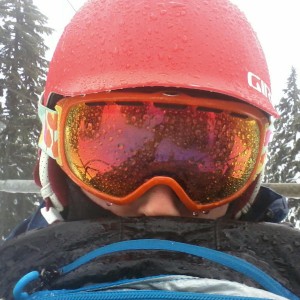 Your forecaster. Click on her to donate. Thank you!
Thank you for using this forecast. Please tell your friends about it! And if you or your friends think this service is awesome/useful/saves you gas money/makes your life more fun, make a donation by clicking on my photo above. Is more fun worth $50/year? $20/year? Donate what it's worth to you (and thank you!), but $12 minimum gets you on the email list (with occasional giveaways) for a year. Thank you for your support, and have fun today!
Random Morning Thoughts
Sounds like I-84 eastbound is going to be closed for a while due to a rock slide. Actually, there are two slides, one near Troutdale and one near Hood River. Glad to hear that the driver caught in the slide is okay, at least physically. I wish him all the best dealing with the PTSD. Scary. From NOAA this morning: "IF YOU ARE PLANNING ON ANY OUTDOOR RECREATIONAL ACTIVITIES…PLEASE BE AWARE AND TRY TO AVOID SLIDE PRONE AREAS SUCH AS STEEP NATURAL SLOPES OR SPOTS BELOW CLIFFS OR HILLS WITH ROCK OUTCROPS."
Mt. Hood Snow Forecast – 5000′

4a-8a
8a-12p
12p-4p
4p-8p
8p-4a
Thursday
Friday
Saturday
Mt. Hood Snow Forecast
This is a bit of a tricky forecast, with Pineapple-Express moisture feeding systems with rapidly rising and falling snow levels. The general forecast is heavy rain alternating with periods of snow through Tuesday.
We'll start with light snow on Mt. Hood this morning with the snow level around 4000′ early, rising to 6000′ after 10pm. Around .1-.2" water value (WV) falls before 4pm, for 1-2" of snow. The next system hits around 1am Friday with 1" WV falling as rain by 4am Friday. Wind today will be W 40 early, W 25 midday, becoming SW 20 in the late evening.
Friday starts with rain as the snow level sits at 7000′ at 4am. We'll see the snow level drop to 6000′ at 7am, and then fall to 4500′ around 10am and 3500′ around 1pm, holding through Saturday morning. Mt. Hood gets around 1.5" additional rain Friday morning before the snow level drops. After the switch to snow, we'll see (geez these are tough calls) .2-.6" WV, for 2-6" of new snow by 4pm, when we'll see partly cloudy sky. Wind will be WSW 50 early, becoming W 50 as the front passes mid-morning. We'll see the wind switch to W mid-afternoon, and fall to SW 20 overnight.
Saturday morning starts off partly cloudy, quickly becoming cloudy, with precip starting around 7am. The snow level will be at 4000′ early, quickly rising to 6500′ late morning and 7000′ mid-afternoon. As that system moves through, we'll see the snow level fall to 5500′ Saturday evening, 2500′ overnight, and 1500′ Sunday morning. We'll see a couple or a few inches of snow Saturday morning before the snow switches to rain. During the day Saturday, Mt. Hood will receive 1"-2" of rain. After the snow level drops around 7pm, we'll get approximately .6" WV, for 4-6" of snow by Sunday morning. Wind Saturday will be SW 15 early, rising to SW 50 early afternoon, and holding through Sunday morning.
We'll see flurries, maybe even accumulating snow from terrain effects, during the day Sunday. The next system hits Sunday night into Monday. It's too early to make a call on that system – right now it looks very, very, very wet with borderline temps.
Gorge Weather
It's a wet morning in the Gorge, but we should see sunbreaks midday with increasing clouds after 4pm. Temps will be in the upper 40's today. Rain starts after midnight. Tomorrow looks very rainy during the morning with temps in the low 40's. Rain tapers off after 1pm. Saturday starts off dry with temps in the mid 30's, rising to the low 40's in the afternoon. Rain starts early in the morning and continues through Sunday morning. Wet. Very wet. And it'll be really f'ing wet on Monday.
Looking ahead to the ever-unreliable long-range models, the middle of next week looks below freezing and quite wet across much of the PNW. Crossing my fingers for more "interesting" weather.
Gorge Wind Forecast
There's a decent west gradient through the Gorge this morning – .09 PDX-DLS and .06 DLS-PSC – and that's enough for some west wind this morning. Gusty 23-26, strongest and best east of Hood River will be the morning wind, before we see a fade to 5-10 this afternoon. Friday starts with easterlies at 21-24, switching to gusty W 21-24 in the western Gorge around 10am with gusty 26-30 east of The Dalles, lasting through mid-afternoon. Saturday brings easterlies at 15-18 early, picking up to E 26-30 in the afternoon.
Road and Mountain Biking
I saw a guy riding Highway 30 out in Mosier yesterday. It was 50 degrees. I was running. He looked happier. Be aware that there's a LOT of gravel on the roads right now.
Boating
The Hood was at 8.23′ this morning and the Klickitat was at 1960cfs. I'm not sure about the White Salmon. Maybe one of you Husum or BZ folks can get me a reading?
The Clymb: free membership. Cheap gear. Temira approves. Click to join.
Events – email me if I've missed any outdoor-related events
There's pickup Rugby at 3:30 at Henkle Middle School this evening.
Have an awesome day today!
Temira