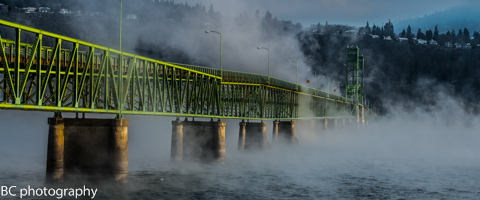 That was a fun week of snow on Mt. Hood. Now we're going to go temporarily back to spring in the mountains. Today looks sunny and warm with a few high clouds possible in mostly clear sky. The free air freezing level (FAF) will be 11,000′ today, all day, and temps at 5000′ will climb to the low 50's. Wind will be W 15 early and SW 20 in the afternoon. Continued below the chart…
Mt. Hood Snow Forecast – 5000′

4a-8a
8a-12p
12p-4p
4p-8p
8p-4a
Today
11,000'
Tomorrow
11,000'–>5500'
The day after
4000'–6500'
Tomorrow looks partly cloudy early with increasing clouds during the day and precipitation after 8pm. The snow level will be 11,000′ early, crashing to 5500′ by 11pm. We'll see .3" water value or so after 8pm, ending by dawn on Saturday. That may start as rain, but will switch to snow, for around 1" of new snow. Wind will be SW 30 early, rising to SW 40 in the afternoon and holding overnight.
Saturday looks clear and sunny. The FAF will be 4000′ early and 6500′ in the afternoon. Wind will be NW 30 early, NW 20 around daybreak, light and variable midday, and SW 20 in the afternoon. Sunday looks cloudy early and clear by afternoon with the FAF at 6000′-9000′ and SW wind at 20-25.
Looks like we'll see another set of weather systems late Monday through Wednesday with the snow level below 5000′.

Support the forecast – Donate!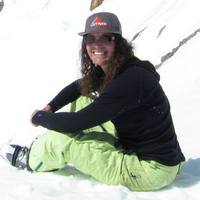 Thank you for using this forecast. Does it save you time, gas money, or help you have more fun in your life? Make a donation to keep it going! Use it here for free or get on the mailing list for wind for the summer and Mt. Hood snow in the winter. Just click on my photo to donate via PayPal or credit card. The email isn't $99/year. Not $50/year. No, just $12.34 or more gets you on the list for 12 months, and sometimes there are cool prizes.Don't PayPal? You can send a check to Temira @ PO Box 841 in Hood River. Thank you for your support, and thank you for trusting my forecast. You guys mean the world to me.
---
Gorge Wind
We have a .03 easterly gradient this morning, and not much will happen in easterly land today. Expect easterlies at 10-15 at Rooster and 5-10 at Steven's Locks with less than 5 to glassy condition in the rest of the Gorge. If you've been waiting for a warm, light wind day to break out the standup paddle board, today is the day.
Tomorrow looks interesting. We'll start off with weak westerly gradients. As a cold front approaches the Northwest and high pressure builds behind it, the westerlies pick up. We'll see 15-18 from Steven's Locks to Mosier by 11am, followed by a steady rise in the wind speed. Sometime mid to late afternoon, the wind will jump to gusty 28-32 in the Gorge. This is frontally driven, which means you're probably going to find the strongest wind at unlikely spots: Steven's Locks and Avery, most likely. But I'm still hoping we'll see a period of strong wind at Swell, Doug's, Maryhill, and maybe even at Arlington, although the strongest wind probably won't make it that far east.
Saturday brings westerlies at 10-13 or maybe a bit more through much of the Gorge. Sunday starts light and variable and picks up to W 13-16 in the afternoon near Hood River.

Random Morning Thoughts
I received a text yesterday that said this, "Hey T, would it be possible to reschedule today? I've been up since 4 and…" Now, I have a really busy schedule. And I have clients and appointments. But for some reason, I didn't interpret this request as a request. I took it as a gently worded, "I need to cancel." So I said yes, and rearranged three days of my life to accommodate this person. And now I'm pissed (at myself) because I had to cancel my appointment with my PT and my bike ride with a friend, all because someone got up at the same time I get up every day. And I'm pissed because I feel like this person didn't meet my needs for consideration, predictability, respect and connection.
It's funny how we make assumptions and don't clarify things sometimes because of the nature of a given relationship. Maybe we don't feel we have the power. Maybe we base our interpretation on previous interactions. It's hard to remember to ask questions instead of assuming, isn't it? And it's also hard to stand up for ourselves when we're worried about having a negative effect on the other person or the relationship.
But here's the thing: our needs are important too. And if we subsume our needs to others' needs (like I did yesterday), we end up angry, frustrated and irritated with both ourselves and with the other person. We're just as important as anyone else. We can't come first all the time, but if we don't come first any of the time, we're going to be unhappy most of the time. That's all I have to say today. (don't forget that you're supposed to be writing down something you love about yourself each day this month and putting that nice thought in a mason jar for later…)

Gorge Weather Forecast
The Nothing is out this morning due to wet ground and last night's clear sky. Don't worry. The Nothing will go away, leaving Falkor, Atreyu, and the Princess safe and happy in Fantasia. Expect an eventually-sunny day today with low temps in the upper 40's and high temps in the (heck yeah!) low 70's. Break out the bikini, banana hammock and sunscreen! Light wind. No rainbows.
Tomorrow may start off clear, but clouds will move in during the afternoon. We'll see some rain late in the evening. Temps will be in the upper 40's early and the low to mid 70's (oh yes!) in the afternoon. Light wind early gives way to strong wind in the afternoon. No rainbows. Sorry.
There's a slight chance of leftover showers and partly cloudy sky on Saturday, but the sky will clear and we'll see plenty of sun. Temps will be in the upper 40's early and the low 60's in the afternoon. Moderate wind. 18% chance of rainbows at sunrise, with those chances fading quickly during the day. Sunday looks sunny.

White Sprinter Van of the Day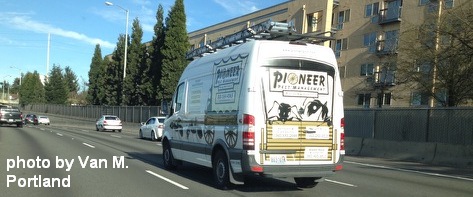 Road and Mountain Biking
Post and Whoopdee are both too muddy to ride right now, according to anonymous sources. But that's okay if you have a road bike, because today is going to be awesome on the pavement: light wind, warm temps, and free Snickers bars. Okay, the last one is only happening in my dreams, but it will be an EPIC day for a road ride today. Tomorrow will not – it'll be way too windy by the afternoon. So ride your road bike today!


The Clymb: free membership. Cheap gear.
Temira approves. Click to join.
Upcoming Events
There's a community yoga class at Yoga Samadhi at 6:30pm tonight. On Friday, Sunshine and Rainbows had the 10 Speed Coffee run, where you run 4.5 miles and 10 Speed gives you a cup of coffee and a donut. This weekend is the Gorge Roubaix bike race in The Dalles and Mosier, and Saturday is the Wheatfield half marathon on the Petersburg Loop roads east of The Dalles.
Have an awesome day today!
Temira