Please support this forecast by clicking on the photo of the forecaster!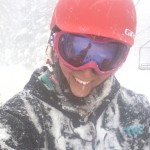 Your forecaster. Click on her to donate. Thank you!
Thank you for using this forecast. Please tell your friends about it! And if you or your friends think this service is awesome/useful/saves you gas money/makes your life more fun, make a donation by clicking on my photo above. Is more fun worth $50/year? $20/year? Donate what it's worth to you (and thank you!), but $12 minimum gets you on the email list (with occasional giveaways) for a year. Thank you for your support, and have fun today!
Random Morning Thoughts
I really struggled with what to say about 4/20 day. It's not really my thing, but I recognize that it's an
important holiday for a lot of people. And let's face it: marijuana is legal in Washington now, and a lot of you hail from the 206/509/253/etc region. So, happy 420 day if you celebrate. Happy Easter if you do that one, and happy Passover to my fellow MOT's.
Mt. Hood Snow Forecast – 5000′

4a-8a
8a-12p
12p-4p
4p-8p
8p-4a
Sunday
Monday
Tuesday
Mt. Hood Snow Forecast
Today will be mostly clear on Mt. Hood. The freezing level will be 3000′ early, 6000′ late morning, and 8000′ this afternoon. Wind will be W 20 early, W 15 midday and WSW 20 in the afternoon.
Monday starts off partly to mostly cloudy. Precipitation starts around 5pm. The snow level will be 8000′ early, 6500′ midday, 7000′ when the precip starts, and then the snow level will fall to 6000′ around 8pm and 5500′ around 11pm. We'll see (models are having a tough time with this) .4-1" water value (WV) before the snow level drops, and that will fall as rain. After 11pm, we'll see another .3-.4" WV, for 2-4" of new snow. Wind will be S 20 early, SSW 30 midday and SW 40 in the evening, becoming W 20-30 late.
Tuesday sees the snow level around 3500′ all day and all night with orographic snow flurries and sunbreaks during the day. No real accumulation during the day, but another system moves in late in the afternoon. That system brings .4-.7" WV by Wednesday morning, for 4-7" of new snow. Wind will be W 20 early, WNW 30 midday and W 25 overnight.
Wednesday brings orographic snow flurries and moderate wind.
Gorge Wind
Today looks like a light wind day: light west early, light east late. Tomorrow brings east wind at 23-26 at Rooster early, switching to W 10-15 near Hood River in the late afternoon. Tuesday brings west wind at 26-30, probably east of Hood River, filling in all the way to Arlington.
Gorge Weather
Hah. I was driving to Post Canyon around 5pm yesterday, and I saw a full rainbow stretched across the east side of the valley. I knew it! There will be no rainbows today. Just sunshine, with a chance of high clouds late in the day. Temps will be in the mid-40's early and low 60's this afternoon with light wind.
Tomorrow looks high overcast, becoming rainy after 5pm. Temps will be in the upper 40's early and mid-50's in the afternoon with east wind early becoming light west wind late. Tuesday looks partly cloudy with a chance of rainbows early. Temps will be in the mid-40's early and low 50's in the afternoon with strong west wind.
Road and Mountain Biking
Post was pretty muddy last night when I went running, so give it the morning to dry out. Betcha Whoopdee, Syncline and Nestor are great. Has anyone out there ridden Dog River or Surveyor's lately? I can't remember if I mentioned yesterday that FMX, Chorus and Egg Hunt (the big jump lines in Post) are all closed right now for repairs. So I'm mentioning it now. They're closed.
River Levels
The Hood is at 4.8′, the Klickitat is at 2160 cfs, and the White Salmon is at 4.5′. And it is rafting season, the best part of rafting season, the high water part of rafting season, so if you like whitewater, you should totally go now.
The Clymb: free membership. Cheap gear. Temira approves. Click to join.
Events – email me if I've missed any outdoor-related events
There's ping pong today at the Hood River armory ($5) and there's pickup touch rugby at the Mosier School at 3pm ($0). Next week, Tuesday-Thursday, is the PNSAA conference in Hood River at the Hood River Inn. Awesome place to meet cool people.
Have an awesome day today!
Temira