Please support this forecast by clicking on the photo of the forecaster!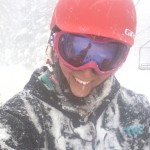 Your forecaster. Click on her to donate. Thank you!
Thank you for using this forecast. Please tell your friends about it! And if you or your friends think this service is awesome/useful/saves you gas money/makes your life more fun, make a donation by clicking on my photo above. Is more fun worth $50/year? $20/year? Donate what it's worth to you (and thank you!), but $12 minimum gets you on the email list (with occasional giveaways) for a year. Thank you for your support, and have fun today!
Random Morning Thoughts
This morning I tried to write a snow report with a bunch of logic in it. I couldn't do it. Duh. Snow reports are written with the non-logical right brain, not with the logical left brain.
Hood 2 River Relay
The Hood 2 River Relay is a one-day event on May 31st. This fun and all-inclusive event is designed for almost any level of skill and fitness, yet competitive enough for the hardcore athlete where participants compete in teams, pairs, or individuals to race from the high slopes of Mt. Hood down to the mighty Columbia River. There will be six Legs that consist of; Alpine ski, nordic ski, mountain bike, road bike, road run, boating (kayak/canoe/SUP) and a 500 meter sprint to the finish line after boating. Open to individuals and teams. Visit their website for more information. And Pole-Pedal-Paddle, eat your heart out. You got nothin' on the Hood 2 River!
Mt. Hood Snow Forecast – 5000′

4a-8a
8a-12p
12p-4p
4p-8p
8p-4a
Monday
Monday
Tuesday
Mt. Hood Snow Forecast
We're off to a cloudy start on Mt. Hood this morning. The clouds will thicken as the day goes on with a chance of showers after noon and rain for sure after 8pm. The snow level will be at 8000′ early, 7000′ midday, and 6500′ around 5pm. After 8pm, we'll see the snow level drop to 6000′ by 2am and 3000′ by 5am Tuesday. We'll get .5-.9" water value (WV) that falls as rain. After that, we'll get another .3" WV or so that falls as snow mixed with rain or wet snow. Expect 1-3" of new by Tuesday morning. Wind today will be S 20-30 early, S 40 by mid-morning, SW 40 in the afternoon, and SSW-SSE at 20-30 overnight, becoming W 10-20 late.
Tuesday morning starts off with steady snow, turning to orographic snow flurries after 8am and becoming cloudy midday. The next system swings in around 5pm with more snow. We'll see the snow level at 3000′ all day and all night on Tuesday. About .4-.7" WV comes in after 5pm, for 4-7" of new snow by Wednesday morning. Wind will be W 20-25 early, W 35 most of the day, and WSW 30 overnight.
Wednesday starts with new snow on the ground, and if the long-range models are correct, we'll see quite a bit of new snow before noon on Wednesday before temps warm up to questionable levels. The snow level will be 3000′ early, 5000′ around 11am and 6000′ after 2pm as a warm front moves in. I suspect the morning system, predicted to bring .5-1.0" WV (yeah, not very specific – spring is tough forecasting), will give us 3-7" of heavy snow. After noon, we'll probably see a switch to rain, but maybe not. Maybe we'll be lucky and stick with wet snow. Either way, Wednesday looks like a fun day on the hill if you like storm skiing. The wind will be WSW 30 early, picking up to WSW 45-50 by 8am, then becoming W 40-50 for the rest of the day before dropping to SW 30 overnight.
Thursday looks quite wet, with the snow level around 6000′ and SW wind at 30mph or so. Tough call right now on whether that'll be rain or snow on Thursday.
Gorge Wind
We'll see light wind for much of the day today, becoming gusty W 23-26 in the early evening, likely steadiest and arriving first at Stevenson, moving eastward, with very gusty 17-22 near Hood River. Tomorrow looks awesome if you like strong wind. Head east of The Dalles for 28-32+ pretty much all day, with gusty 13-16 or less near Hood River. Wednesday brings gusty 21-24 east of The Dalles with less wind in rainy Hood River.
Gorge Weather
We have high overcast sky this morning, and we may see a few sprinkles today, especially after noon, with heavier rain after 8pm. Temps will be in the mid 40's early and low 60's in the afternoon with light wind early becoming moderate W in the evening. Tuesday morning looks partly cloudy with sprinkles and rainbows possible. More rain comes in after 5pm Tuesday. Temps will be in the mid 40's early and low 50's in the afternoon with strong west wind. Wednesday looks quite rainy early, becoming less rainy in the afternoon with rainbows likely. Temps will be in the low 40's early and mid 50's in the afternoon with moderate W wind.
Road and Mountain Biking
According to a dude named Steve, Dog River has 7 trees down from the viewpoint to the bottom. And there were downhillers riding the trail. From that we can conclude that it must be either snow-free or close to it up top and that there aren't many trees down up top. However, if one of you chainsaw-certified folks would be so kind as to do some work, I'm sure we'd all be thankful. If not, there's a Super D on Dog River on the 6th and 7th, so I'm sure the organizers will take care of the trail before then.
In other bike news, today looks epic for road biking, with light wind. Just make sure you ride as early as possible to avoid the sprinkles that may move in after noon. Tomorrow and Wednesday look quite windy.
If you'd like to race bikes, this Saturday and Sunday is the Bear Springs Trap at McCubbins Gulch. Short Track on Saturday and XC on Sunday.
River Levels
The Hood is at 4.7′, the Klickitat is at 2080cfs, and the White Salmon is around 4.25′.
The Clymb: free membership. Cheap gear. Temira approves. Click to join.
Events – email me if I've missed any outdoor-related events
You can play pickup Ultimate tonight at May Street Elementary at 6pm. Tomorrow night there's pickup rugby at the Hood River Marina at 5:30. Also tomorrow night at 5:30pm, there's a vigil for the freedom to marry at Overlook Park in Hood River. After you support everyone's right to get married, head to Cebu for $12 Prime Rib dinner.
Coming up Wednesday night, weather permitting, there's a women's mountain bike ride (the Post n' Pinot) leaving Dirty Fingers at 5:30. I suspect the ride will be canceled due to sloppy trail conditions, but that's not the important part of this announcement. After the ride, there's a women's-only bike maintenance clinic happening. It's free. So if you want to learn how to do basic repairs on your bike, and you're a girl, be at Dirty Fingers Wednesday evening.
Have an awesome day today!
Temira