Please support this forecast by clicking on the photo of the forecaster!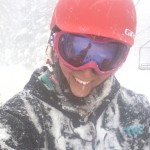 Your forecaster. Click on her to donate. Thank you!
Thank you for using this forecast. Please tell your friends about it! And if you or your friends think this service is awesome/useful/saves you gas money/makes your life more fun, make a donation by clicking on my photo above. Is more fun worth $50/year? $20/year? Donate what it's worth to you (and thank you!), but $12 minimum gets you on the email list (with occasional giveaways) for a year. Thank you for your support, and have fun today!
Random Morning Thoughts
Double FOMO. Oh boy. This is not a good day!
Mt. Hood Snow Forecast – 5000′

4a-8a
8a-12p
12p-4p
4p-8p
8p-4a
Saturday
Sunday
Monday
Mt. Hood Snow Forecast
It's clear on Mt. Hood this morning, but we'll see precip move in around 11am. Despite above-freezing temps on Mt. Hood this morning, I think we'll see snow rather than rain today. The freezing level, at 8000′ early, will drop to 6500′ late morning and 4500′ by 2pm. Snow falls at warm temps this time of year, so I think we'll be safe. We'll see .2-.4" water value (WV) between 11am and 5pm, for 1-3" of new snow. After 5pm, we'll see occasional flurries with the sky becoming clear overnight. Wind today will be SW 30 early, SW 40 midday and SW 45-50 in the afternoon.
Sunday looks partly cloudy becoming clear. The freezing level will be 2000′ early, 5500′ mid-morning and 8000′ in the afternoon. Wind will be W 25 early, WSW 15 mid-morning, and SW 25 in the evening.
Monday looks partly cloudy or cloudy to start, with precip moving in late in the afternoon or evening. The snow level will be 9000′ early and 7000′ in the afternoon, dropping to 4000′ overnight. I think we'll start with rain and switch to snow, with a few inches of new by Tuesday morning. Wind will be SSW 25 early, increasing to SSW 35 in the afternoon.
Tuesday looks cold, snowy and windy.
Gorge Wind
Today's going to be an interesting day for Gorge wind. Easterlies in the teens this morning fade by mid-morning, becoming westerly by noon. After 2pm, expect gusty west wind at 21-24 from Stevenson to Mosier with 28-32+ east of Lyle, all the way to Arlington, holding through the evening. Should be a super fun day out there. I'm sad I'm working. I have FOMO.
Sunday starts with light west wind that goes to glassy conditions in the afternoon. Monday starts with light east wind and switches to light west wind. The river is now at 49 degrees.
Gorge Weather
Mostly clear weather this morning becomes cloudy midday and switches to rainy by noon, becoming partly cloudy again, with rainbows possible and a nice sunset likely, this evening. Temps will be in the mid-30's early and mid-50's this afternoon. Sunday looks partly cloudy with temps in the upper 30's early and low 60's in the afternoon with light wind. Monday looks overcast, with filtered sun for much of the day. Temps will be in the upper 40's early and low 60's in the afternoon with light wind.
Road and Mountain Biking
I heard Post was nothing short of awesome yesterday. Whoopdee is good too, and the climb out winds through a field of yellow balsam root flowers. It's definitely worth taking a lap on Whoopdee today. Do it before it rains. If you're road biking today, make sure you're home before early afternoon, or you're going to get caught in a windstorm.
River Levels
The Hood is at 4.8′, the Klickitat is at 2210 cfs, and the White Salmon is at 4.5′. I don't know what the level is on the Wind, but if you want to do some Class V rafting, it looks like Wet Planet is running trips, according to their Facebook page.
The Clymb: free membership. Cheap gear. Temira approves. Click to join.
Events – email me if I've missed any outdoor-related events
Today is the Gorge Short Track mountain bike race at Cascade Locks' EasyCLIMB trail. I rode in the Thursday night series last year, and it was pretty much awesome. I'd highly recommend doing the race. I have FOMO because I'm working today. That's my second FOMO instance today. You can get more information here. Also at EasyCLIMB today, the DimWits (the trail builders) are having a campout and night ride. Riverkeeper has a cleanup at Mayer Park today 10am to 2pm.
Coming up tomorrow, there's ping pong at the Hood River armory at 3pm and there's pickup rugby in Mosier at 3pm.
And finally, one reminder, the Hood 2 River Relay is May 31st. It's like Pole-Pedal-Paddle, only way cooler. And closer, and run by radder people. So check it out, and get yourself or your team signed up now.
Have an awesome day today!
Temira