Please support this forecast by clicking on the photo of the forecaster!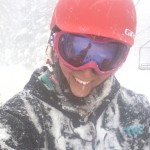 Your forecaster. Click on her to donate. Thank you!
Thank you for using this forecast. Please tell your friends about it! And if you or your friends think this service is awesome/useful/saves you gas money/makes your life more fun, make a donation by clicking on my photo above. Is more fun worth $50/year? $20/year? Donate what it's worth to you (and thank you!), but $12 minimum gets you on the email list (with occasional giveaways) for a year. Thank you for your support, and have fun today!
Random Morning Thoughts
I just tried to drink my coffee and drooled coffee all over myself. I'm classy. Very classy. It's truly astonishing that I'm single, isn't it?
Mt. Hood Snow Forecast – 5000′

4a-8a
8a-12p
12p-4p
4p-8p
8p-4a
Saturday
Sunday
Mt. Hood Snow Forecast
Today is The Last Powder Day of the Season III Join the Facebook event!.
The snow level is around 3500′ this morning, and will slowly rise to 5500′ by 5pm. Steady snowfall will likely continue through 9am, becoming more sunbreaky in nature after that. Expect .1-.2" water value this morning for an additional 1-2" of snow. Wind will be NW 20-30 early, becoming more northerly at 20-25 after 11am and holding there.
Sunday looks sunny on Mt. Hood with the freezing level at 5500′ early, rising to 7000'+ in the afternoon. Wind will be NW 15-25 early, becoming N 10-20 after 11am.
Today's Gorge Wind

Your favorite beach
Dawn
Patrol
9am-
11:30a
11:30a-
3pm
3pm-
dusk
Steven's Locks
0-10
8-13
gusty

15-18

gusty

20-23

Hatch (subtract a few mph for Event Site)
0-10
8-13
gusty

15-18

gusty

20-23

Doug's / Rowena / Lyle
7-11
15-18
gusty

20-24

23-26
Maryhill / Rufus / The Wall
10-15
15-18
24-28
24-28
Arlington / Roosevelt
10-15
20-24
24-28
21-25
Gorge Wind
Our gradients this morning started at .05 and .06 at o'dark o'clock. They'll rise as this weather system moves east and high pressure builds inland. Expect W 10-15 this morning with 21-24 east of The Dalles. In the afternoon, expect gusty 18-23 from Hood River to Mosier with 24-28 from Lyle to Maryhill, and maybe Arlington, but I suspect the wind will fade at the far east beaches as high pressure builds in.
Tomorrow brings light wind, probably out of the west. Monday brings easterlies at 15-18 at Steven's Locks and Rooster Rock.
Gorge Weather
I saw a few weak rainbows yesterday morning, so the forecast panned out. Then I went jogging in Post mid-afternoon, and that forecast panned out too, as I got absolutely drenched and came home with puddles in my shoes. We'll see partly cloudy sky with sprinkles this morning, for an 80% chance of rainbows. The showers and clouds will diminish after 9am, leaving us with sunshine and increasing west wind. Temps will be in the mid 40's early and upper 50's this afternoon.
Sunday looks sunny with temps in the mid 40's early and upper 60's in the afternoon with light wind. Monday looks sunny, maybe with a few high clouds, with temps in the upper 40's early and low 70's in the afternoon. The next couple of days bring temps in the 80's.
Road and Mountain Biking
I went for a run in Post Canyon last night, and it is definitely too wet for biking today. There were streams running down the trails, and puddles inside my shoes. Whoopdee will also be too wet. Even Syncline may be too wet. I don't know what to tell you. Ride your road bike?
The Clymb: free membership. Cheap gear. Temira approves. Click to join.
River Levels
The Hood's at 6.5′, the Klickitat's at 2510 cfs, the White Salmon is at 4.8′. The Wind is at 7.6′, and rafting trips scheduled for that river this weekend will take place on the Hood instead. Thanks, Wet Planet, for posting those levels. You make my life easy when you use social media.
Events – email me if I've missed any outdoor-related events
The Superpark 18 rail jam exhibition thingy that Meadows had planned for today has been moved to tomorrow to take advantage of the sunshine predicted tomorrow. And to allow you to not have FOMO while you're shredding fresh powder today.
The Master Gardeners have their spring plant sale at the OSU Extension Office in Hood River from 9am to 1pm today. Lila May's Tutu Trot is on the Twin Tunnels today. Registration is at 8am, it's $15, and proceeds benefit a cute little 3 year old ballerina with cancer. Come on. You can run 3k, 5k, or 10k for a little kid. Race is at 9am.
After the run, take your kids to Camp Baldwin's Hanel Lake (off the 44 Road) for a snowy but fun free youth fishing clinic brought to you by the Barlow Ranger District… if you can get there… I don't know how much snow fell there last night, but there was 9" at Meadows.
And finally, May is national bike month, so get your butt on your bike, because bikes are fun!
Have an awesome day today!
Temira