Please support this forecast by clicking on the photo of the forecaster!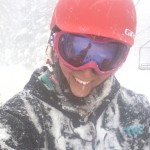 Your forecaster. Click on her to donate. Thank you!
Thank you for using this forecast. Please tell your friends about it! And if you or your friends think this service is awesome/useful/saves you gas money/makes your life more fun, make a donation by clicking on my photo above. Is more fun worth $50/year? $20/year? Donate what it's worth to you (and thank you!), but $12 minimum gets you on the email list (with occasional giveaways) for a year. Thank you for your support, and have fun today!
Random Morning Thoughts
First we have the Seahawks practicing mindfulness meditation and keeping counselors on staff. Now we have the NFL being outed as a socialist organization. Love it.
Mt. Hood Snow Forecast – 5000′

4a-8a
8a-12p
12p-4p
4p-8p
8p-4a
Friday
Saturday
Sunday
Mt. Hood Snow Forecast
Looks like Saturday is going to be The Last Powder Day of the Season III Join the Facebook event!. Well, maybe not powder – it might be a bit heavy for that, but at least fresh tracks.
Today looks snowy on Mt. Hood, with orographic flurries followed by a more organized system tonight. Plus thunder. There will most likely be thunder and lightning on Mt. Hood today. The snow level will be around 4000′ all day with .1-.3" water value (WV) before 2pm, for 1-3" of new. Another .4-.8" WV (probably the higher end) falls between 2pm today and 5am Saturday, for 4-8" of new snow overnight. Wind today will be W 40 for much of the day, becoming SW 30-35 after 2pm.
Saturday starts off with snow flurries, maybe becoming partly cloudy, and maybe becoming sunny after 11am. The snow level will be 3000′ early and 6000′ in the afternoon with NW wind at 15mph early, becoming N 15 in the afternoon.
Sunday looks sunny. The freezing level will be 6000′ early and 9000′ in the afternoon with NNW wind at 10-15 in the morning, becoming more NW in the afternoon.
Today's Gorge Wind

Your favorite beach
Dawn
Patrol
9am-
11:30a
11:30a-
3pm
3pm-
dusk
Steven's Locks
12-15
12-15
15-18
thunder
Hatch (subtract a few mph for Event Site)
12-15
13-16
15-18
thunder
Doug's / Rowena / Lyle
12-15
15-18
22-25
thunder
Maryhill / Rufus / The Wall
12-15
15-18
22-25
thunder
Arlington / Roosevelt
12-15
15-18
22-25
thunder
Gorge Wind
The models show we'll have some wind in the Gorge today, but I'm going to recommend that you get after it early if you're going to get after it, because afternoon thunderstorms will make playing wind johnny a hazardous proposition later on. That said, this morning's early gradients sat at .07 and .08 with wind in the 12-15 range through the whole Gorge. I think gusty 22-25 from The Dalles to Arlington is reasonable to expect this morning, with 13-16 in the rainy western Gorge.
Saturday starts with westerlies at 13-15, probably from Mosier to Arlington. As the sky clears in the afternoon and the atmosphere settles, expect 23-26 from Mosier to Maryhill (maybe Hood River too, but I suspect it will remain quite gusty near town). Sunday looks like a light wind day.
Gorge Weather
I haven't seen any rainbows outside my window yet this morning, and I haven't heard any thunder yet, but I'm not giving up hope. Especially not on the thunder – there's a pretty darn good chance of thunder and lightning this afternoon after 2pm. So, expect showers all day, with a good chance of rainbows, and thunder later. Temps will be in the upper 40's early and upper 50's this afternoon with gusty west wind.
Saturday starts off partly cloudy with scattered thunder chances. The sky should clear by afternoon. Temps will be in the upper 40's early and low 60's in the afternoon with increasing west wind as the day goes on. Sunday looks sunny with temps in the upper 40's early and upper 60's in the afternoon with light wind.
Road and Mountain Biking
The Post n' Pint was canceled again last night (that's three out of four weeks canceled), and that means Post is too muddy for you to ride. And too muddy for me to ride. So sad. Judging by how wet my fence is this morning, Whoopdee will also be quite wet. So, that leaves you with Syncline and the 44 Road trails. With the snow level dropping to 4000′ today and precip continuing, it's going to be mighty cold on the 44 Road. So perhaps you're riding Syncline. The Kreps were unable to spray herbicide the last couple of days, so Hospital Hill is open.
The Clymb: free membership. Cheap gear. Temira approves. Click to join.
River Levels
The Hood's at 6.1′, the Klickitat's at 2400 cfs, and I dunno about the White Salmon. I'll call today and find out. I swear.
Events – email me if I've missed any outdoor-related events
Today is Friday the 9th, and today is the last Friday until fall that Temira has to get up for work at 4am. Hooray! If there's anything exciting going on tonight, I don't know about it. But tomorrow. Oh boy is there exciting stuff tomorrow.
First, the Master Gardeners have their spring plant sale at the OSU Extension Office in Hood River from 9am to 1pm. That'll be fun. Lila May's Tutu Trot is on the Twin Tunnels tomorrow. Registration is at 8am, it's $15, and proceeds benefit a cute little 3 year old ballerina with cancer. Come on. You can run 3k, 5k, or 10k for a little kid.
After the run, take your kids to Camp Baldwin's Hanel Lake (off the 44 Road) for a snowy but fun free youth fishing clinic brought to you by the Barlow Ranger District.
And finally, May is national bike month, so get your butt on your bike, because bikes are fun!
Have an awesome day today!
Temira