Please support this forecast by clicking on the photo of the forecaster!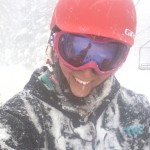 Your forecaster. Click on her to donate. Thank you!
Thank you for using this forecast. Please tell your friends about it! And if you or your friends think this service is awesome/useful/saves you gas money/makes your life more fun, make a donation by clicking on my photo above. Is more fun worth $50/year? $20/year? Donate what it's worth to you (and thank you!), but $12 minimum gets you on the email list (with occasional giveaways) for a year. Thank you for your support, and have fun today!
Random Morning Thoughts
Today may be mother's day, but I want to thank all the non-moms out there. To all you women without kids: Thanks for everything you do for everyone around you. Thank you for the time you spend listening to your friends. Thank you for the time you give as a volunteer. Thank you for being a relative, godparent, mentor or friend. Moms change the world one kid at a time. Non-moms change the world by redirecting the mom energy into helping many, many people. Thank you, non-moms.
Mt. Hood Snow Forecast – 5000′

4a-8a
8a-12p
12p-4p
4p-8p
8p-4a
Sunday
Mt. Hood Snow Forecast
The chance of snow between now and Thursday is zero percent. The freezing level will be around 5000′ this morning, rising to 7000′ or likely higher in the afternoon. We'll see a sunny start, with high clouds moving in during the afternoon. Wind will be N 10 or less. Tomorrow sees the freezing level climb from 6500′ to 12,000′.
Today's Gorge Wind

Your favorite beach
Dawn
Patrol
9am-
11:30a
11:30a-
3pm
3pm-
dusk
Steven's Locks
0-10
8-13
8-13
0-10
Hatch (subtract a few mph for Event Site)
15-18
13-16
5-10
0-8
Doug's / Rowena / Lyle
13-16
5-10
0-8
0-8
Maryhill / Rufus / The Wall
10-15
5-10
0-5
0-5
Arlington / Roosevelt
10-15
5-10
0-5
0-5
Gorge Wind
What you see is what you get this morning: At 5am the gradients were .06 and .04, enough for upper teens at the Hatch and low double-digits elsewhere. I think you have a decent chance of getting on the water before 11am for some 15-18 from Stevenson to Mosier, but the wind will probably start to drop after that (although models do have a difficult time with this setup).
Anyway, the wind switches to east overnight, giving us E 26-30 at Rooster tomorrow with E 22-25 at Stevenson and afternoon easterlies at 7-11 from Home Valley to The Dalles. Tuesday starts with east wind at 15-18 and just becomes light.
Gorge Weather
Today looks beautiful and sunny with a decent chance of high cloudy in the afternoon. Temps will be in the low 50's early and mid 60's this afternoon with light wind. Monday starts off a bit chilly. Temps will be in the low 40's, but it'll warm up to the mid 70's in the afternoon with light to moderate east wind. Tuesday starts with temps in the low 40's. We'll see temps in the low 80's in the afternoon with light wind. Wednesday and Thursday will be tanning weather, with temps in the upper 80's. The chance of rainbows between now and Thursday is zero percent.
Road and Mountain Biking
Mitchell says the dirt was more mud than dirt yesterday, and he's suspicious about today. But he says the dirt will be perfect tomorrow, and wants you to ride your road bike today.
The Clymb: free membership. Cheap gear. Temira approves. Click to join.
River Levels
The Hood is at 5.9′, the Klickitat's at 2330 cfs, and the White Salmon is somewhere around 4.5′.
Events – email me if I've missed any outdoor-related events
Mt. Hood Meadows has the Superpark 18 urban rail jam thing in the base area from 11:30-3pm today. Lifts run 9am-2pm. There's pickup rugby at 3pm at the Mosier School and there's ping pong at the Hood River Armory at 3pm.
Have an awesome day today!
Temira