Please support this forecast by clicking on the photo of the forecaster!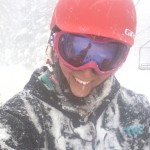 Your forecaster. Click on her to donate. Thank you!
Thank you for using this forecast. Please tell your friends about it! And if you or your friends think this service is awesome/useful/saves you gas money/makes your life more fun, make a donation by clicking on my photo above. Is more fun worth $50/year? $20/year? Donate what it's worth to you (and thank you!), but $12 minimum gets you on the email list (with occasional giveaways) for a year. Thank you for your support, and have fun today!
Random Morning Thoughts
As usual, I had a long weekend of work. I was exhausted last night, and went to bed around 8:30. I woke up at 7:30am, curled up with my monkey and my bear under a pile of down blankets. I didn't move for another half hour, and that's why your forecast is so late today. But I'm well-rested, and well fed: I had a double-chocolate cookie and a cup of cold French Press with heavy cream for breakfast. Now, that's what I call indulgence.
Mt. Hood Snow Forecast
Just a brief synopsis: Today brings flurries in the morning with a bit more precip, maybe .1-.2" water value (WV) overnight that falls as a mix of rain and snow. The snow level will be 4000′ early and 6000′ in the afternoon. Wind will be W 20 early and NW 20-25 in the afternoon. Tomorrow looks partly cloudy with a few flurries or showers possible early, becoming clear in the afternoon. The snow level will be 6000′ with NW wind at 20-30. Wednesday looks clear with the freezing level at 6000′ early and 8000′ in the afternoon with NW wind at 15-20 early, becoming W 10 in the afternoon. Thursday starts cloudy and becomes drenching with 1-2" water value of rain with the freezing level at 8000′.
Today's Gorge Wind

Your favorite beach
Dawn
Patrol
9am-
11:30a
11:30a-
3pm
3pm-
dusk
Steven's Locks
5-10
8-13
13-15
13-15
Hatch (subtract a few mph for Event Site)
12-15
12-15
14-18
14-18
Doug's / Rowena / Lyle
5-10
15-18
gusty
24-28
gusty
24-28
Maryhill / Rufus / The Wall
5-10
15-18
gusty
24-28
gusty
24-28
Arlington / Roosevelt
5-10
15-18
gusty
24-28
gusty
24-28
Gorge Wind
We're starting with light west gradients this morning: .03 (pdx-dls) and .03 (dls-psc). As an low pressure system moves east today, we'll see the wind pick up to gusty 15-18 out of the west by noon, and then gusty 24-28 (with brief higher periods) by mid-afternoon. The strongest, steadiest wind will likely be from Lyle to Arlington today. However, instability in the atmosphere is going to make for showers and unreliable wind conditions. Best chance of getting on the water is probably from Lyle to Avery.
Tomorrow looks like a much better setup: That low pressure system will be east of us and high pressure will be off the coast, so it should be windy right off the bat. Expect 30+ at Rowena/Doug's tomorrow with 28-32 from Avery to Maryhill and 26-30 further east. Stevenson, Hood River and Mosier are tougher calls, as wind there depends on the cloud line. Call it gusty 15-18 to start with 24-28 possible should the clouds burn back. I swear I am going windsurfing tomorrow.
Wednesday looks like a better setup in the central Gorge, with 15-18 early from Stevenson to Mosier and 21-24 in the afternoon from Stevenson to The Dalles. Thursday just looks wet.
Gorge Weather
I haven't yet seen a rainbow today, but I didn't get out of bed until 8. So I probably missed the beautiful sunrise rainbows. But we'll see rainbows today, I'm pretty sure. You may have to head a bit to the east, but they'll be out there. Oh yes they will. It'll be a mostly cloudy day, with showers increasing by midday and thundershowers (like yesterday), possible in the afternoon. Temps will be in the low 50's early and upper 50's in the afternoon with increasing westerlies.
Tomorrow brings a chance of a few shower (and rainbows) early, quickly becoming partly cloudy and then mostly clear. Temps will be in the mid-40's early and low 60's in the afternoon with increasing west wind.
Wednesday looks sunny. No rainbows, unless you create one using a garden hose or fire hydrant. Temps will be in the mid-40's early and low 60's in the afternoon. Thursday looks wet starting mid-morning and drenching after 2pm.
Road and Mountain Biking
Yesterday's report on Post was that D.S. showed up at Dirty Fingers covered in mud. He was given a severe beating (kidding) after delivering the new that Post is too muddy and wet to ride now. But I bet you'll find good dirt on Syncline (do it this morning before the wind picks up) or on Surveyor's and Dog (do it this morning before the rain picks up) but probably not on the Whoopdee (Steve would prefer you didn't destroy his hard work). The road biking will be best this morning before the wind and rain pick up, which brings me to the question of why I'm sitting here typing when I should be on my bike.
The Clymb: free membership. Cheap gear. Temira approves. Click to join.
River Levels
The Hood's at 5.4′, the Klickitat's at 2680 cfs, the White Salmon is at 4'ish.
Events – email me if I've missed any outdoor-related events
Tonight is pickup Ultimate night at May Street Elementary at 6pm. Tomorrow night is $12 Prime Rib at Cebu. It's also pickup rugby night at the Hood River Marina.
Friday and Saturday is the Master Gardeners' spring plant sale, happening at the OSU Extension Office in Hood River, starting at 9am. This is a great place to pick up plants for both the yard and garden. Coming up on Saturday, Mt. Hood Meadows is hosting the Superpark 18 Rail Jam, an exhibition event with about 500 of the top snowboarders in the country showing off in a special park in the base area.
Have an awesome day today!
Temira