Please support this forecast by clicking on the photo of the forecaster!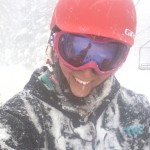 Your forecaster. Click on her to donate. Thank you!
Thank you for using this forecast. Please tell your friends about it! And if you or your friends think this service is awesome/useful/saves you gas money/makes your life more fun, make a donation by clicking on my photo above. Is more fun worth $50/year? $20/year? Donate what it's worth to you (and thank you!), but $12 minimum gets you on the email list (with occasional giveaways) for a year. Thank you for your support, and have fun today!
Random Morning Thoughts
There's been a video going around social media land saying that social media disconnects people, and the video encourages people to look away from the screen and reconnect. I'd like to suggest we can use social media to connect with each other more deeply, and to create more truth, openness, and connection in the world. In that vein, I introduce "Truthful Tuesday". Take the time today, and every Tuesday, to post something deeper on Facebook, Instagram, and everywhere else. Post something that reveals a small part of yourself to your online community. If you're posting something that will create deeper connections, it should feel a little scary. That's okay. Your friends will support you. Tag it #truthfulTuesday. Ready. Set. Go.
Mt. Hood Snow Forecast
Today looks partly cloudy on Mt. Hood with the snow level at 5000′ early and 5500′ in the afternoon. Wind will be NW at 15. No precip. Tomorrow looks clear. The freezing level will be 5500′ early, 6500′ in the afternoon and 7000′ overnight. Wind will be N 10 early, light and variable midday, and NW 10-20 overnight.
A couple of weather systems move in Thursday, but the timing isn't clear yet. The snow level will be 6500′ early, rising to 7000′ in the afternoon, and eventually falling to 6500′ around 2am Friday and 4000′ during the day Friday. Starting by 11am, and continuing until Friday morning, it'll be rainy. Expect 1-2" of rain, becoming heavy after 5pm. Wind will be SW 20 for much of the day, increasing to W 40 after midnight.
Friday starts with some orographic snow flurries, but there probably won't be all that much accumulation, as most of the precip will come in before the snow level drops. We'll have to wait and see.
Today's Gorge Wind

Your favorite beach
Dawn
Patrol
9am-
11:30a
11:30a-
3pm
3pm-
dusk
Steven's Locks
14-17
14-17
15-18
18-23
Hatch (subtract a few mph for Event Site)
10-15
15-18
18-23
18-23
Doug's / Rowena / Lyle
13-15
15-20
24-28
26-30
Maryhill / Rufus / The Wall
13-15
15-20
24-28
26-30
Arlington / Roosevelt
13-15
15-20
24-28
25-29
Gorge Wind
This afternoon, Tuesday, that is, looks like a pretty ideal setup, other than the fact that it's happening in the afternoon, not right off the bat. As an upper low moves east and high pressure builds off the coast, synoptic-scale west wind sets up across the PNW. I'm not sure if it will fill in near Hood River (it's a bit cloudy now), but you can expect a slow rise to 26-30 from Lyle to Maryhill (with stronger periods possible) and 24-28 east of Maryhill. If the clouds burn off, expect gustier 22-26 from the Hatch to Hood River and 18-23 at Stevenson and Mosier. The wind should peak between 1pm and 5pm.
Tomorrow sees high pressure build inland, which will make for less wind. Expect a chance of dawn patrol from Hood River to Doug's (most like at Doug's) in the 21-24 range, quickly fading to 13-15 midday and picking up to gusty 16-19 from Stevenson to Mosier in the afternoon.
Thursday starts off light, with a brief burst of strong west wind possible late in the day as a cold front approaches. The timing isn't all that clear – there are actually two weather systems Thursday – so it's hard to make a solid call. It does look like we'll see stronger westerlies on Friday.
Gorge Weather
It's partly cloudy outside my window this morning, and I can see a few showers falling in Washington. I was hoping I'd see a rainbow, but so far I haven't. Anyway, expect decreasing clouds today with temps in the low 50's early and upper 50's this afternoon with increasing west wind. Tomorrow looks sunny with temps in the upper 40's early and mid 60's in the afternoon with light west wind. Thursday starts with high clouds and becomes rainy midday, or maybe earlier or maybe later. Dumb models can't agree. Anyway, Thursday night looks really wet. There's a small chance of rainbows Thursday and a better chance on Friday morning.
Road and Mountain Biking
If you're going to ride road bikes today, do it this morning before the wind picks up. The dirt… no reports from Post yesterday, which means I'm going to have to go for a jog and check it out. Betcha Whoopdie dried out yesterday. And I betcha Syncline and Hospital are perfect, but Syncline's going to be mighty windy this afternoon.
The Clymb: free membership. Cheap gear. Temira approves. Click to join.
River Levels
The Hood's at 5.2′, the Klickitat's at 2590 cfs, the White Salmon is at 4'ish.
Events – email me if I've missed any outdoor-related events
Tonight is $12 Prime Rib at Cebu. It's also pickup rugby night at the Hood River Marina.
Coming up tomorrow night, there are a bunch of fun things going on. Warm up with Karma Yoga, by donation or free, at Flow in Hood River at 4. Then there's the women's only, all-levels Post and Pinot mountain bike ride leaving Dirty Fingers at 5:30, and that's followed by social hour at the shop. There's ping pong at the Hood River armory at 6:30pm, and there's sailboat racing at the Hood River Marina.
Also tomorrow night, there's an open house for the Lyle Community Trail system proposal. You can learn more by swinging by the Lyle Activity Center between 6pm and 8pm.
Saturday, just Saturday, not Friday and Saturday, is the Master Gardeners' spring plant sale, happening at the OSU Extension Office in Hood River, starting at 9am. This is a great place to pick up plants for both the yard and garden. Also on Saturday, Mt. Hood Meadows is hosting the Superpark 18 Rail Jam, an exhibition event with about 500 of the top snowboarders in the country showing off in a special park in the base area.
Have an awesome day today!
Temira