Please support this forecast by clicking on the photo of the forecaster!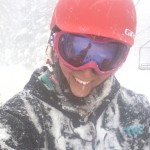 Your forecaster. Click on her to donate. Thank you!
Thank you for using this forecast. Please tell your friends about it! And if you or your friends think this service is awesome/useful/saves you gas money/makes your life more fun, make a donation by clicking on my photo above. Is more fun worth $50/year? $20/year? Donate what it's worth to you (and thank you!), but $12 minimum gets you on the email list (with occasional giveaways) for a year. Thank you for your support, and have fun today!
Random Morning Thoughts
It was so fun down at Double Mountain last night, not because of the beer that I didn't drink, but because of all the rally cars and rally car people. Rally car drivers and rally car team members are super stoked, super passionate people who really love what they do. Being around them is a joyful experience. I hope they host the fan party in Hood River every year. Oh, and rally cars are cool too. When I grow up, I want to be a rally car driver.
The Hood 2 River Relay is a one-day event on May 31st. This fun and all-inclusive event is designed for almost any level of skill and fitness, yet competitive enough for the hardcore athlete where participants compete in teams, pairs, or individuals to race from the high slopes of Mt. Hood down to the mighty Columbia River. There will be six Legs that consist of; Alpine ski, nordic ski, mountain bike, road bike, road run, boating (kayak/canoe/SUP) and a 500 meter sprint to the finish line after boating. Open to individuals and teams. Visit their website for more information. And Pole-Pedal-Paddle, eat your heart out. You got nothin' on the Hood 2 River!
Mt. Hood Snow Forecast – 5000′

4a-8a
8a-12p
12p-4p
4p-8p
8p-4a
Sunday
Mt. Hood Snow Forecast
It was cloudy on Mt. Hood at 5am. Just cloudy. Not snowing, and not raining, despite the fact that it snowed and rained up there last night. Good news for the ski resorts that the precip had stopped by the hour of the early snow reports. It'll be cloudy up there today with occasional sprinkles or snow, for .1-.3" water value (WV) by 5pm, mostly after noon. The snow level will be 5000′ early, and 6000′ for the rest of the day, dropping to 5500′ around midnight. Wind will be SW 40+ early, dropping to SW 35 in the afternoon and SW 25 overnight.
Monday looks mostly cloudy on Mt. Hood with increasing snow flurries after 11am. The snow level will be 4000′ early, 5000′ in the afternoon and 6000′ overnight. Wind will be SW 25, becoming W 15 midday and NW 15+ in the afternoon. Tuesday looks partly cloudy with the snow level at 6000′ and NW wind at 20-30.
Today's Gorge Wind

Your favorite beach
Dawn
Patrol
9am-
11:30a
11:30a-
3pm
3pm-
dusk
Steven's Locks
light
5-10
10-15
10-15
Hatch (subtract a few mph for Event Site)
light
5-10
12-15
12-15
Doug's / Rowena / Lyle
light
12-15
22-25
22-25
Maryhill / Rufus / The Wall
light
12-15
22-25
22-25
Arlington / Roosevelt
light
12-15
22-25
22-25
Gorge Wind
We have nice morning gradients of .08 and .07 this morning, but the showery weather isn't making for great wind. You There's zero wind this morning and near-zero gradient, at least there was at 6am. As a low pressure system moves inland today, we'll see the wind pick up to gusty 12-15 near Hood River and up-and-down, gusty, unreliable 22-25 east of Mosier, all the way to Arlington, with brief periods of 24-28 likely. Sounds great, doesn't it?
Tomorrow starts with west wind at 5-10, picking up to W 22-25 in the afternoon from Lyle to Maryhill. Afternoon wind near Hood River will be gusty 15-18. Tuesday looks better, as high pressure off the coast combines with sunshine inland for a 10-15 start that builds to 24-28 in the afternoon, with the strongest wind from the Hatchery to Doug's and 20-23 at Stevenson and Maryhill.
Gorge Weather
Sadly there are no rainbows this morning, both because of a lack of sun and a lack of showers. We'll see increasing showers this afternoon with increasing west wind. Temps will be in the mid 40's early and upper 50's in the afternoon.
Monday looks partly cloudy with a chance of showers midday and a chance of thundershowers in the afternoon. Rainbows are possible, though not likely. Temps will be in the low 40's early and upper 50's in the afternoon with west wind that increases during the day.
Tuesday looks partly cloudy and windy with temps in the upper 40's early and low 60's in the afternoon
Road and Mountain Biking
It rained last night, and that means that Post is probably slippery and muddy. You'd be better off riding Syncline or Whoopdee today, but at the very least, wait until this afternoon to try Post. And then let me know how it is.
The Clymb: free membership. Cheap gear. Temira approves. Click to join.
River Levels
The Hood's at 5.1′, the Klickitat's at 2630 cfs, the White Salmon is at 4'ish and the Wind is at 6.2ish'. Yes, there are companies running trips on the class V Wind this weekend, so get it while you can.
Events – email me if I've missed any outdoor-related events
Today is race day for the Dog River Super D. When I was coming down from Meadows yesterday, there were a ton of cars at the trail, way more than I've ever seen for that race. That's good news for the race organizers. Good luck to the racers. There's also rally car racing on roads in Hood River County. The county banned spectators this year because one of the neighbors on those roads complained. Pretty selfish, if you ask me, to take the fun away from hundreds of people because you're annoyed one day a year.
Also today, there's ping pong at the Hood River armory at 3pm and there's pickup touch rugby at the Mosier School at 3pm.
Have an awesome day today!
Temira