Please support this forecast by clicking on the photo of the forecaster!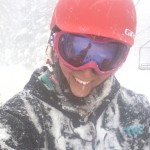 Your forecaster. Click on her to donate. Thank you!
Thank you for using this forecast. Please tell your friends about it! And if you or your friends think this service is awesome/useful/saves you gas money/makes your life more fun, make a donation by clicking on my photo above. Is more fun worth $50/year? $20/year? Donate what it's worth to you (and thank you!), but $12 minimum gets you on the email list (with occasional giveaways) for a year. Thank you for your support, and have fun today!
Random Morning Thoughts
You know those days where stuff just doesn't go right? Yesterday was one of those. Let's see: I screwed up the name of the bike race. I didn't catch Google doing a CC rather than a BCC. And what else? Oh, that's about it, I guess. Today, I'm sure, will work out better. =)
Cool Local Business – Please Support It
ReRack, a 6-year-old Portland business, is your place to buy, sell, and trade your Yakima and Thule rack parts. Brilliant idea, right? They provide free advice and free basic installation too. Head to ReRack, 2240 NE Sandy Blvd, to buy your first rack, sell your old rack or better yet make your old rack work on your new vehicle! Check out www.rerackpdx.com or Call (503) 875-6055 for more information. Go check it out. What a brilliant idea!
Mt. Hood Snow Forecast – 5000′

4a-8a
8a-12p
12p-4p
4p-8p
8p-4a
Sunday
Monday
Tuesday
Mt. Hood Snow Forecast
It is most definitely not snowing on Mt. Hood this morning. It's pineappling. Expect heavy rain through 11am or so, becoming more showery in the afternoon and switching to snow flurries overnight. The snow level today will be 7000′ or higher early, dropping to 6000′ around 11am, holding there through 11pm, and then dropping to 5000′. Expect .5-1.0" rain between 5am and 5pm and another .3-.5" water value (WV) of rain switching to snow after 5pm, for a couple inches of new snow. Wind today will be WSW 40 early, fading slowly to WSW 20 in the evening.
By 5am Monday, the snow level will be around 3500′, and it will fall further to 2000′ in the afternoon. We'll see .3-.5" WV between 5am and 5pm for 3-5" of snow. Steady snowfall turns to flurries in the afternoon, with clear sky overnight. Wind will be W 20 early, becoming WNW 20-30 by 8am and becoming NW 20-30 in the evening.
Tuesday looks clear and sunny. The freezing level will be around 2000′ early, rising to 7000′ in the afternoon. Wind will be out of the hard-to-predict northerly direction.
Gorge Wind
There's a .04 west gradient this morning, not enough to make much of anything happen on the river. Expect westerlies to fade to 5-10 by this afternoon. Tomorrow starts with west wind at 5-10. As high pressure builds off the coast and a weather system slides east, the west wind will pick up to 13-15 in the western Gorge and 22-25 east of The Dalles. Tuesday brings light east wind to start, picking up to E 23-26 in the afternoon.
Gorge Weather
It's warm and rainy in the Gorge this morning. Low 50's at 5am. That's warm, for sure. It will stay warm and rainy today, with decreasing rain and increasing rainbows after 11am. Showers continue through the day with light west wind.
Monday starts off with showers and rainbows. The temp will be in the low 40's early, rising to the upper 40's in the afternoon with increasing west wind as the day goes on. Tuesday looks clear and sunny with temps in the upper 30's early and mid 50's in the afternoon with light wind.
Road and Mountain Biking
It's mighty wet outside to be cycling. But I'm sure all the visiting bike racers will be on it anyway.
The Clymb: free membership. Cheap gear. Temira approves. Click to join.
Events – email me if I've missed any outdoor-related events
Rugby happens today at 3pm at the Mosier School. Ping pong is happening later than usual tonight: 5-8pm, rather than whenever it usually happens.
Have an awesome day today!
Temira