Please support this forecast by clicking on the photo of the forecaster!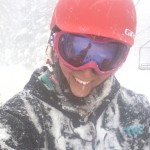 Your forecaster. Click on her to donate. Thank you!
Thank you for using this forecast. Please tell your friends about it! And if you or your friends think this service is awesome/useful/saves you gas money/makes your life more fun, make a donation by clicking on my photo above. Is more fun worth $50/year? $20/year? Donate what it's worth to you (and thank you!), but $12 minimum gets you on the email list (with occasional giveaways) for a year. Thank you for your support, and have fun today!
Random Morning Thoughts
It's incredible how much less I get done when there's less-than-usual to do.
Cool Local Business – Please Support It
Mt. Hood Snow Forecast – 5000′

4a-8a
8a-12p
12p-4p
4p-8p
8p-4a
Monday
Tuesday
Wednesday
Mt. Hood Snow Forecast
It is snowing lightly on Mt. Hood this morning, and models are indicating continuing orographic snow showers through early afternoon, after which time the sky will clear. The snow level will be around 4000′ this morning, dropping to 2500′ in the afternoon. Models say .5" water value (WV) today, but I think it'll be a bit less, so call it 2-4" of new snow by 4pm. Wind today will be SW 30 early, becoming NW 30 mid-morning and WNW 35 around noon.
Tuesday looks clear and sunny. The freezing level will be 1000′ early, rising to 7000′ in the afternoon. Wind will be N at 10-20 becoming E at 10-20 in the afternoon. Wednesday looks clear and sunny with the freezing level around 8000′ and light wind early that turns to W 10 in the afternoon. Repeat on Thursday.
Gorge Wind
Today actually looks like a very good day to get on the water, if you're hardy enough to handle 39 degree water. We'll see a weather system move through midday with high pressure building off the coast. With that setup, the wind should be relatively steady. Expect the wind to rise to W 28-32 this afternoon east of Mosier, or maybe east of The Dalles. Under the clouds in the western Gorge, you can expect W 15-18ish.
Tuesday starts off light with E 21-24 in the afternoon. The central coast looks good on Tuesday with N 20-25 and a 6′ swell at 11 seconds. Wednesday brings E 15-18 early, fading to light wind in the afternoon.
Gorge Weather
Looks like a showery morning with a chance of rainbows. Temps will be in the upper 40's early, rising to the mid 50's this afternoon with increasing west wind. Tuesday looks clear, with a few inversion clouds possible in the morning. Temps will be in the mid-30's early, rising to the mid-50's in the afternoon with light wind. Wednesday looks clear with temps in the low 40's early and low 60's in the afternoon with light wind.
Road and Mountain Biking
I went for a quick spin on the Cirque de Madre yesterday afternoon. There was hardly any gravel at all. Today will likely be a bit on the windy side for fun road biking and it will likely be a bit on the muddy side for good mountain biking, but Tuesday and Wednesday look like spectacular days for riding bikes.
River Levels
The Hood is at 8.9′. The Klickitat is at a very big 7140cfs. The White Salmon is also big, at 7′ or so.
The Clymb: free membership. Cheap gear. Temira approves. Click to join.
Events – email me if I've missed any outdoor-related events
There are 3 movie events happening Wednesday. First, the Hood River Area Trail Stewards have a mountain bike movie night at Andrews. Second, LunaFest, films by women and about women, happens at Columbia Center for the Arts. Third, it's the Telluride Mountain Film Festival, a fundraiser for Portland Mountain Rescue, at the Hollywood Theatre in Portland.
Have an awesome day today!
Temira