Please support this forecast by clicking on the photo of the forecaster!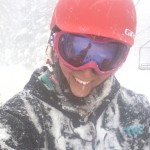 Your forecaster. Click on her to donate. Thank you!
Thank you for using this forecast. Please tell your friends about it! And if you or your friends think this service is awesome/useful/saves you gas money/makes your life more fun, make a donation by clicking on my photo above. Is more fun worth $50/year? $20/year? Donate what it's worth to you (and thank you!), but $12 minimum gets you on the email list (with occasional giveaways) for a year. Thank you for your support, and have fun today!
Random Morning Thoughts
I didn't get around to planting my peas yesterday. I was distracted by sunshine and warm temps in The Dalles. I rode my bike instead.
Cool Local Business – Please Support It
ReRack, a 6-year-old Portland business, is your place to buy, sell, and trade your Yakima and Thule rack parts. Brilliant idea, right? They provide free advice and free basic installation too. Head to ReRack, 2240 NE Sandy Blvd, to buy your first rack, sell your old rack or better yet make your old rack work on your new vehicle! Check out www.rerackpdx.com or Call (503) 875-6055 for more information. Go check it out. What a brilliant idea!
Mt. Hood Snow Forecast – 5000′

4a-8a
8a-12p
12p-4p
4p-8p
8p-4a
Saturday
Sunday
Monday
Mt. Hood Snow Forecast
Today started off clear on Mt. Hood, but now it's cloudy. The freezing level will be 8000′ early and 10,000′ in the afternoon. Rain starts sometime around 4pm. We'll see 1.5-2" rain between 4pm today and 4am tomorrow. Wind today will be SW 30 in the morning, slowly rising to SW 40-50 in the afternoon and holding overnight.
Sunday starts with steady heavy rain, becoming less steady and less heavy as the day goes on, and switching to snow flurries sometime late in the day. The snow level will be 8000′ early, dropping to 6500′ by 11am, 6500′ by 4pm, 5500′ by 7pm and 3000′ by Monday morning. We'll see .7" water value (WV) between 4am and 4pm, mostly before noon. Another round of precip moves in after 4pm, for another .3-.5". That round will likely fall as dense snow, for 1-3" of new by Monday morning. Wind Sunday will be SW 40 early, WSW 30 midday, and WSW 20 in the afternoon.
Monday brings more snow, assuming the model predictions don't change. The snow level will be around 3000′ all day. We'll see .4-.8" WV between 4am and 4pm, with orographic flurries morphing to clear sky after 4pm. That morning precip should give us 5-9" of new snow. Wind will be WNW 20-30 early, becoming NW 30-40 in the afternoon.
Tuesday looks clear and sunny with north wind.
Gorge Wind
We have an E .08 gradient to start the day, with easterlies in the upper teens at Rooster. Expect 21-24 this morning, backing off to light wind midday and switching to light west wind in the afternoon, picking up into the 20's out of the west overnight. Sunday starts with west wind at 15-18, fading to light wind in the afternoon. Monday starts off light and picks up to W 15-18 in the western Gorge and 23-26 east of Mosier in the afternoon. Tuesday looks light.
Gorge Weather
I would give a lot to be down in the Gorge this morning, rather than up on Mt. Hood. There seems to be a bit of an inversion cloud this morning, but it should burn off, giving us some sun. Morning temps will be in the mid-30's. By afternoon, we'll have high clouds and temps in the low 60's.
Rain starts sometime between 4pm and 10pm, drenching the Gorge overnight with up to 1" of the falling wet stuff. Sunday starts with temps in the low 50's, rising to the upper 50's in the afternoon. We'll see sprinkles and rainbows in the morning, becoming partly cloudy in the afternoon with more sprinkles overnight. Monday looks showery with more rainbows. Temps Monday will be in the low 40's early and low 50's in the afternoon.
Road and Mountain Biking
There's road bike racing going on in The Dalles today – I've been such a space case not mentioning it until now. Anyway, there are lots of bike racers in town, and if you want to watch bike racing, today out on Petersburg Loop is the place. That is not the place, obviously, to go for a casual ride today. But the riding will be lovely by mid-morning: warm, possibly still sunny, and not windy. Sunday afternoon, after the rain stops, will be nice too, with temps in the upper 50's and light wind in the afternoon. Monday looks wet and windy – not the greatest of days for riding.
In mountain bike world, I had a report last night that Post is in great shape. If Post is good, Syncline is good. If Post and Syncline are good, the 400 out of Wyeth is good. Go ride.
The Clymb: free membership. Cheap gear. Temira approves. Click to join.
Events – email me if I've missed any outdoor-related events
Today is Bowl For Kids' Sake, the annual fundraiser for Big Brothers, Big Sisters. Now look, folks. This program saves lives. Kids who have a "big" have lower dropout rates, better mental health, better grades and more success in life. Trust me on this one, and please make a donation. Any amount helps. And if you want to be involved, there are kids looking for Bigs. Just 2 hours a week can change a kid's life. Call 541-436-0306 for more information.
Also today, it's the Feast of Words fundraiser at the Hood River Library from 6-9pm. So you can do Bowl for Kids' Sake and then go to the library fundraiser. Books saved my life when I was a kid, so I therefore deem this a worthy cause, despite its lack of connection with the outdoors (although I do love reading books in my hammock, outside).
Have an awesome day today!
Temira