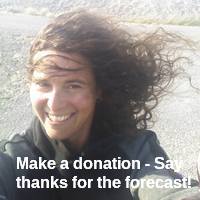 Get the email free through the end of January – try it out! Click here.

Thank you for using this forecast. I offer it freely so you can have more fun and plan your life. It does take significant time and energy to produce. If you find yourself using it often, or if you feel your life is enhanced by this information, please make a donation. I count on your support to pay my bills, and am deeply grateful to you for choosing to help support me. You can get this forecast via email by donation. The email subscription isn't $99/year. Not $50/year. Donating $12.34 or more gets you on the list for 12 months. Click on my photo to donate. Don't PayPal? Send a check to Temira @ PO Box 841 in Hood River. Thank you for your support and thank you for trusting my forecast.
Mt. Hood Snow Forecast – 5000′

4a-8a
8a-12p
12p-4p
4p-8p
8p-4a
Thursday
10000′->500′
Friday
500′->1000′->0′
Saturday
0′->6000′
---
Mt. Hood Snow Forecast

It's a clear and windy morning on Mt. Hood. If you're headed up, you'll have sunshine for the first half of the day followed by some sprinkles and/or snow flurries in the afternoon and evening. The weather looks clear on Friday and Saturday with light to moderate snowfall and uncertainty in the forecast for Sunday.
So, Thursday. Sunshine in the morning. Sprinkles, then flurries after 3pm. The snow level will be 10,000′ in the morning and 500′ after midnight. Whoa. That's a big drop, eh? The mountain will receive .2" water value (WV) overnight. Best guess is 1/10" rain an an inch of snow. Wind looks troublesome: W 55 in the morning, WNW 45 in the afternoon and evening, and NW 30 overnight.
Friday starts off clear above low clouds. Partly cloudy sky may happen in the afternoon. Or it may not. The free air freezing level will be 500′ in the morning, 1000′ in the afternoon, and right down to your house Friday night. No precip. Wind will be NW 30 in the morning, NW 15 in the afternoon, and NE 20 after midnight.
Saturday starts off with sunshine above mid-level clouds, which could result in morning fog at the lower elevations of the resorts. Sunshine takes over by the afternoon. The free air freezing level will be at sea level early, 500′ in the afternoon, and 6000′ after midnight (briefly, anyway). Wind will be NE 20 int eh morning, NE 10 in the afternoon, and WSW 20 on Sunday morning.
The best I can do for Sunday is broad-brush the forecast, as the models are in complete disagreement on the track of an incoming low pressure system. The weather looks cloudy in the morning with light to moderate snowfall in the evening. That translates to 2-6" of new snow at 5000′. The wind forecast is even more impossible. Looking at next week, we have two options: dry weather or light, intermittent snowfall.

Random Morning Thoughts
Pretty much all of us have some negative self-talk. You know, unkind things we say to ourselves that we'd never say to anyone else. Reflect on this: why is it that we think it's okay to say things like "I'm so fat" or "I'm so stupid" to ourselves when we'd never (I hope!) say those things to other people?
That's not my main point. My point is that it's possible to stop the negative self-talk by applying an antidote. Enough antidote, and we'll be innoculated, vaccinated, protected from ourselves. We'll create automatic new responses to the same stimuli. Let's make this concrete:
Let's say that your negative self-talk includes something like, "I'm so out of shape!" That might be true, but continuing to say that isn't going to make you feel better, in part because it probably leads to other negative thoughts. So, when you notice yourself saying something unkind to yourself, follow that thought up with something kinder: "I'm working hard to get in shape," or "I love my biceps", or "I'm eating healthy meals." You get the picture. Something kind. Compassionate. Loving.
Over time, you'll notice that these kind thoughts will automatically arise in response to the unkind thoughts. Make sure you notice the difference between how you feel with the nice-talk and the mean-talk. That will help train your brain to be nicer automatically. This will take work and persistence, but the payoff will be more happy time and less unhappy time. Have an awesome day.

Disclaimer required by my grad school program: I am not your therapist, but I am seeing clients at this time at Comprehensive Healthcare in White Salmon. In the meantime, I am your weather forecaster. Take everything I say with a grain of salt, and consult with your actual therapist about your mental health issues. One other thing: I plan to keep doing this forecast indefinitely. Forecasting and counseling are both deeply meaningful and nourishing to me.

Gorge Wind Forecast
It's going to be a windy day in the Gorge as a frontal system moves into Washington. As this happens, offshore high pressure will re-establish dominance and pressure in the Columbia Basin will drop. The wind is likely to be gusty, but what do you expect for early February?!?! Thursday started with westerly gradients of .08 and .11. Water temp is 40 degrees, so be careful out there. We'll see westerlies at 10-13 this morning. After 10am, the wind will pick up to gusty 26-33 east of Hood River (maybe east of Rowena) and very gusty, sprinkly 18-22+ from Stevenson to Hood River. It's likely there will be a short-lived period of 25+ in the western Gorge before clouds and sprinkles move in.
Friday sees continued offshore high pressure and westerly flow. Wind will be confined to the western Gorge. Expect 16-19 for the morning hours between Viento and Mosier and 12-15 in the afternoon from Stevenson to Mosier.
Saturday brings east wind at 30-35. Models are all over the place on the track of an incoming low pressure system on Saturday. The GFS operational has it right over Portland, and the Euro has it over the norther half of Vancouver Island. Given that discrepancy, it's impossible to make a forecast. I can say this: with high pressure forecast in the Pacific for the better part of the next 10 days, the central and south coast will be the place for strong, steady wind.

Gorge Weather Forecast
It seems to be partly cloudy this morning. More clouds move in during the afternoon with a chance of a few sprinkles. Temps will be in the upper 40's early and upper 50's later. Strong west wind. 14% chance of rainbows. Friday starts with partly cloudy sky and a few raindrops. The afternoon looks sunny. Temps will be in the Upper 30's early and near 50 in the afternoon. Light west wind.6% chance of rainbows. Saturday looks cloudy in the morning and sunny in the afternoon. Temps will be near 30 early and near 50 in the afternoon. East wind. No rainbows. Sunday will likely be showery in the afternoon with snow above 1000′, but the details are unclear.
For weather specifically directed at travel through the Gorge, please visit Temira's Awesome Travel Advisory Service on Facebook.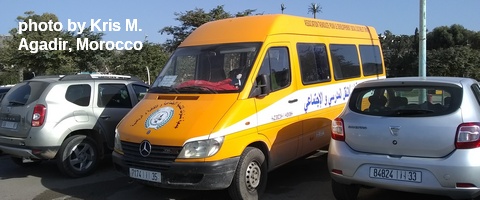 Road and Mountain Biking
Post Canyon is officially open. Yay! Whoopdee is still closed. Nestor, Hospital Hill, Syncline are all open. With warm, dry weather in the forecast, the gravel grinding will be good for the next week or so too. What more could you ask for?

Upcoming Events
There's free meditation at Trinity Natural Medicine at 6:15am. There's free yoga at 8am at Flow. That's followed by $5Tai Chi at the Hood River Adult Center at 2:30, community yoga at 6pm at Samadhi in White Salmon, and free Tai Chi at Our Savior Church in Bingen at 6:30. At 7am on Friday, there's the Kickstand Coffee Run, where jogging or walking 4 miles gets you a free cup of coffee and a donut.

Click here for the full events calendar.
Have an awesome day today!
Temira