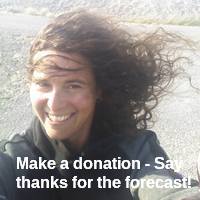 Get the email free through the end of January – try it out! Click here.

Thank you for using this forecast. I offer it freely so you can have more fun and plan your life. It does take significant time and energy to produce. If you find yourself using it often, or if you feel your life is enhanced by this information, please make a donation. I count on your support to pay my bills, and am deeply grateful to you for choosing to help support me. You can get this forecast via email by donation. The email subscription isn't $99/year. Not $50/year. Donating $12.34 or more gets you on the list for 12 months. Click on my photo to donate. Don't PayPal? Send a check to Temira @ PO Box 841 in Hood River. Thank you for your support and thank you for trusting my forecast.
Mt. Hood Snow Forecast – 5000′

4a-8a
8a-12p
12p-4p
4p-8p
8p-4a
Wednesday
10,000′
Thursday
10,000′->1000′
Thursday
10000′->500′
---
Mt. Hood Snow Forecast

It sure does feel like La Nina's having a laugh on us, doesn't it? For this week, we'll have mostly dry weather with a few inches of snow possible Sunday into Monday.
Wednesday looks clear and sunny on the mountain. The free air freezing level (FAF) will be 10,000′. Wind will be NW 20 in the morning, WNW 15 in the afternoon, and W 40 after midnight.
Wind'll be something to watch on Thursday – a low pressure system previously forecast to move into northern Washington is now forecast to come in 200 miles farther north. Should it shift back to the south, wind could impact lift ops. Anyway, Thursday starts off clear. Low and mid-level clouds move in during the afternoon for a trace of rain in the evening. The FAF will be 10,000′ for most of the day, dropping to 1000′ after midnight. Whoa. That's a big drop, and it's going to make the snow surface Hard as Fuck. Wind on Thursday will be W 40 in the morning, WNW 40 in the afternoon, and NW 30 after midnight.
Friday looks sunny above low clouds. The FAF will be 1000′. Wind will be NW 30-35 all day and N 20 after midnight. Saturday currently looks clear and cold – the FAF will be 500′ or less all day. Wind will be N 20 in the morning and light and variable in the afternoon. This is a huge change from yesterday's forecast which contained east wind at 40mph and shutdown potential for the resorts. The change has to do with the amount of cold air making its way in from the east and the strength of the offshore high pressure. I'll leave it at that.
The long-range forecast brings in a few inches of snow on Sunday with a snow level of 1000′. another 3" or so falls Sunday night into Monday. Models lack specific consensus next week, but it does look like on-and-off light snowfall is possible.

Random Morning Thoughts
My hope for you today is that your day is less jam-packed than mine. I'll have more time for reflections tomorrow. Have an awesome day!

Disclaimer required by my grad school program: I am not your therapist, but I am seeing clients at this time at Comprehensive Healthcare in White Salmon. In the meantime, I am your weather forecaster. Take everything I say with a grain of salt, and consult with your actual therapist about your mental health issues. One other thing: I plan to keep doing this forecast indefinitely. Forecasting and counseling are both deeply meaningful and nourishing to me.

Gorge Wind Forecast
Offshore high pressure continues to drive west flow through the Gorge for Wednesday. A system passing far to the north Thursday amps up the wind on Thrusday, and high pressure builds in Friday for decreasing wind. Saturday looks easterly.
For Wednesday, we start off with W .07 and .06 and wind in the low teens. Strong high pressure off the coast today combines with lower pressure in the desert for peak westerlies at 13-16 between Viento and Mosier this afternoon. A low pressure system is forecast to move inland north of Vancouver Island tomorrow. As that happens, high pressure rebuilds off the coast and Columbia Basin pressure drops.
That sets us up for gusty west wind at 16-19 in the morning through the whole Gorge with gusty 26-30 through the whole Gorge in the afternoon. Steadiest wind Thursday will be east of the afternoon low clouds, perhaps from The Dalles to Arlington. Friday starts with 12-15 and picks up to 18-22, centered between Viento and Mosier. As of today, we're looking at E 30-40 on Saturday.

Gorge Weather Forecast
It's partly or mostly cloudy out there right now, and quite dark, so it's hard to know for sure! It'll be a partly cloudy to sunny day. Temps will be near 50 early and near 60 in the afternoon. Moderate westerlies. No rainbows. Thursday looks clear in the morning with low clouds and scattered sprinkles in the afternoon. Temps will be near 40 early and neare 60 in the afternoon. Strong west wind. 11% chance of rainbows. Friday starts off partly to mostly cloudy. Temps will be in the upper 30's early and low 50's in the afternoon. Moderate westerlies. 1% chance of rainbows. Snow level 1000′.
For weather specifically directed at travel through the Gorge, please visit Temira's Awesome Travel Advisory Service on Facebook.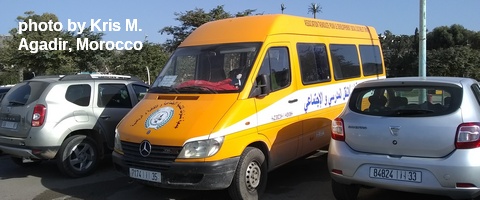 Road and Mountain Biking
I checked in with the HRATS yesterday, and it sounds like we're on a self-policing model in Post. Don't ride if it's freeze thaw (below freezing last night, above freezing now). Don't ride if it's muddy. If it is muddy, educate riders about the damage they are causing, and tell them how to get connected with opportunities to do trailwork. Whoopdee remains closed. Syncline is awesome, but full of ticks. Hospital Hill also contains ticks. Nestor is open. Kitchen Sink is open.

Upcoming Events
It's Wednesday. There's community yoga, free or by donation, at FISH Food Bank in Hood River at 10am. There's community meditation at Trinity Natural Medicine at noon. There's ping pong at the Hood River Armory at 5:30pm and Zumba at the St. Francis House in Odell at 6pm. There's by-donation YogaFaith (Christ-centered Yoga) at Pure Yoga in The Dalles at 6:45.

Click here for the full events calendar.
Have an awesome day today!
Temira