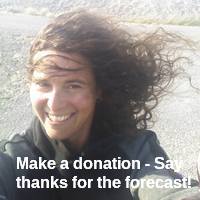 Get the email free through the end of January – try it out! Click here.

Thank you for using this forecast. I offer it freely so you can have more fun and plan your life. It does take significant time and energy to produce. If you find yourself using it often, or if you feel your life is enhanced by this information, please make a donation. I count on your support to pay my bills, and am deeply grateful to you for choosing to help support me. You can get this forecast via email by donation. The email subscription isn't $99/year. Not $50/year. Donating $12.34 or more gets you on the list for 12 months. Click on my photo to donate. Don't PayPal? Send a check to Temira @ PO Box 841 in Hood River. Thank you for your support and thank you for trusting my forecast.
Mt. Hood Snow Forecast – 5000′

4a-8a
8a-12p
12p-4p
4p-8p
8p-4a
Friday
500′-1000′
Saturday
500′->3000′
Sunday
3000′->500′
---
Mt. Hood Snow Forecast

I heard a rumor this morning that there's a foot of snow coming on Sunday into Monday. I'm not sure where that rumor is coming from, but neither the GFS nor the ECMWF support it. That said, now that I'm a party-pooper, there is a bit of snow coming. Between now and then, we'll have more sunshine than we know what to do with!
For Friday, expect a sunny day on the slopes. The free air freezing level (FAF) will be 500′ early, 1000′ in the afternoon, and 500′ overnight. Wind will be NW 25 in the morning, NW 15-20 in the afternoon, and N 20 after midnight.
Saturday might bring some low-elevation fog to the slopes in the morning, but full-on sunshine will return by afternoon. The FAF will be 500′ early, 1000′ in the afternoon, and 3000′ after midnight with high clouds. Wind Saturday will be N 20 in the morning, light and variable in the afternoon and evening, and W 35 after midnight.
Sunday brings SNOW! The day starts off with high clouds and a beautiful sunrise. Snow starts up around 10am and continues through Monday morning. The snow level will be 1000′ or less all day. Models disagree on the amount of snow. Let's call it 4-7" total between 10am sunday and 4am Monday. Wind will be W 35 early, WNW 35 mid-morning, NW 25 in the afternoon, and light and variable after midnight. Monday currently looks like a forecast of flurries early and sunshine in the afternoon, and we're back to warm, sunny weather on Tuesday.

Random Morning Thoughts
Our thougth processes work in such a way that our default mode is to identify with our experiences and labels. For example, someone who is anxious might say, "I'm an anxious person." That leaves no room for improvement, no space for a different version of reality. Identifying as "X" often means that we think we can be nothing other than "X".
This is a false equivalence. We are a collection of thoughts, behaviors, emotions and awareness. While it may be comforting having a label or a box to help us make sense of things, clinging to that label or staying in that box keeps us, ironically, trapped there.
Instead, we can break down the label into parts, and choose the parts to change. For example, if I am a person who gets anxious when I have too many things on my plate, I can choose to learn how to manage my time and responsibilities better. Then I become a person who feels competent when I have a lot of things on my plate. What sort of assumptions do you make about "you"? What sort of boxes and labels have you applied to "yourself"? How can you hold those identities less tightly and find ways to change them? May your life be filled with goodness. Have an awesome day.

Disclaimer required by my grad school program: I am not your therapist, but I am seeing clients at this time at Comprehensive Healthcare in White Salmon. In the meantime, I am your weather forecaster. Take everything I say with a grain of salt, and consult with your actual therapist about your mental health issues. One other thing: I plan to keep doing this forecast indefinitely. Forecasting and counseling are both deeply meaningful and nourishing to me.

Gorge Wind Forecast
With high pressure holding offshore, the west wind continues today. We'll have 10-13 in the eastern Gorge this morning with 17-21 between Stevenson and Mosier. The eastern Gorge westerlies will back off this afternoon, leaving us with west 16-19 between Stevenson and Mosier. Saturday looks like E 10-15 early, E 30-35 midday, and E 15-20 in the afternoon. Sunday brings west wind at 12-15 with afternoon rain. Cold rain.

Gorge Weather Forecast
It's cloudy out there this morning. We should see sun later, or at least partly cloudy sky. Temps will be in the mid 40's early and low 50's this afternoon. Moderate west wind. No rainbows. Saturday starts off with the Nothing and turns sunny. Temps will be near freezing early and in the low 50's in the afternoon. East wind. No rainbows. Sunday starts with high clouds and an epic sunrise, most likely. Temps will be near freezing early and in the mid 40's in the afternoon. Rain starts up around 10am. Ligh rain, that is. West wind. 99% chance of rainbows.
For weather specifically directed at travel through the Gorge, please visit Temira's Awesome Travel Advisory Service on Facebook.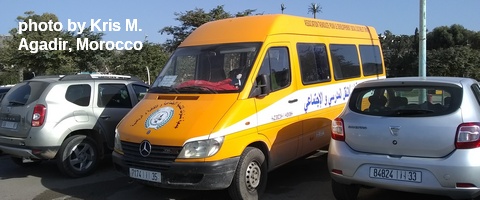 Road and Mountain Biking
Post Canyon is officially open. Yay! Not only is it open, it's the BEST EVER! BROWN POW! GET IT NOW! Whoopdee is still closed. Nestor, Hospital Hill, Syncline are all open. It's warm enough for road biking and gravel grinding too! What more could you ask for?

Upcoming Events
The Kickstand Coffee run is at 7am on Fridays. Jog or walk 4.1 miles and you earn a free cup of coffee and a donut. On Saturday, there's a trail run in Post Canyon at 8am and the Cold Lap mixed surface ride at Dirty Fingers at 3pm. The latter is no-drop, all abilities.

Click here for the full events calendar.
Have an awesome day today!
Temira