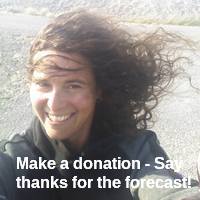 Get the email free through the end of May – try it out! Click here.

Thank you for using this forecast. I offer it freely so you can have more fun and plan your life. It does take significant time and energy to produce. If you find yourself using it often, or if you feel your life is enhanced by this information, please make a donation. Click right here to donate. I count on your support to pay my bills, and am deeply grateful to you for choosing to help support me. You can get this forecast via email by donation. The email subscription isn't $99/year. Not $50/year. Donating $12.34 or more gets you on the list for 12 months. Don't PayPal? Send a check to Temira @ PO Box 841 in Hood River. Thank you for your support and thank you for trusting my forecast.
Today's Gorge Wind – these are ranges for the average speed, not a predicted wind range. =)

Your favorite beach
Dawn
Patrol
9am-
11:30a
11:30a-
3pm
3pm-
dusk
Steven's Locks
10-13
13-16
16-20?
16-20?
Hatchery/Wunderbar
10-14
G 14-19?
G 20-26?
G 20-26?
Doug's, Lyle, Rowena
23-27
23-27
30-35
30-35
Rufus, etc.
strong
current
30-35
30-35
Roosevelt, etc.
15-20
20-25
28-32
28-32
Gorge Wind Forecast

Yesterday turned out to be a gosh-darn-windy day, which was bound to happen as I wasn't allowed in the river yesterday. Same goes for today – I'm at my internship all day, meaning you're going to have a huge day on the river! So… let's look at the morning gradients: at 5am we had .15 (pdx-dls) and .10 (dls-psc) with offshore high pressure and a heat low over the desert. River temp is 54 degrees. Flow is ginormous: 528kcfs. Please keep your buddies in sight and be prepared for a big swim. Rufus/The Wall/Maryhill are a terrible idea at this flow.
Marine clouds pushed past Hood River last night and are predicted to stay that way. This will shift today's wind a bit east, mostly likely. This is also giving us a nice stable atmosphere to work with; expect the same tomorrow. Dawn Patrol today should be in the 23-27 range from Mosier to Avery. The wind will build, maxing out at 30-35 between Mosier and Rufus by early afternoon. Arlington should see 28-32 today. It's hard to say what will happen under the clouds west of Hood River. How about a guess: 16-20 Stevenson and gusty 20-26 Viento. Swell and Hood River are big question marks today and depend on the eventual cloud line. This ain't a precise science, unfortunately!
Thursday sees that lovely combo of offshore high pressure and desert heat low. The day starts with 13-16 in the west (partly cloudy) and 24-28 from Mosier to The Dalles (sunny). Clouds should burn back into the "hole" on Thursday, giving us 28-32 from Viento to Arlington in the afternoon. Strongest wind, if that's your thing, will be Swell to Doug's. Gradients mellow out on Friday for max westerlies of 17-21. The weekend forecast contains model differences, so don't trust this: 13-16 Saturday and 23-27 on Sunday, likely to change.

Random Morning Thoughts
I started writing a reflection this morning and realized I didn't know the way out of the self-inflicted suffering I am experiencing. This happens to all of us sometimes – we create suffering in our mind, we know it's our own fault, and for some reason we can't give up on it. My personal theory is that this is often related to grief.
Society tells us that grief is a big thing, that it's related to death and job loss and illness. But grief can be much smaller; it can arise from the daily choices we make to go down one path instead of another. Not recognizing these little losses can keep us trapped in frustration and regret.
I'm not suggesting we wallow in sadness. Not by any means. I'm just suggesting taking a direct look at regret and frustration and seeing if there's a need for a few tears before peace returns. May you be happy. Have an awesome day.

Disclaimer required by my grad school program: I am not your therapist, but I am seeing clients at this time at Comprehensive Healthcare in White Salmon. In the meantime, I am your weather forecaster. Take everything I say with a grain of salt, and consult with your actual therapist about your mental health issues. One other thing: I plan to keep doing this forecast indefinitely. Forecasting and counseling are both deeply meaningful and nourishing to me.

Mt. Hood Mountain Weather Forecast
Expect mid to high clouds all day today, perhaps partly cloudy in the afternoon. The free air freezing level (FAF) will be 11,000′ wind will be NE 10 in the morning, NW 10 in the afternoon and NNW 15 overnight. Thursday looks clear. FAF: 11,000′-12,000′. Wind: NNW 15 all day and N 10 after midnight. Friday looks clear in the morning and cloudy in the afternoon. FAF: 12,000′ early and 10,000′ late. Wind: N 10 becoming WNW 10 and then light and variable.

Gorge Weather Forecast
It's partly cloudy this morning as the marine layer has pushed all the way past Hood River. Expect a partly cloudy day. Temps will be in the mid 60's early and low 70's in the afternoon. Nuking west wind. No rainbows. Thursday looks partly cloudy early and sunny in the afternoon. Temps will be in the mid 50's early and low 70's later. Strong west wind. No rainbows. Friday looks clear early and high overcast in the afternoon. Temps will be in the low 50's early and mid 70's later. Moderate west wind. No rainbows.
For weather specifically directed at travel through the Gorge, please visit Temira's Awesome Travel Advisory Service on Facebook.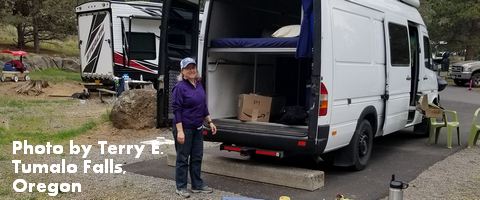 Click here for the White Sprinter Van map of the world!!!
Road and Mountain Biking
The 44 Trails Association is reporting that Knebal, Eightmile and Bottle Prairie are open. Surveyor's still has trees down. Lake Branch Road is mostly melted out with a couple of 2-4 minute snowy walks. Other than that, it's open. Vista Ridge is open. Enjoy your three summits! There are free Devinici bike demos at Dirty Fingers today – 1pm to 7pm.
The Cascadia Dirt Cup is in Post Canyon Saturday, so you'll want to make other plans. If you volunteer as race support, you'll be helping the HRATS earn some cash. Hood River County has a work party on the Pinemont Loop next Saturday.

Upcoming Events
Today's events are community yoga at 10 at Fish Food Bank and meditation at Trinity Natural Medicine at noon. This evening at 5:30, it's the women's Post n' Pinot mountain bike ride with free Devinci mountain bike demos. Those demos are reported as 1pm to 7pm somewhere that I saw. That's at Dirty Fingers. There's an open house on the Mitchell Point section of the historic Highway Trail at 6:15 tonight at 601 State in Hood River.
Looking ahead to Saturday the Cascadia Dirt Cup Enduro race is in Post Canyon. You'll want to ride somewhere else, for sure. There's a work party on the Pinemont trail meeting at 9am near Pinemont Staging area. There's a plant sale starting at 8am in White Salmon and a plant share at 2pm at Hood River's Rockford Grange. On Sunday, there's a swap meet at Windance.

Click here for the full events calendar.
Have an awesome day today!
Temira