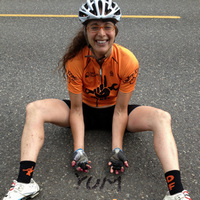 This is Temira!
Thank you all for your donations and kind words during last month's pledge drive. Whew. Glad that's over. I always feel a little weird asking for donations. That said, should you like to get on the daily email list (where you can occasionally win cool stuff), please take the time to click on the sun below and make a donation of $12 or more. That gets you a year's subscription, and it makes me smile, because I know then that the hard work I put into this is worth a lot to you. Thank you for reading my work, and thank you for donating. Have a wonderful day!

Random Thoughts you may or may not regret reading…
The huckleberries are ripening. I went on a long ride yesterday, and ended up with half a water bottle full of the delicious delights. My belly held at least a few handfuls more.
Random Local Advertising
Lance Koudele Photography (LKP) is focused on exposing your business via engaging photography and videography. Whatever your industry- be it travel, hospitality, food and beverage, manufacturing, LKP has the experience and ability to capture the essence of your services. Take a look at his work online – five minutes of photographic beauty is a great way to start your day.
Wind forecast guess paragraphs
At wake-up time this morning, high clouds covered the sky, giving an ominous feel to the first five minutes of my day. "It's just the forerunners to a front," I said to myself, but that didn't make the sky feel any less creepy. And knowledge of the sky signs won't make forecasting this complicated weather any easier.
We have an offshore low pressure system and approaching frontal boundary (two different temp/humidity air masses) today. With .05 gradient to start, this dynamic weather will give us gusty 15-18 near Hood River this morning, picking up to 17-21 this afternoon from Cascade Locks to The Dalles, and picking up further to 23-26 at Cascade Locks late in the day. Just an aside – I'm tired of picking between Cascade Locks and Stevenson, so that area of the river will now be referred to as Steven's Locks. Thank you for understanding.
We'll see the front push inland tomorrow, giving us cooler, cloudier weather (like it's not cloudy enough right now). The wind will be gusty again. 10-15 or less to start slowly builds to 17-21 late in the day. Strongest afternoon wind will likely be at Steven's Locks.
On Friday, an upper low sits off the BC coast and more gusty, frontally-driven west wind whistles through the Gorge. Expect 15-18ish. But… on Saturday, we'll see stronger, steadier west wind as the ULL pushes inland and weak high pressure parks (albeit briefly) off the Oregon Coast. Please let this forecast be right: I want to go windsurfing.
I keep forgetting: If you want new windows in your wind-sails, they are 15% off all month at Northwave. Put in a new window, and you'll be able to see again. It's not just about not running people over: a new window allows you to see the view.
Today's Gorge Wind

Your favorite beach
Dawn
Patrol
9am-
11:30a
11:30a-
3pm
3pm-
dusk
Stevenson
5-10
13-15
17-21
23-26
Hatch (subtract a few mph for Event Site)
0-10
15-18
17-21
15-18
Doug's / Rowena / Lyle
5-10
10-13
10-13
15-18
Maryhill / Rufus / The Wall
5-10
5-10
10-13
15-18
Arlington / Roosevelt
5-10
5-10
10-13
15-18
The Clymb: free membership. Cheap gear. Temira approves. Click to join.
Non-sports, but still important, news
Don't forget about tomorrow night's Important Meetings. From 5-7pm, Oregon State Parks has a meeting at the west end of the Twin Tunnels Trail to discuss plans for recreation in the Gorge. If you want to have some input on what Parks does over the next several years (more mountain bike trails, please, especially one that links both ends of the Gorge 400), be at this meeting.
At 6pm Thursday, Cover Oregon has a meeting at the Hood River Inn to educate you about your options once the health care exchange goes live. To register (it's a free meeting), go here.. Why am I mentioning this in a recreation report? Because too many of you (including many of my friends) go without insurance because you can't afford it. If you're a single person making under 45k, the ACA will give you subsidies to buy good (not crappy) insurance.
Sports news
Tonight's a busy one: At 5:30, the Dirty Fingers women go mountain biking in Post Canyon at the Post n' Pinot ride. Also at 5:30, it's the Kayak Shed's shop paddle at Husum, kid-friendly mountain biking at Family Man, and pickup rugby at Henkle Middle School. At 6pm, there's pickup Ultimate Frisbee at Wy'East Middle School, and there's sailboat racing at the Hood River Marina.
Coming up this weekend, it's the Naish Paddle Challenge at Hood River's waterfront park. If you have any interest in SUP, you won't want to miss this event. There are free demos and lessons all weekend long, so even if you've never tried standup paddling, this event is for you.
Have an awesome day today!
Temira