Please support this forecast by clicking on the photo of the forecaster!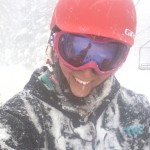 Your forecaster. Click on her to donate. Thank you!
Thank you for using this forecast. Please tell your friends about it! And if you or your friends think this service is awesome/useful/saves you gas money/makes your life more fun, make a donation by clicking on my photo above. Is more fun worth $50/year? $20/year? Donate what it's worth to you (and thank you!), but $12 minimum gets you on the email list (with occasional giveaways) for a year. Thank you for your support, and have fun today!
Random Morning Thoughts
My therapist moved to Vancouver, and yesterday I drove there to have my weekly chat with her. I know… TMI. Anyway, driving 70 minutes each way to talk to someone for 50 minutes sucks, so I tacked on some extra activities.
First, I went for a beautiful 40 mile ride, and found one of the coolest roads on the planet. Allen Canyon, somewhere north of Ridgefield, is a steep, narrow, fern-covered, waterfall-filled, stream-bordered beauty of a mile of pavement. Did I mention it's steep? Like 18 percent or more. Whoa. For my second activity, I had dinner with my high school bestie's mom and her husband. They live less than 3 minutes from my therapist's new office. Do you believe in coincidence? I don't…
Cool Local Business – Please Support It
Mt. Hood Snow Forecast – 5000′

4a-8a
8a-12p
12p-4p
4p-8p
8p-4a
Wednesday
Thursday
Friday
Mt. Hood Snow Forecast
No, no snow for you. Just sunshine. Ok, maybe some snow Thursday night. Maybe. But for today, we'll see a sunny day on Mt. Hood with the free air freezing level (FAF) at 10,000′ all day and SW wind at 15mph.
Thursday starts off clear, becoming cloudy mid-afternoon with precipitation starting around 11pm. The snow level will be 8000′ early, falling to 6500′ by 2pm and hanging between 6000′ and 6500′ overnight. We'll see .3" water value (WV) between 11pm Thursday and 5am Friday, likely falling as rain, with an inch or two of snow possible above 6500′. Wind Thursday will be WNW 15-20 early, becoming WSW 15-20 midday and switching to WNW 20 overnight.
Friday morning starts off with heavy rain mixed with snow. The snow level will be 6000′ at 5am, 5500′ for much of the day, and will then fall to 3000′ at 5pm and 2000′ overnight. We'll see .7" WV between 5am and 11am, mostly, most likely, falling as rain, with an inch or two of wet snow possible at 5000′ at the tail end of this system. Wind on Friday will be W 30 early, W 45-50 midday, WNW 45 in the evening, and NW 30 overnight.
Saturday looks clear and warm with the FAF around 8000. Wind will be NW 20-30 to start, fading to W 15 in the afternoon.
Gorge Wind
East wind is buffeting the trees at Rooster this morning. We'll see easterlies at 28-32 there and 21-24 at Steven's Locks today. Tomorrow starts with light wind. By afternoon, we'll see gusty 21-24 from Stevenson to The Dalles, probably strongest at Stevenson, with 15-18 east of The Dalles. Friday sees a system move through, giving us gusty westerlies at 13-16 in the western Gorge and 28-32 east of The Dalles after noon.
Gorge Weather
Beautiful. Gorgeous. Stellar. Amazing. Awesome. Spectacular. It might be below freezing as I write this, but it's going to be a touch over 60 degrees and sunny today with a light east breeze in the central Gorge. Tomorrow starts off near 40 degrees, rising to the upper 50's with light wind early, picking up to moderate west wind in the afternoon. Clouds drift in tomorrow afternoon on that west breeze. Rain falls Thursday night, giving us a rainbow-filled, beautiful-sunrise start to the day on Friday. Expect temps in the upper 40's Friday morning, rising to the low 50's, with decreasing showers and moderate to strong west wind.
Road and Mountain Biking
I'm just going to say it: Today is going to be one of the best road riding days you could possibly imagine. I'm sure the dirt is good too, although Syncline may have frozen overnight, so leave it until late afternoon. But the road riding today. Oh god. Completely orgasmic. Warm. Dry. Sunny. Light wind. I'm thinking shorts and just one jersey (I rode in Vancouver yesterday with knickers, two jerseys, and arm warmers). And… it's going to be so warm that you'll have a chance to hang out outside and wash the winter grit off your bike. You love your bike. Make it pretty.
The Clymb: free membership. Cheap gear. Temira approves. Click to join.
Events – email me if I've missed any outdoor-related events
There is oh-so-much going on this evening. The Hood River Area Trail Stewards are showing mountain bike movies at Andrew's at 6:30 (and at a later screening). The LunaFest shows at Columbia Center for the Arts tonight. And Portland Mountain Rescue presents the Telluride Mountain Film Festival at the Hollywood Theatre tonight.
Also this evening, there's an avalanche awareness class at Dog River (America's best coffeshop, acccording to USA Today) at 7pm.
Lunafest continues tomorrow night, and if that's not enough movies, you can catch The Festival of the Fly [fishing] at Andrew's.
Have an awesome day today!
Temira