Please support this forecast by clicking on the photo of the forecaster!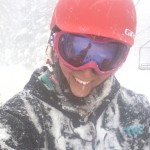 Your forecaster. Click on her to donate. Thank you!
Thank you for using this forecast. Please tell your friends about it! And if you or your friends think this service is awesome/useful/saves you gas money/makes your life more fun, make a donation by clicking on my photo above. Is more fun worth $50/year? $20/year? Donate what it's worth to you (and thank you!), but $12 minimum gets you on the email list (with occasional giveaways) for a year. Thank you for your support, and have fun today!
Random Morning Thoughts
In my office I have two happy lights, a shop light and about 50 baby plants waiting for last frost. The plants make me as happy as the happy lights, which, incidentally, are starting to make me a bit manic now that the real sun has some spring oomph.
Cool Local Business – Please Support It
Mt. Hood Snow Forecast – 5000′

4a-8a
8a-12p
12p-4p
4p-8p
8p-4a
Thursday
Friday
Saturday
Mt. Hood Snow Forecast
There doesn't seem to be much in the way of snow in the forecast, but sunshine is a good substitute. And it also starts with the letter "S", which doesn't increase the snowpack but does satisfy my word-centered mind. Anyway, this morning will be sunny on Mt. Hood, but sadly, clouds will move in this afternoon followed by light and intermittent sprinkles this evening. No significant rainfall tonight. The snow level will be 7000′ early, falling to 6200′ or so by 8pm and dipping as low as 6000′ overnight. Wind today will be WNW 15 this morning, rising to W 20 midday and W 20-25 overnight.
Friday starts with either clouds or clouds plus sprinkles, with heavier precipitation moving in around 8am. The precip will become more showery/orographic in nature after 11am. The snow level will be around 6200′ until this front moves through, dropping the snow level to 5000′ by 2pm and 3000′ by 5pm. Unfortunately, the precip will be pretty much done by the time the snow level drops. So, let's call this .8"-1.0" water value (WV) of mostly-rain, likely mixed with some very wet snow, between 5am and 11am, followed by a few snow flurries for no accumulation at 5000′ and a few inches at the higher ski slopes. Wind will be W 25 early, rising to WNW 45 around 11am and holding for the rest of the day before backing off overnight.
Saturday looks sunny, with maybe some high clouds in the afternoon. The freezing level will be around 8000′. Wind on Saturday will be WNW 20 early, going to SW 20 by noon. At this point, models are disagreeing on Sunday's weather. At this point, I'll give it a conservative forecast of cloudy, warm and windy.
Gorge Wind
We have a light westerly gradient this morning, which isn't producing much wind on the river, but you can expect gusty 15-18 in the western Gorge this afternoon, probably best at Stevenson, as a front approaches. Tomorrow starts with west wind at 15-18. The wind will pick up to W 28-32 east of Mosier around noon as an upper low moves east and high pressure builds off the coast. Tomorrow should be a good day at Maryhill and Arlington. Not so sure about the Lyle area. Saturday brings light wind.
Gorge Weather
Today will be glorious in the morning. We'll see a sunny start, becoming overcast late afternoon. Temps will be in the mid-30's this morning and the mid-50's this afternoon with light west wind. We'll see a few sprinkles overnight. Tomorrow starts with showers and a rainbow sunrise possibility. Heavier rain moves in around 8am, switching back to showers after noon. Temps will be in the mid 40's early and the low 50's in the afternoon with increasing west wind becoming strong in the afternoon. Saturday looks sunny with temps in the mid 30's early and mid-50's in the afternoon with light wind.
Road and Mountain Biking
Yesterday definitely fit the bill of "best road biking day ever". Sunny. Just warm enough. No wind. Plus I made a new friend yesterday while riding my bike. Somehow she turned my easy 1 hour recovery ride plans into 2.5 hours, but I didn't even notice because I was enjoying the conversation so much. Thanks, friend. =)
Today's cycling weather will be perfectly lovely in the morning, becoming still-nice but a little windy and cloudy in the afternoon. Tomorrow looks sub-par, with rain and wind, making the roads not-so-great and the mountain bike trails muddy. Saturday looks like a spectacular road or mountain day with sunshine and light wind and 50+ degree weather.
The Clymb: free membership. Cheap gear. Temira approves. Click to join.
Events – email me if I've missed any outdoor-related events
Tonight is the second night of LunaFest at Columbia Center for the Arts. So, if you didn't make it last night, you can make it tonight. What's LunaFest? It's films about, by and for women. And since I'm a woman, it qualifies as an event for this report. Also tonight, there's co-ed pickup touch rugby at 3:30 at Henkle Middle School. For you fly fisher folk, the Festival of the Fly is at Andrew's tonight.
Have an awesome day today!
Temira