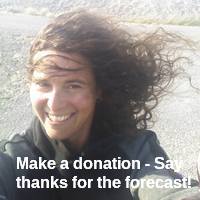 Get the email free through the end of April – try it out! Click here.

Thank you for using this forecast. I offer it freely so you can have more fun and plan your life. It does take significant time and energy to produce. If you find yourself using it often, or if you feel your life is enhanced by this information, please make a donation. Click right here to donate. I count on your support to pay my bills, and am deeply grateful to you for choosing to help support me. You can get this forecast via email by donation. The email subscription isn't $99/year. Not $50/year. Donating $12.34 or more gets you on the list for 12 months. Don't PayPal? Send a check to Temira @ PO Box 841 in Hood River. Thank you for your support and thank you for trusting my forecast.
Mt. Hood Snow Forecast – 5000′

4a-8a
8a-12p
12p-4p
4p-8p
8p-4a
Tuesday
1500′->2500′
Wednesday
2500′->5500′
Thursday
5500′->6500′
---
Mt. Hood Snow Forecast

It's a very snowy morning with lots of fresh snow on Mt. Hood. It's Tuesday, by the way. Snowfall will continue for today. Wednesday brings clouds and light snowfall, and then we'll transition to sunshine for a couple of days. The weekend forecast currently has light snowfall Saturday morning followed by sunshine for the rest of the weekend.
Tuesday's details include wind and heavy morning snowfall. The snow level will be around 1500′ in the morning and 2500′ from the afternoon on through the night. About .4" water value (WV) falls during the day, giving us 4-5" of new snow. A trace falls overnight. Wind will be W 35 in the morning, fading to SW 10 in the afternoon and evening.
Wednesday looks cloudy with intermittent light snow flurries. The snow level will be 2500′ early, 4500′ in the afternoon, and 5500′ after midnight. Light and variable wind. Thursday looks cloudy to start and clear in the afternoon. The free air freezing level (FAF) will be 5500′ early and 6500′ in the evening. NE/NW wind at 10mph.
Friday looks clear with the FAF at 6500′. A weak front moves in late, setting up light snowfall with a couple inches of new Saturday morning. Sunday looks sunny with the FAF around 6000′

Random Morning Thoughts
I never cease to be amazed by how much anxiety relief can happen by simply getting my thoughts and feelings out of the confines of my mind. That can look like talking, writing, or drawing, and I'm sure it looks other ways for other people.
Somehow, for most of us, things don't get resolved by rattling around in our heads. It helps to give them access to paper or a relationship or the universe.
The desire many of us have to just "sort shit out" inside our heads has many sources: cultural, family communication patterns, experiences… It's so ingrained that we don't question our process, even when it isn't working and is leading us to be stressed out.
So if you are stressed, if you're thinking about the same thing over and over, try something different than using your noggin. Talk to someone. Make a chart or a map or a drawing or a poem. See what sort of impact that has on your stress level. May you find clarity. Have an awesome day.

Disclaimer required by my grad school program: I am not your therapist, but I am seeing clients at this time at Comprehensive Healthcare in White Salmon. In the meantime, I am your weather forecaster. Take everything I say with a grain of salt, and consult with your actual therapist about your mental health issues. One other thing: I plan to keep doing this forecast indefinitely. Forecasting and counseling are both deeply meaningful and nourishing to me.

Gorge Wind Forecast
For today, Tuesday, we'll have fading westerlies. In the morning, the rainy western Gorge will have 13-16. Western means Stevenson to Doug's today. Locations farther east will have 23-26. After 2pm, the wind will fade to 10-13 in the western Gorge and 18-22 east of The Dalles. Wednesday brings light east wind in most locations. Stevenson will see 10-15 and Rooster will have 15-20. After 2pm, the wind will go calm. Thursday sees clearing weather as high pressure builds off the southern Oregon coast. The wind will be W 10-13 everywhere for the first half of the day. Around 2pm, t he wind will pick up to W 20-23 from Stevenson to Mosier.

Gorge Weather Forecast
It's a rainy Tuesday morning in the Gorge, but patches of blue sky bode well for sunbreaks. What you see is what you get – light, intermittent rain through 5pm and dry weather after that. Temps will be in the mid 40's early and low 50's later. Moderate westerlies. 99% chance of rainbows. Wednesday looks mostly cloudy with occasional afternoon sprinkles. Temps will be in the upper 30's early and upper 50's in the afternoon. Light easterlies. 5% chance of rainbows. Thursday looks cloudy to start and sunny in the afternoon. Temps will be int eh upper 30's early and mid 60's in the afternoon. Light west wind early, moderate in the afternoon. No rainbows. The long-range forecast contains 70's and even some 80's for next week.
For weather specifically directed at travel through the Gorge, please visit Temira's Awesome Travel Advisory Service on Facebook.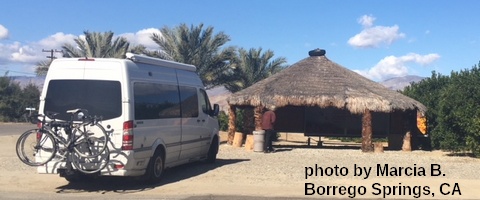 Click here for the White Sprinter Van map of the world!!!
Road and Mountain Biking
It's too muddy to ride in Post Canyon, Hospital Hill, and Whoopdee right now. Syncline should be fine this afternoon, assuming the sprinkles stop. If you've been a bad person and have been riding muddy trails and damaging them, you can make up for it by attending the Hood River County trail work party that meets at Post Flats at 9am Saturday. In other news, the Post and Pint group MTB ride kicks in this week at Dirty Fingers on Thursday. The women's bike ride is Wednesday at 5:30. Coming up this weekend, Kona has free bike demos at Family Man both days 12pm to 5pm.

Upcoming Events
Coming up this weekend, there's a trail work party in Post Canyon at 9am on Saturday: meet at Post Flats staging area. There's a swap meet at Luhr Jensen beach on Sunday. The Kona Bikes Demo Tour will be at Family Man from 12-5 Saturday and Sunday, giving you a chance to try out new bikes for free.
Coming up Tuesday, there's by-donation moving meditation at Trinity at 6:15. There's a free meditation/breathing class at Flow at 8am. There a free yoga class at Trinity Natural Medicine at noon. There are two evening by-donation events: a women's only (anyone identifying as "female") mobility, strength and self-defense class at First Light in Hood River at 6pm, and meditation with the Pacific Hermitage monks at 6:30 at Yoga Samadhi.

Click here for the full events calendar.
Have an awesome day today!
Temira