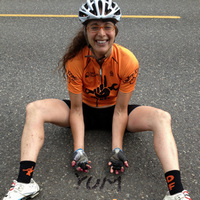 This is Temira!
Thank you all for your donations and kind words during last month's pledge drive. Whew. Glad that's over. I always feel a little weird asking for donations. That said, should you like to get on the daily email list (where you can occasionally win cool stuff), please take the time to click on the sun below and make a donation of $12 or more. That gets you a year's subscription, and it makes me smile, because I know then that the hard work I put into this is worth a lot to you. Thank you for reading my work, and thank you for donating. Have a wonderful day!

Random Thoughts you may or may not regret reading…
Yesterday's forecast was for hot, muggy weather, so I went for a 7am bike ride. Before 7:45am, I saw five people I knew. This amused me. You people are all as crazy for cycling as I am. Or maybe you're all just as crazy as I am. Also yesterday, I learned about something more awesome than $3 Ruins Tuesday: $12 prime rib. At the Ruins, you get only entrance (and safety) for your $3. At Cebu, you get delicious prime rib for your $12. $12 > $3, but prime rib > entrance.
Random Local Advertising
Does your company have a specific marketing task that your internal team does not have time to jump on? MARiASH MARKETiNG can get the job done. We specialize in all elements: event marketing, social media plans and management, PR, brand strategy, athlete team strategy or management, guerrilla marketing tactics, overall consulting… the list goes on.
Wind forecast
Despite less gradient through the Cascades than we had yesterday – .08 vs. .10 – we're off to a windier start in the Gorge this morning. You can expect 18-23 (I'm giving it a bigger range than usual because I expect some up-and-down to it) at the Hatchery through the afternoon, filling in at Stevenson and Mosier, with 13-16 at Maryhill this afternoon.
Speaking of afternoon, the offshore low pressure system moves closer to land today, and that will cool Portland down this afternoon. Timing. Is. Everything. If this happens before dark, we'll see the wind ramp up into the 25-29 range at Stevenson and Hood River. If you happen to be near Jones Beach, you'll see it happen by 3-5pmish.
Tomorrow brings west wind at 17-21, possibly 21-24 later if we get lucky. Friday will likely start with 15-18 and pick up to 23-26. The weekend looks windy (meaning 15-18 or more), but the eastward transit of this pesky upper level low will likely fire off thunderstorms.
If you need a new window in one of your sails, you can get one at Northwave for 15% off through August by mentioning you read about it here.
Today's Gorge Wind

Your favorite beach
Dawn
Patrol
9am-
11:30a
11:30a-
3pm
3pm-
dusk
Stevenson
light
10-13
18-22
23-26??
Hatch (subtract a few mph for Event Site)
17-21
18-23
18-23
25-29??
Doug's / Rowena / Lyle
5-10
5-10
18-23
18-23
Maryhill / Rufus / The Wall
5-10
5-10
15-18
15-18
Arlington / Roosevelt
5-10
5-10
13-15
13-15
The Clymb: free membership. Cheap gear. Temira approves. Click to join.
Other News
Tonight's got something for everyone – At 4pm, Flow Yoga has Karma Yoga – it's not quite free, but it's by donation, so it's a great chance to try yoga if you never have.
Also tonight, at 5:30, there's the women's Post n' Pinot Mountain bike ride at Dirty Fingers Bikes. All women are welcome on this ride – nobody will be dropped, and there are raffle prizes and a free glass of wine for all finishers. Meet at the shop at 5:30 or the bottom of Post Canyon Road at 6.
Your other options tonight are the Kayak Shed's shop paddle at 5:30 at Husum, Sailboat racing at the Hood River Marina around 6, and Families at Family Man, kid-friendly mountain biking at Post Canyon's Family Man. If none of those appeal, you could try pickup touch rugby at Henkle Middle School in White Salmon at 5:30.
Have an awesome day today!
Temira