Please support this forecast by clicking on the photo of the forecaster!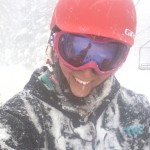 Your forecaster. Click on her to donate. Thank you!
Thank you for using this forecast. Please tell your friends about it! And if you or your friends think this service is awesome/useful/saves you gas money/makes your life more fun, make a donation by clicking on my photo above. Is more fun worth $50/year? $20/year? Donate what it's worth to you (and thank you!), but $12 minimum gets you on the email list (with occasional giveaways) for a year. Thank you for your support, and have fun today!
Interesting Local Opportunity
The Hood River Sister City Committee is immediately seeking candidates for a unique position that places a Hood River County resident in Japan for one year starting this summer. The Coordinator of International Relations position comes with a competitive salary and benefits package and living arrangements in Tsuruta, Japan, Hood River's longtime sister city. The CIR works at the Tsuruta town office and is responsible for helping with exchange activities, maintaining communications between cities and teaching basic English to the townspeople. For more information or to get an application, contact Sister City President Niko Yasui at nyasui@hoodriver.k12.or.us or call 541-490-2876. You can also contact me, Temira, if you have more questions about what the position involves.
Random Morning Thoughts
This morning I want to share my friend Steve's random thoughts, taken from Facebook:
"I walked out of a 7/11 tonight and there was a young lady sobbing outside. I stopped and asked if she was ok and she said her brother had just committed suicide and she had no one to talk to. She said she was 23 years old. At that point I remembered that I was just 23 when my best friend Kevin took his own life in 1996. I remembered how I felt. I was lost trying to figure it all out.
After about five minutes I asked her if she had anyone else she could talk to and she said "not really" and that they "really don't understand." At that point I made the decision to give her my phone number and asked her to call me anytime that she felt like she needed to talk to someone that would not judge her. I explained to her that I was not a psychologist and that sometimes we just need to talk to someone in order to keep the insecure thoughts from consuming us. She hugged me and thanked me several times through all of her tears. I know exactly how she feels. I hope she finds her inner peace, support and strength."
Steve did an amazing thing last night, and changed the course of someone's life. I'm asking all of you to see the suffering around you. You don't have to reach out to strangers, but please reach out to your friends and please, especially, reach out to your enemies in times of need. By connecting with others, we can change the world for the better and reduce the amount of hatred, misunderstanding and suffering.
Mt. Hood Snow Forecast – 5000′

4a-8a
8a-12p
12p-4p
4p-8p
8p-4a
Thursday
Friday
Saturday
Mt. Hood Snow Forecast
There's not much happening in the Mt. Hood snow department until the middle of next week, when something might happen. For today, we'll have clear sky this morning becoming partly to mostly cloudy this afternoon with a very slight chance of some snow flurries this afternoon and evening. The freezing level will be 500′ early and 3000′ this afternoon. Wind will be light and variable early, rising to NW 20 mid-morning.
Friday looks clear and relatively chilly. The free air freezing level (FAF) will be 500′ early and 4000′ in the afternoon. Wind will be light and variable (LTV), becoming NW 15.
Saturday looks partly cloudy with periods of complete high overcast. The FAF will be 1000′ early, rising to 4500′ in the afternoon. Wind will be LTV early, becoming NW 10-15 in the afternoon. Sunday looks partly cloudy and warmer, with the FAF at 3000′ in the morning and 7000′ in the afternoon. Wind will be NW 25 early becoming W 10 in the afternoon.
Gorge Wind
I betcha some folks had a nice day on the water yesterday. I had a nice day doing other stuff. I need to figure out how to make super-thin waterproof heated gloves for windsurfing. Anyway, we'll see wind in the single digits in the western Gorge today with 15-18 in the afternoon east of Hood River. Tomorrow brings a short-lived burst of E 21-24 mid-morning with light wind for much of the day. Saturday brings east wind at 15-18 for the morning with light wind in the afternoon.
Out on the coast, tomorrow looks pretty awesome: 20mph up north building to 30+ at Florence with a 7′ swell at 13 seconds. The north coast doesn't look great Saturday., but the central coast should see 20-25 with a 6′ swell at 17 seconds. 6@17 is about perfect in my book, so someone should go get some for me while I'm working on the mountain.
Gorge Weather
Looking out my window this morning I see partly cloudy sky and a nice sunrise. Models suggest that'ls how it will be today with a very slight chance of sprinkles after 2pm. So we'll call it a very slight chance of rainbows too, following up yesterday's fucking amazing morning rainbow that hovered over the Columbia for at least 30 minutes. That f-bomb was for the 30 people who emailed me yesterday expressing heartfelt support for f-bombs. Sorry, but the frequency of f-bombs will not change, despite overwhelming support for them. Anyway, expect temps in the upper 30's this morning and upper 40's in the afternoon.
Tomorrow looks mostly clear in the afternoon with a good chance of inversion clouds in the morning. The wind will be light. Protect your sensitive plants: temps will be in the upper 20's early and in the upper 40's late. Saturday looks high overcast with filtered sun and light wind. Temps will be around 30 degrees early, rising to the low 50's in the afternoon. Sunday looks partly cloudy and warmer with light wind. Temps will be in the upper 30's early and the low 60's in the afternoon.
Road and Mountain Biking
It's going to be a heck of a stretch for road riding: Today through Sunday all bring light wind and warm-enough afternoon temps. Sunday looks epic for road riding. The dirt is going to be in awesoem shape today. Tomorrow and Saturday, though, we're probably going to see freeze-thaw conditions on Whoopdee and Syncline, so plan on Post Canyon instead.
The Clymb: free membership. Cheap gear. Temira approves. Click to join.
Events – email me if I've missed any outdoor-related events
There's pickup rugby tonight at Collins Field at 5:30. At the Columbia Center for the Arts tonight, you can watch the trail running film festival starting at 6pm. I'm a trail runner, well actually, I'm a trail jogger, but anyway, I'm really curious how a filmmaker can take what is essentially a slow, contemplative activity and turn it into exciting film. I think it's probably worth going to the film festival just for the answer to that question. Coming up Saturday, Skibowl has the annual Snow Beach Party with pond skimming, wing eating contests, and beer drinking.
Have an awesome day today!
Temira