Mt. Hood Snow Forecast – 5000′

4a-8a
8a-12p
12p-4p
4p-8p
8p-4a
Friday
9000′->2500′
Saturday
2500′->0′
Sunday
0′->9000′
---
Mt. Hood Snow Forecast

It's Friday, and I will be heading off on a retreat this afternoon. See y'all next weekend. On a totally different note, my birthday is coming up, and I love birthday cards. If you feel inspired to send me one, I'd be delighted: POB 841, Hood River, 97031. Now, on to the forecast!
Mt. Hood pickup up about 2.5" of rain so far in this storm system. For Friday, the rain will continue – light in the morning, heavy in the evening, and rain switching to snow overnight. The snow level will be 8000-9000′ during the day, 5000′ this evening, and 2500′ after midnight. Mt. Hood will pick up about 2" of rain today. At the end of this system, the rain will switch to snow. The GFS only suggests an inch, but strong orographics could drop 3-5" if we're lucky. The wind will be quite strong: WSW 40+ all day, WSW 50+ in the evening, and W 40 after midnight.
Light snowfall continues on Satuday mornign along with strong wind. The snow should taper off to clear sky by the afternoon. The snow level will be 2500′ early, 1500′ in the afternoon, and 0′ after midnight. Widn will be W 40 early, NW 15 in the afternoon, and light and variable overnight.
The extended forecast for next week contains a significant inversion. Temps rise above freezing at 5000′ on Sunday afternoon and stay there through the end of next week (unless something changes). Guess it's a good week for me to take a vacation!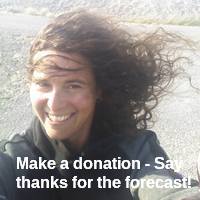 >
Does this forecast save you time, gas money, or help you have more fun in your life? Make a donation to support continued forecasting, and get the forecast in your inbox each day. Click on the photo above to donate. The email subscription isn't $99/year. Not $50/year. No, just $12.34 or more gets you on the list for 12 months. Don't PayPal? Send a check to Temira @ PO Box 841 in Hood River. Thank you for your support and thank you for trusting my forecast.
Random Morning Thoughts
One of the things that most of us aren't skilled at is asking for love. Cultural pressures keep us from explicitly asking for recognition and appreciation. Because I enjoy being loved and seen and heard and appreciated (who doesn't, really?), it's time for my annual birthday card request!
I'm headed off on retreat tomorrow, and I'd love to come home to a PO box of birthday wishes. If you have a bit of extra time and energy, I'd be grateful if you'd drop me a birthday card at PO Box 841, Hood River, Oregon, 97031. And while you're at it, give yourself some well wishes, and work up the courage to ask for love from your friends too. Have an awesome day, and thank you in advance!

Disclaimer required by my grad school program: I am not your therapist, but I am seeing clients at this time at Comprehensive Healthcare in White Salmon. In the meantime, I am your weather forecaster. Take everything I say with a grain of salt, and consult with your actual therapist about your mental health issues. One other thing: I plan to keep doing this forecast indefinitely. Forecasting and counseling are both deeply meaningful and nourishing to me.

Gorge Wind Forecast
We'll have east wind at 10-15 all day today. After 7pm, the wind will switch to W 24-27. Saturday starts with gusty 15-18 in the western Gorge and gusty 23-26 in the eastern Gorge. The wind will back off to 10-13 in the afternoon. Sunday, Monday and Tuesday all look like E 50 near Rooster Rock.

Gorge Weather Forecast
It's a cloudy and drizzly morning with temps in the low 30's. Temps will hover there until the wind switches this evening, and then we'll have upper 40's. Drizzle this morning, sprinkles midday, heavy rain this afternoon and tonight. 1% chance of rainbows. Saturday starts off with sprinkles and partly cloudy sky. Temps will be near 40 early and in the mid 40's this afternoon. Moderate west wind. 99% chance of rainbows. Sunday looks like Nothing with high clouds later in the day. Temps will be near 30 early and upper 30's in the afternoon. East wind. No rainbows.
For weather specifically directed at travel through the Gorge, please visit Temira's Awesome Travel Advisory Service on Facebook.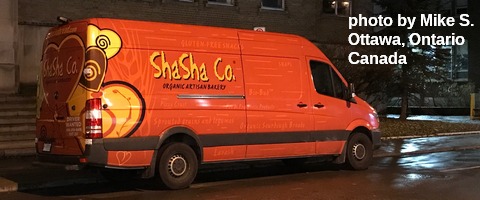 Road and Mountain Biking
I guess you could ride a fat bike. Another option is to ride a spin bike.

Upcoming Events
The Kickstand Coffee Run is every Friday morning at 7am. Jog or walk 4 miles and get a free cup of coffee and a donut.

Click here for the full events calendar.
Have an awesome day today!
Temira