Please support this forecast by clicking on the photo of the forecaster!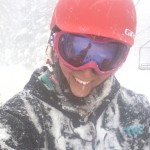 Your forecaster. Click on her to donate. Thank you!
Thank you for using this forecast. Please tell your friends about it! And if you or your friends think this service is awesome/useful/saves you gas money/makes your life more fun, make a donation by clicking on my photo above. Is more fun worth $50/year? $20/year? Donate what it's worth to you (and thank you!), but $12 minimum gets you on the email list (with occasional giveaways) for a year. Thank you for your support, and have fun today!
Random Morning Thoughts
I just had a lovely 36 hours in Bend. Ah, vacation. Why don't I do you more often?
Mt. Hood Snow Forecast – 5000′

4a-8a
8a-12p
12p-4p
4p-8p
8p-4a
Friday
Saturday
Sunday
Mt. Hood Snow Forecast
At the time I wrote this forecast, it was still snowing on Mt. Hood. I expect that will change, as temps are warming. The snow level, at 4000′ early, will rise to 6000′ by 11am and rise further to 6500′ by 5pm. Then we'll see it drop: to 5500′ at 8pm and 4000′ overnight. Unfortunately, the bulk of today's moisture will come between 8am and 5pm, and will likely fall as rain, at least below 6500′. Expect 2-3" of the rainy stuff today, followed by .1-.3" water value (WV) that falls as snow overnight, for 1-2" of new. Wind today will be SW 30 early, rising to SW 45 midday and then dropping to SW 35 for the afternoon and evening.
Saturday brings terrain-enhanced (orographic) snowfall. The snow level will be 3500′ early, rising to 4500′ in the afternoon and falling to 1500′ overnight. We'll see .1-.3" WV between 5am and 5pm, heavier in the afternoon, for 1-2" of new snow, followed by another .3" WV or so overnight, for 3-4" of additional snow. Wind will be SW 35-40 for much of the day, falling to SW 30 in the afternoon. There's a pretty good chance of some thunder and lightning Saturday afternoon, as surface heating fires off some instability in the atmosphere.
Sunday looks partly cloudy to start with flurries in the afternoon. The snow level will be 1500′ early and 3000′ in the afternoon. No significant accumulation. Wind will be WSW 30 early, W 20 midday and SW 20 in the evening.
Looks like we'll see the next weather system swing through Monday afternoon, with the precip likely falling as snow. The rest of the week, at this point, looks to continue this cool, showery pattern.
Gorge Wind
Today is starting with an E .07 gradient. Expect gusty E 24-27 at Rooster this morning with less at Steven's Locks, fading to light wind this afternoon. As a low pressure system moves through Saturday afternoon, we'll see the wind go from light to W 24-27 east of The Dalles with W 10-14 near Hood River. Sunday starts with W 15-18 east of Mosier, but the wind will go light in the afternoon.
Gorge Weather
It's looking like a very rainy day in the Gorge, especially after 8am, when the heavens will open up with a tropically-sourced downpour. There is a chance of late-day rainbows if the cold front moves through quickly enough. Otherwise, just expect rain and clouds in the western Gorge today with light wind. Temps today will be in the mid-40's early and low 50's in the afternoon. I am not looking forward to driving I-84 in the downpour this afternoon…
Saturday looks partly cloudy and showery with a chance of thunder and lightning in the afternoon. Expect rainbows along with a pretty sunrise and sunset. Wind will be light west to start, picking up in the afternoon. Temps on Saturday will be in the upper 30's early and low 50's in the afternoon. Sunday looks partly cloudy with a chance of some sprinkles. Sunshine is more likely than rainbows. Wind will be light west in the morning becoming light in the afternoon. Temps will be in the upper 30's early and low 50's in the afternoon.
Road and Mountain Biking
Hmph. It's wet out there. Your bike will thank you if you just ride it on the trainer today.
The Clymb: free membership. Cheap gear. Temira approves. Click to join.
Events – email me if I've missed any outdoor-related events
This weekend is the Gorge Roubaix cycling race out in The Dalles. On Saturday, out at Petersburg School, it's the Wheatfield half marathon and 3k/8k race, benefiting local cross country teams. It's absolutely beautiful right now out where that race is happening, so it's worth participating. On Sunday, also in The Dalles, there's a Geocache Race at The Dalles Dam (as best I could tell from the Chamber website). On Saturday at Skibowl, it's the Red Bull Schlittentag, where enthusiastic do-it-yourselfers bomb down the hill on home-built sleds. Sunday is Brewfest at Meadows. Beer. Yuck.
Have an awesome day today!
Temira