Please support this forecast by clicking on the photo of the forecaster!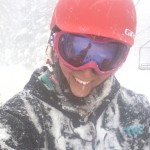 Your forecaster. Click on her to donate. Thank you!
Thank you for using this forecast. Please tell your friends about it! And if you or your friends think this service is awesome/useful/saves you gas money/makes your life more fun, make a donation by clicking on my photo above. Is more fun worth $50/year? $20/year? Donate what it's worth to you (and thank you!), but $12 minimum gets you on the email list (with occasional giveaways) for a year. Thank you for your support, and have fun today!
Random Morning Thoughts
4, 27, 13, 13,827.
Mt. Hood Snow Forecast – 5000′

4a-8a
8a-12p
12p-4p
4p-8p
8p-4a
Friday
Saturday
Sunday
Mt. Hood Snow Forecast
Despite the fact that it's a couple degrees above freezing at ski area base elevations this morning, it is snowing. This tends to happen in spring quite a bit. I've seen it snow (not accumulate, mind you, but snow at 41 degrees). Anyway, if it's snowing now, it's probably going to stay snow, albeit wet snow. Expect the snow level between 5000′ and 6000′ this morning, dropping to 5000′ for sure by 11am, and 3000′ by 2pm, before rising to 6000′ tonight. We'll see .7-.9" water value (WV) before 11am for 1-2" of new snow at 5000′ and 3-5" at higher elevations. Wind will be W 30 early, rising to W 40-50 by 11am and swinging to WNW 45 around 2pm.
Saturday looks intermittently cloudy. The freezing level will be 8000′. Wind will be W 25 early, going to WSW 30 midday and WSW 35-40 in the evening.
Sunday looks cloudy with a few sprinkles possible during the day. We'll see heavy snow move in late Sunday evening. The snow level will be 9000′ early, 6500′ mid-morning, 5500′ at 8pm, 2500′ around midnight and 500-1000′ early Monday morning. There won't be any significant rainfall during the day, but between 11pm Sunday and 5am Monday, we'll see .8-1" WV, for 7-10" of new snow, should the forecast not change between now and then. Wind on Sunday will be WSW 40 for much of the day, rising to 50mph overnight and becoming NW 35-40 early Monday morning.
Monday looks cold, snowy and windy.
Gorge Wind
Although the gradient was light as I wrote this report, just W.03, it's going to ramp up mid-morning, giving us west wind at gusty 15-18 in the western Gorge with relatively steady 28-32 east of the cloud line, likely east of The Dalles, but possibly becoming windy at the Lyle stretch of the Columbia too. Should be a great day on the water! Tomorrow looks light, or maybe light east in the afternoon. Sunday looks like a light west wind day. Monday looks like a strong, but cold, westerly day.
Gorge Weather
This morning looks rather rainy as a cold front pushes through the Gorge by mid-morning. Expect rainbows to accompany the cold front. By afternoon, the central Gorge will be windy under partly cloudy sky. Temps will be in the upper 40's this morning and mid-50's this afternoon.
Saturday looks intermittently cloudy with light wind and temps in the upper 30's early and mid-50's in the afternoon. Sunday looks partly to mostly cloudy with filtered sun and light wind. Temps will be in the mid-40's early and mid-50's in the afternoon. Monday looks cold, wet, and rainy with strong west wind.
River Levels
As of this morning, the Hood was at 6.1′ and the Klickitat was at 3830cfs. And there's water all over the place in streams and creekbeds and other places there usually isn't water. I don't have a current White Salmon reading, but as of two days ago, it was at 5.5′.
Road and Mountain Biking
Someone emailed me a couple of days ago to say that the street sweeper hit Snowden Road. So that is gravel-free. Now, if we could just get that machine over to the Rowena Curves, life would be golden. Post was great yesterday, but with rain headed our way on the radar, it may end up soaked again today. Whoopdee, by order of SDS and the trailbuilder, is still closed. Please respect the closure, or mtb karma will get you.
The Clymb: free membership. Cheap gear. Temira approves. Click to join.
Events – email me if I've missed any outdoor-related events
I have nothing on my schedule for events for the next couple of days. But I'm sure there's stuff going on. You just have to tell me about it.
Have an awesome day today!
Temira