Please support this forecast by clicking on the photo of the forecaster!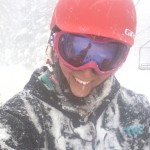 Your forecaster. Click on her to donate. Thank you!
Thank you for using this forecast. Please tell your friends about it! And if you or your friends think this service is awesome/useful/saves you gas money/makes your life more fun, make a donation by clicking on my photo above. Is more fun worth $50/year? $20/year? Donate what it's worth to you (and thank you!), but $12 minimum gets you on the email list (with occasional giveaways) for a year. Thank you for your support, and have fun today!
Random Morning Thoughts
Sometimes my heart breaks with sadness for others. Melissa Joyce and I learned to whitewater kayak around the same time, and although we haven't spent much time together since then, I was devastated to hear of her husband Curt's death on the Grand Canyon last week. He was a beautiful person, and so is she. They had been married just 6 months, and their love was real and true and an inspiration, and it gives me hope for myself and all my friends. You can read Melissa's thoughts from their 6 month anniversary if you like. Nobody deserves such tragedy, much less someone sweet and kind like Melissa. If you can, please make a donation to help her through this terrible time.
Mt. Hood Snow Forecast – 5000′

4a-8a
8a-12p
12p-4p
4p-8p
8p-4a
Wednesday
Thursday
Friday
Mt. Hood Snow Forecast
Looks like we're going to see some spring snowfall over the next week or so. That's great news for our Mt. Hood basin snowpack, currently at 76% of the median snow water equivalent. We are, however, at 96% of YTD precip.
Today brings continual orographic snow, followed by more organized snowfall after 2pm. The snow level will be between 3500 and 4000′ all day. We'll see .4-.6" water value (WV) during the day today, for 4-6" of new snow. We'll see another .4-.5" WV tonight, for another 4-5" of snow. Wind will be SW 20-25 all day today.
Thursday starts off with continuous snowfall that turns to flurries in the afternoon. A warmer system moves in during the wee hours of Friday morning – more on that in a bit. The snow level Thursday will be 3000′ early, rising to 4500′ in the afternoon and falling to 3000′ overnight, before rising Friday morning. We'll see .3-.5" WV during the day, for 3-5" of new snow. Wind will be WSW 20-25 early, W 30 midday and SW 30 overnight.
The system coming in Friday still has model inconsistency, and the precip type will change depending on the exact storm track and speed of the system. The general picture right now is heavy rain or snow mixed with rain or very wet snow during the day Friday (I'm leaning towards rain), followed by heavy snowfall on Friday night. The snow level currently looks to be around 6000′ Friday morning and 6500′ Friday afternoon, falling to 5500′ Friday night and 3000′ Saturday morning. But we're really going to have to wait for more model consistency.
Saturday and Sunday both look cold and snowy.
Gorge Wind
This upcoming week doesn't look good for wind here. We'll see some gusty westerlies associated with incoming weather systems, but they'll be short-lived. Today brings light east wind followed by light west wind after 5pm. Thursday starts with light wind, becoming gusty W 21-24 east of The Dalles with gusty 10-13 in the western Gorge. Friday starts with gusty east wind at 15-18, switching to gusty west wind at 18-23 east of Hood River after 2pm.
Gorge Weather
Looks like we'll see cool and showery weather for the next week or so. This morning looks cloudy and showery with heavier rain starting after 2pm. Temps will be in the low 40's this morning and upper 40's this afternoon with light wind. Tomorrow looks showery with rainbows likely in the afternoon. Temps will be in the upper 30's early and low 50's in the afternoon with light wind early and west wind late. Friday looks quite rainy, all day long, with rainbows possible late in the afternoon. Temps will be in the low 40's early and mid-50's late in the day with light wind early and west wind late in the day.
Road and Mountain Biking
Hmph. Get your mountain biking in today and tomorrow, because Friday's downpour will send the trails into mud-based hibernation on Friday. As for the road riding, it will remain open, with showers and west wind to make things interesting.
The Clymb: free membership. Cheap gear. Temira approves. Click to join.
Events – email me if I've missed any outdoor-related events
Coming up tonight, there's Karma Yoga (free or by donation) at 4pm at Flow, there's ping pong at the Armory ($5) at 6:30pm, and there's a fun-yet-depressing movie, Hanna Ranch, brought to you by Gorge Grown, at Columbia Center for the Arts. Coming up Thursday night, the Hood River Area Trail Stewards have a board meeting at 6pm at the HR Fire Station, and Gorge on Tap, discussing coal trains, new trails and other some-such is at 10 Speed at 6:30pm.
Have an awesome day today!
Temira