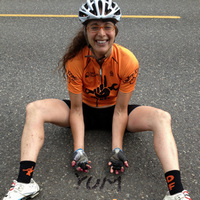 This is Temira!
Thank you all for your donations and kind words during last month's pledge drive. Whew. Glad that's over. I always feel a little weird asking for donations. That said, should you like to get on the daily email list (where you can occasionally win cool stuff), please take the time to click on the sun below and make a donation of $12 or more. That gets you a year's subscription, and it makes me smile, because I know then that the hard work I put into this is worth a lot to you. Thank you for reading my work, and thank you for donating. Have a wonderful day!

Random Thoughts you may or may not regret reading…
Chanterelles. Gimme. Chanterelles. Come on rain!
Support this local business
Lance Koudele Photography (LKP) has captured product/lifestyle photography for local businesses Celilo Restaurant, TREW Gear, Slingshot Sports, Dakine, Insitu, North Pacific Surfboards and shot international advertising campaigns for Patagonia, Keen, Adidas. Lance understands branding and how to convey it's message precisely through photography. If you need a fresh perspective to lift your buisness to new heights contact LKP.
Wind forecast guess paragraphs
It looks like we may dump this pesky offshore low pattern around Tuesday of next week, should the long range models be correct. Until then, the offshore low will lower wind speeds, keep the air humid, and send periodic clouds and/or sprinkles over us. One other thing worth mentioning is that it was 54 degrees when I woke up this morning. Maybe it's an anomaly, but a temp that low… feel like Fall to me.
If you want wind, well, you may be left wanting. Light east wind this morning builds to E 10-15 at most midday, and then switches to W 10-14 after 5pm. Strongest wind will be Stevenson to Hood River. Tomorrow may see leftover morning westerlies at 7-10 or a little more, but the wind will fade midday before picking up to W 13-15 Stevenson-Dalles late as a front nears the coast. That front pushes inland sometime Thursday, for gusty, up-and-down west wind at 21-24 through the whole Gorge in the afternoon.
Don't forget: It's time to nominate folks for the Gorge Windsurfing Awards.
You can do that at CGWA's website through the 28th. Your award choices are: Dale Cook (big air), Grom of the Year, Windsurfer of the Year, Most Selfless Windsurfer, and Most Stoked. Also, don't forget that new windsurfing windows are 15% off this month at Northwave.
Today's Gorge Wind

Your favorite beach
Dawn
Patrol
9am-
11:30a
11:30a-
3pm
3pm-
dusk
Steven's Locks
E 5-10
E 10-13
LTV
W 14-17
after 5pm
Hatch (subtract a few mph for Event Site)
light
light
light
W 14-17
late
Doug's / Rowena / Lyle
light
light
5-10
10-13
Maryhill / Rufus / The Wall
light
light
light
5-10
Arlington / Roosevelt
light
light
light
5-10
The Clymb: free membership. Cheap gear. Temira approves. Click to join.
Sports, activities, and other stuff
In dirt news… I finally made it out around 12:30 yesterday to inspect the trails. I guess I will apologize for the tack alert, because I rode to the top of 133, and there was no tack. Just dust. Dry, sad dust, waiting for enough rain to form tack. Maybe there was perfect dirt higher up, but maybe the rain stayed just far enough east to mostly miss Post. Well, don't worry. There's a chance of rain on Thursday and then again on Sunday, as we stay locked in on this winter-looking weather picture.
On tonight's agenda, the Hood River Recreation Trails Committee has a meeting at the OSU extension office from 5-7, with the latest trail proposals up for discussion. This is your chance to learn more about how the Hood River County trails works.
Also tonight, the Gorge Triathlon Club has their weekly practice at Mayer Park at 6pm. Join them for transition practice, a 500 yard swim, a 7 mile ride, and a 2 mile run. If you like team sports, join the rugby folks for a pickup game at 5:30 at the Hood River Marina. You can also be safe, very safe, at the Ruins tonight for $3 (less crowded this week with all the Burning Man people gone), and you can have Prime Rib for $12 at Cebu. Remember, meat > safety.
Coming up tomorrow night, there's sailboat racing in Hood River, pickup Ultimate Frisbee in Odell, the women's Post n' Pinot ride at Dirty Fingers, the Kayak Shed's shop paddle at Husum, Karma Yoga at Flow, and Families at Family Man, kid friendly mountain biking for all ages and skill levels.
Finally, thank you to Mr.Hood River Weather Website for this informaiton: point your eyes at the eastern sky tonight (or the next few nights) for a chance to see a naked-eye sky explosion in the neighborhood of the tiny constellation Delphinis, the Dolphin. Don't know your constellations? Buy yourself (or your friends) a copy of the best constellation book ever, a book I've owned since I was about 8 years old.
Fire Information
The Mt. Hood National Forest has closed the following trails: Surveyor's, Oak Ridge, 8 Mile, Zig Zag, Da Kine, Knebal, Bottle Prairie, Dog River… basically, anything north of the 44 Road is closed. The 17 Road between Surveyor's and the 44 Road is closed, as is part of Pine Mont Road and the Kitchen Sink trail.. The not-yet-open SuperConnector trail is also closed. Get more fire information, including detailed maps,at the Inciweb website.
Have an awesome day today!
Temira