Please support this forecast by clicking on the photo of the forecaster!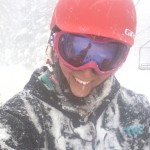 Your forecaster. Click on her to donate. Thank you!
Thank you for using this forecast. Please tell your friends about it! And if you or your friends think this service is awesome/useful/saves you gas money/makes your life more fun, make a donation by clicking on my photo above. Is more fun worth $50/year? $20/year? Donate what it's worth to you (and thank you!), but $12 minimum gets you on the email list (with occasional giveaways) for a year. Thank you for your support, and have fun today!
Random Morning Thoughts
Today's is Buddha's birthday. What would today look like if you were just a bit kinder, more compassionate, and more mindful?
Mt. Hood Snow Forecast – 5000′

4a-8a
8a-12p
12p-4p
4p-8p
8p-4a
Tuesday
Wednesday
Thursday
Mt. Hood Snow Forecast
Yes, there is still plenty of snow on the ground at Mt. Hood. If you go up today and shred it, you'll have a lovely day of spring skiing. It will be clear and sunny for much of the day. Clouds increase this afternoon, and a bit of rain comes in overnight. The freezing level will be 10,000′ early, 8000′ at 11pm, and 6500′ after midnight. About .1-.2" water value comes in as rain tonight. Wind will be W 30 for much of the day, swinging to the SW in the afternoon and then becoming WSW 35-40 after 10pm.
Wednesday starts off partly cloudy, becoming clear. The freezing level will be 5000′ early and 7000′ in the afternoon under sunny sky. Wind will be W 30 in the morning and will fade to W 10 in the afternoon.
Thursday looks partly cloudy to mostly clear. The freezing level will be 6000′ early and 9000′ in the afternoon. Wind will be WNW 15 early and W 15 in the afternoon. Friday looks similar to Thursday.
Gorge Wind
We're starting with westerly gradients of .08 (pdx-dls) and .05 (dls-psc) this morning. As a weak weather system approaches this afternoon, we'll see the wind pick up from 13-15 to 22-25. Strongest, steadiest wind will likely be at Stevenson and Arlington, with gusty (but windy) conditions everywhere else.
Wednesday brings W 10-15 or less. Thursday brings light E wind.
If you want to get on the water, I recommend the coast. Not much out there today, but Wednesday looks like 20-25 on the central coast and 30-40 on the south coast with a 7′ swell at 12 seconds. Thursday brings 17-23 at the north coast, 20-30 at the central coast, and 25-35 at the south coast with a 6′ swell at 10 seconds. Friday looks a touch windier than Thursday with a 6′ swell.
Gorge Weather
Can I just say that yesterday was spectacular. Perfect. As good as it gets for April 7th. Heck, maybe as good as it gets no matter the date. Today will be nice too. Expect a sunny morning with high clouds late in the day. Temps will be in the low 50's early and mid 60's this afternoon with moderate west wind. Tomorrow starts off partly cloudy with temps in the upper 40's. We'll see sunshine in the afternoon with a high near 60 and light west wind. Thursday starts off sunny with temps in the upper 30's. Temps will rise to the low 60's in the afternoon with light east wind.
Road and Mountain Biking
BROWN POW!!! TACK ALERT! Ride dirt, ride dirt, ride dirt. Nestor, Syncline, Whoopdee, Post. Go get it. It's perfect!!!
River Levels
The Hood is at 5.4′, the Klickitat is at 2190 cfs, and the White Salmon is around 4′.
The Clymb: free membership. Cheap gear. Temira approves. Click to join.
Events – email me if I've missed any outdoor-related events
Today is Tuesday. That means you can play pickup rugby at Collins Field at 5:30. It also means you can get $12 Prime Rib at Cebu. Coming up tomorrow, Columbia Center for the Arts is showing the movie Noble Spirit about local windsurfer, skier, and all-around awesome guy Fred Noble. 6:30pm. $5. Fred was diagnosed with ALS (a bastard of a disease) in 2010, and has been raising awareness since then. If you'd like to support Fred (as he's supported all sorts of stuff in the Gorge over the years), head to Ski to Defeat ALS's website and join a team or make a donation.
Have an awesome day today!
Temira