Please support this forecast by clicking on the photo of the forecaster!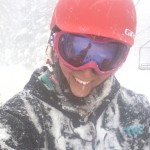 Your forecaster. Click on her to donate. Thank you!
Thank you for using this forecast. Please tell your friends about it! And if you or your friends think this service is awesome/useful/saves you gas money/makes your life more fun, make a donation by clicking on my photo above. Is more fun worth $50/year? $20/year? Donate what it's worth to you (and thank you!), but $12 minimum gets you on the email list (with occasional giveaways) for a year. Thank you for your support, and have fun today!
Random Morning Thoughts
I'm sitting on the bus writing this forecast. Usually I sit on the left side of the bus, sideways, while I write. Today I tried the right side. I was carsick in about 30 seconds. Lesson learned. I cannot sit sideways on the right side of a moving vehicle. But now I'm done writing, so I can sit facing forward and listen to the HeadSpace app on my phone.
Mt. Hood Snow Forecast – 5000′

4a-8a
8a-12p
12p-4p
4p-8p
8p-4a
Thursday
Friday
Saturday
Mt. Hood Snow Forecast
It is not snowing on Mt. Hood this morning, at least not at 5000′. I wouldn't be surprised if it switched to snow midday, but for now, it's raining. The snow level today will be 6500′ early, 6000′ at 11am. Then it'll rise a bit late in the afternoon before falling to 6000′ at 8pm and 3000′ at 11pm. We'll see .7-.9" water value (WV) between this morning and 5pm. That's likely going to be all rain. Then we'll see another .4-.5" WV overnight, for 1-3" of snow at best. Wind will be SW 30 for much of the day, becoming WSW 25-30 at 5pm, W 35 at 8pm and W 40 late tonight.
Friday starts off with a few orographic snow flurries, quickly becoming clear, with high clouds moving in late in the afternoon. The freezing level will be 2000′ early and 4000′ in the afternoon. Wind will be WNW 35 early, NW 20-30 midday and W 15 in the evening.
Saturday starts off clear, becoming cloudy midday with wet snow or snow mixed with rain starting around 2pm. The snow level will be 8000′ early, 7000′ around 11am, and then will drop to 4000′ in the afternoon. We'll get .2-.3" WV between 2pm and midnight, for 1-3" of snow. At this point, it looks like Saturday will start off clear, becoming cloudy in the afternoon.
Gorge Wind
We have a light westerly gradient this morning. As a cold front moves through this afternoon, we'll see the wind pick up to gusty 21-24 east of Mosier with gusty 10-15 in the western Gorge. The stronger wind will likely just last a few hours. Tomorrow morning starts with 23-26 east of Mosier, maybe east of The Dalles, with gusty 11-15 in the western Gorge. That wind should last through early afternoon before fading.
Saturday starts with easterlies at 15-18, switching to W 28-32+ east of The Dalles after noon. That should be pretty good, steady wind. Sadly, I'm working on the mountain, so I will not be windsurfing Saturday.
Gorge Weather
It's cloudy and mild this morning, but don't you worry. It's going to rain today, starting soon. Expect drizzle for much of the day, potentially becoming partly cloudy with rainbows after 5pm. Temps will be in the low 50's this morning and mid 50's this afternoon with light west wind. Tomorrow starts off partly cloudy with a very slight chance of sprinkles and rainbows. Temps will be in the low 40's early and mid-50's in the afternoon with west wind that fades as the day goes on.
Saturday looks partly cloudy. Temps will be in the mid-30's early and mid-50's in the afternoon with strong west wind. This is great weather to plant seeds. The soil temp, at my house, anyway, is around 57 degrees, and I notice a volunteer pole bean sprouting yesterday. Time to plant, folks!
Road and Mountain Biking
Come on rain! The trails are in decent shape, but a tenth or two of the wet stuff would make them much better! In bike news for Saturday, it's the Gorge Short Track Race at the EasyCLIMB trail. It's a 35-60 minute race. You make a few laps around a really fun course. It's fun. I recommend it. Unfortunately, I'm working, so I'm not racing. Good thing, because I'm not in race shape! But sad, because I really enjoyed this race last year. If you've never raced before, this is a great race to try for your first.
River Levels
The Hood is at 4.7′, the Klickitat is at 2120 cfs, and the White Salmon is at 4′.
The Clymb: free membership. Cheap gear. Temira approves. Click to join.
Events – email me if I've missed any outdoor-related events
Tonight is the Post n' Pint shop mountain bike ride (weather and trail conditions permitting) at 5:30 and rugby (they don't care about weather) at Henkle Middle School at 3:30. On Friday evening at 7pm, come to Hood River Middle School for the local screening of award-winning film "DamNation" about dams and dam removal, including Condit Dam on the White Salmon. This should be a great film, and I'm going to recommend it.
Saturday is the Gorge Short Track mountain bike race at Cascade Locks' EasyCLIMB trail. I rode in the Thursday night series last year, and it was pretty much awesome. If you have Saturday free (sadly, I'm working), I'd highly recommend doing the race. You can get more information here. Also at EasyCLIMB on Saturday, the DimWits (the trail builders) are having a campout and night ride. Riverkeeper has a cleanup at Mayer Park on Saturday from 10am to 2pm. If you're interested in participating, shoot them an email at volunteer@columbiariverkeeper.org I think that's it, but if I missed something, let me know!
Have an awesome day today!
Temira