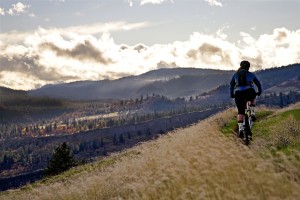 As of 6/9/2010 I have multiple reports of people running into rattlesnakes on Syncline. There is even one living within 10 feet of the gate where you access the road. Please keep your eyes open, and consider leaving your dogs at home, as one dog was bitten already.
Syncline is one of the few trails open and clear of snow year-round (except during major Gorge snowstorms), making it a favorite of Gorge locals. In spring, wildflowers cover the grassy slopes, blooming at higher elevations as temperatures warm.
There are a myriad of trails in this system, some easy and some of high technical difficulty. Available loops run from 5 to 25 miles. Be very careful descending trails along cliff edges. There was one death at Syncline several years ago, and we'd like to avoid any others!
To get there: From Hood River, cross the Port of Hood River bridge. Take a right, and follow SR 14 through Bingen. About 4 miles outside of Bingen, turn left onto Courtney Road. Park at the base of Courtney Road. Follow the gated paved road to the right. Continue up the hill about 1/2 mile until you see a gate on the left, with a red dirt trail heading uphill.