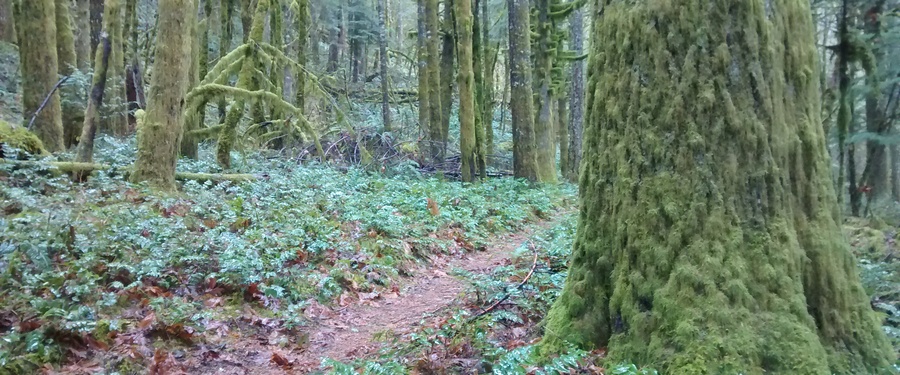 Length: 3.8ish miles, one-way
Elevation gain: ~900′
This trail is one of the Gorge's secret gems, with big trees and lots of moss and ferns. When everything else is muddy, this rocky trail is still in good shape. It's plenty fun for mountain biking, and it's my favorite trail-running spot, hands down, although you barefoot runners might find the rocks bruising.
The trail starts from the Wyeth Campground – head south through the campground to the trailhead. Go about 200 feet and take a right over the bridge. If you're on a bike, ignore the "no bikes" sign; that's for the trail that goes straight (about 15 minutes scrambling to a gorgeous waterfall).
You'll be in earshot of the freeway for the first mile or two, but then the noise fades, and you're in the woods with the big trees, the babbling brooks, and a lot of moss and ferns. Jog or ride your heart out – the trail goes about 3.8 miles to a 5-way intersection with Herman Creek, the 408, and the 447, all technically closed to bikes.
Ditch your bike at the intersection and run up the 408 for a great workout of 2700′ of climbing. Or head south on Herman Creek to the Wilderness to see some waterfalls. Another option is to head north on Herman Creek, connect with a singletrack down to the creek itself, and climb back up to the PCT, which will take you all the way to Cascade Locks for 11.2 miles one-way. This option used to be open to bikes, but then the PCT piggybacked the Gorge 400 to Cascade Locks (now known as the PCT), and the trail was closed to wheeled traffic. Maybe someday?
Anyway, the Gorge 400 is awesome, and a great option when nothing else is open. Enjoy.