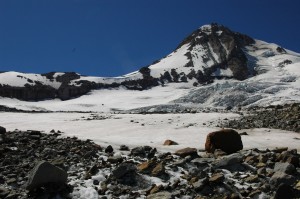 Hiking on the Cascade volcanoes brings a guarantee of stunning views, and this hike is no exception. Although the actual trail is quite short, approximately 1.1 miles each way, it's possible to make a full-day hike of the the trail by adding in some scrambling up the base of the Eliot Glacier.
To get to this trail, drive south on Highway 35 out of Hood River. Take a right toward Parkdale at the Mt. Hood Country store. Take a left on Cooper Spur Road. At the Cooper Spur in, follow the road to Cloud Cap and Cooper Spur Ski Resort. The road is only paved for a mile or so, before turning into a one-lane dirt road. If you drive a low-clearance sports car, you aren't going to make it. Follow the dirt road approximately 10 miles to the trailhead. Total time in the car is 45 minutes to 1 hour.
Once you get there, head up the Timberline trail, taking the upper fork. When you attain the ridgeline after .5 mile or so, you may see a "trail closed" sign. Ignore it, and follow the trail up the ridge for stunning views of Mt. Hood, Cooper Spur, Snowdome, the headwaters of Eliot Creek, and the Eliot Glacier. It's hard to look away from Mt. Hood, but if you look to the north, you can also see Mt. St. Helens, Mt. Ranier, and Mt. Adams.
After another .5 miles or so, you'll see a large stone cairn, marking the end of the ridgetop trail. Take the trail down into the valley. The fun begins here. There are various semi-trails winding along the top of rocky, sandy humps. Make your way towards the mountain, heading for the yellowish dirt and rock hillside. Scramble up the hillside or the gravel-covered rocky slope beside it, giving wide berth to cracks and crevasses.
On the way up, you'll be treated to amazing views and the sound of a thousand tiny streams of meltwater carving paths down the glacier. Climb until you get to a flat area, with a million-dollar view of the Eliot Glacier and Mt. Hood.
If you're attempting the scramble, wear sturdy shoes and bring plenty of water. Be prepared to gasp for air, as you'll top out around 8000 feet.
Elevation Gain: Approximately 2000 feet
Trail Length: Approximately 4 miles
Difficulty Rating: 4/5 due to loose rock, shifting sand, ice and high elevation air
Approximate open dates: late July through mid-October
Hazards: loose rock, weather (do not attempt this on stormy or cloudy days)
Northwest Forest Pass Required