Enter "Temira" as your referral code
Disclaimer: This forecast is for entertainment only. Don't use it to plan your skiing, snowboarding or travel schedule, even though I do. Although I work for Meadows, this forecast is not endorsed by Meadows and does not reflect the views of the resort. Nobody pays me to write this report (unless you make a donation), so please share the link with your friends and help me increase my hits! Thank you!
Mt. Hood Snow Forecast – 5000′

4a-8a
8a-12p
12p-4p
4p-8p
8p-4a
Wednesday
Thursday
Friday
Good morning!
I was having a lovely sleep this morning, when the light from my cell phone ringing at 5am woke me up. Then more calls came. Then texts. Why? Icing on lifts. Better than icing on my trees… speaking of, I took a walk in Post Canyon yesterday. It's a wreck. Imagine trees down everywhere, and then double the number of trees down. It's going to take an army of chainsaw-wielding mountain bikers to fix this.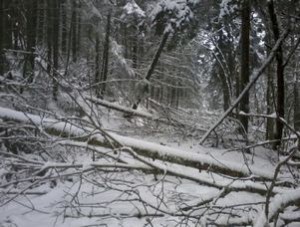 In other random morning thoughts, Timberline is at 114" right now. This storm system should put Meadows over 100" as well.
So, for your mountain forecast… rain switched to snow around 2am at 5000'. The snow level will be around 3500' at 7am, then the models disagree about this afternoon and evening, with one showing a brief rise to 6000', and another showing a longer-lived rise to 5500'. My gut says we'll stay all snow today into tonight, but it's going to be heavy and wet. So, we'll see .2" WV (water value) by 1pm, for 2" or so of new. Then we'll have a brief break in the snowfall through 4pm, when heavy snow starts again, for .8" WV or 4-5" of new at 5000' by 4am Thursday. Wind today will be SW 30-40 early, going to WSW 35-40 around 4pm.
The snow level will be 5000' Thursday morning, dropping to 2500' by 10am and 500' by 1pm. We'll see ~1" WV by 4pm for 10-13" of new snow. Precip tapers off early afternoon, with skies becoming partly cloudy by early evening. Wind Thursday will be W 30-35 early, going to WNW 30-35 by 10am, 35-40 by 1pm, swinging to NW 30-35+ by 4pm and turning to N 10-15 around 10pm.
Friday looks clear and cold to start, with a developing inversion sending the freezing level to 4000' by 1pm. Wind will be N 5-10.
Saturday starts off with high clouds, becoming clear, with the freezing level at 6000', rising to 9000'. No precip. Sunday starts off with either high clouds or sunny weather, with rain moving in late in the evening.
Have a great day today!
Temira
p.s. If you find this report useful, entertaining, or just want to recognize all the hard work that goes into it, please take the time to make a donation by clicking on the link below. For a suggested donation of $10, I'll add you to the email version of this list 'til January 2013, putting you in the running for cool prizes donated by the weekly sponsors during the summer season (and the winter if I get off my bum and get some!). If you don't PayPal, you can send a donation to PO Box 841 in Hood River, 97031.