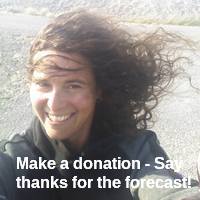 Get the email free through the end of January – try it out! Click here.

Thank you for using this forecast. I offer it freely so you can have more fun and plan your life. It does take significant time and energy to produce. If you find yourself using it often, or if you feel your life is enhanced by this information, please make a donation. I count on your support to pay my bills, and am deeply grateful to you for choosing to help support me. You can get this forecast via email by donation. The email subscription isn't $99/year. Not $50/year. Donating $12.34 or more gets you on the list for 12 months. Click on my photo to donate. Don't PayPal? Send a check to Temira @ PO Box 841 in Hood River. Thank you for your support and thank you for trusting my forecast.
Mt. Hood Snow Forecast – 5000′

4a-8a
8a-12p
12p-4p
4p-8p
8p-4a
Sunday
6000′->9000′
Monday
9000′->2500′
Tuesday
2500′->1000′
---
Mt. Hood Snow Forecast

Here we are on a Sunday morning, and it's raining on Mt. Hood. Looks like the weather will clear as the day goes on, leaving us with a sunny afternoon. The snow level will be 6500′ this morning and 9000′ later. The mountain will see 1/10" to 1/4" rain before it stops early afternoon. Wind will be WSW 25-30 all day.
For Monday, the mountain starts with a lovely sunrise under high clouds. Clouds increase during the day, and heavy snow falls overnight. The snow level will be 9000′ in the morning, 6000′ when the precip hits, and 3000′ overnight. About 1-1.5" water value (WV) falls overnight, giving the mountain 10-14" of new snow. Wind will be SW 20 in the morning, SW 40 in the afternoon, and W 35 overnight.
Tuesday sees additional orographic snowfall during the day. The snow level will be 3000′ in the morning and will fall steadily to 1000′ after midnight. About .2-.3" WV falls during the day for 2-4" of dry, fluffy snow. Another .1" falls overnight, for one more inch. Wind will be WNW 35 during the day (slowing down lifts, possibly) and W 25 in the afternoon and evening.
Wednesday brings light snowfall with sunbreaks. The snow level will be 1000′ early, 1500′ midday, and 500′ under clear sky overnight. An inch or so of new falls during the day and another inch or so falls overnight. Wind will be W 25, driving orographic snowfall.
Looking long-range, the GFS centers a ridge of high pressure off the coast, keeping us dry. It then brings very, very cold air in next Sunday. The ECMWF centers the ridge off California, leaving the door open for weak systems to send additional light-to-moderate snowfall our way. The ECMWF has no sign at all of cold air next weekend. As a matter of fact, there's a 30 degree temp difference between the two for next Sunday. All that means that any forecast past Wednesday is nothing more than guesswork.

Random Morning Thoughts
One of the awesome things about meditation is that it develops internal sensitivity. I believe that this sensitivity is one of the keys to protecting our mental health. By noticing that depression or anxiety is arising, we can stop and address it before it becomes overwhelming.
The second key part of this is being willing to stop for a few moments and engage with our internal world. We are so busy that we tend to notice stress and immediately push it out of conscious awareness. This habit can get us into deep trouble – by the time we are forced to be aware of our distress, it's risen to a level that's beyond our capacity to handle.
So… take a moment to notice if there's a mental stress you've been avoiding. A subject you don't want to think about. Something on a 1-3 on the stressor scale. Not a 7-10. Those are things to get support around, whether that means friend, partner, family, or professional. Take a moment to sit with your feelings and experience them. By this I mean "feel the feelings", not "think about it in circles". Big difference between the two – the latter will keep you stuck. See what changes. Have an awesome day.

Disclaimer required by my grad school program: I am not your therapist, but I am seeing clients at this time at Comprehensive Healthcare in White Salmon. In the meantime, I am your weather forecaster. Take everything I say with a grain of salt, and consult with your actual therapist about your mental health issues. One other thing: I plan to keep doing this forecast indefinitely. Forecasting and counseling are both deeply meaningful and nourishing to me.

Gorge Wind Forecast
We'll have east wind at 5-10 for Sunday morning and calm wind in the afternoon. Monday starts with E 10-15. The wind turns to W 10-13 Monday afternoon. Tuesday looks like W 7-10 all day through the entire Gorge.

Gorge Weather Forecast
I just took a look outside. It's cloudy. We'll have cloudy weather all day with light, intermittent rain through noon or so. Temps will be in the mid 40's early and low 50's later. No wind. 5% chance of rainbows. Monday looks sprinkly and cloudy early, partly cloudy in the afternoon, with heavy rain in the evening. Temps will be in the upper 30's early and low 50's in the afternoon. East wind early. West wind in the afternoon. 56% chance of rainbows. Tuesday looks showery and mostly cloudy. Temps will be in the upper 30's early and upper 40's in the afternoon. Light west wind. 99% chance of rainbows.
For weather specifically directed at travel through the Gorge, please visit Temira's Awesome Travel Advisory Service on Facebook.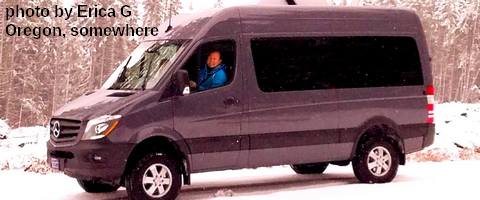 Road and Mountain Biking
Post Canyon is currently closed to all users to protect the trails from damage. Whoopdee is closed to bikes and horses for the same reason. Syncline remains mobbed. I'm not sure about the upper half of Nestor, but the Horse Camp section is in good shape with one tree down.

Upcoming Events
On Sunday, there's by-donation yoga at Samadhi at 9am, ping pong at the Armory at 10am, meditation at Flow at 11am, pickup touch rugby at the Hood River Marina at 11am, YogaFaith at Pure Yoga in The Dalles at 4pm, and restorative yoga at Pure Yoga in Hood River at 6pm.

Click here for the full events calendar.
Have an awesome day today!
Temira