The best snow forecast for Mt. Hood. The best wind forecast for the Gorge.
Support it with a contribution!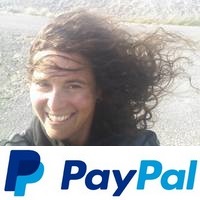 Thank you for using this forecast. Writing it takes 60-120 minutes a day; I can only keep it going with your generous financial support. Make a contribution or subscribe and get it in your inbox with bonus material. What's that cost? Not $99 a year. Nope. Not $49. Contribute $19.99 or more, and you're on the list for a year. People are added to this list on Thursday and Sunday. Thanks for your patience! Click below to contribute and keep the forecast going for everyone, nearly every day. Please include your email address in your contribution – PayPal/Venmo do not tell it to me!
Credit card payments use this button
Click here to use your PayPal
Venmo: @theGorgeismyGym
Snail Mail: Temira Lital, PO Box 841, Hood River, Oregon 97031
(note: I am not a non-profit entity. The only way to accept credit cards with a user-defined amount is to use the 'donate' button. Thanks for understanding!)

Auto-renewing subscription. New! Awesome!
The Forecast
Mt. Hood Snow Forecast – 5000′

4a-8a
8a-12p
12p-4p
4p-8p
8p-4a
Thursday
6500′->3000′
Friday
3000′->10000′
Saturday
10000′
Mt. Hood Weather Forecast
It's a drizzly start to the day on Mt. Hood, and it will stay drizzly. If that's not your preferred weather, wait until tomorrow. Sunshine and warm temps arrive and stick around for several days. Models, strangely, seem to be struggling with the extent of cloud cover over the next few days. Next chance for significant snowfall is… unknown at this time.
So, Thursday. Steady heavy rain early in the morning tapers off to rain, switches to snow in the afternoon, and tapers off as the sky clears overnight. The snow level will be 6500′ this morning, 4500′ this afternoon, and the free air freezing level will be around 3000′ overnight. About 0.6" water equivalent is forecast today, most of it early in the morning as rain. The end of this could be an inch of wet snow. Another 0.05" to 0.1" water equivalent is forecast overnight for a trace to an inch of snow. Wind: helpful, if you want to enhance those snow totals. Not so pleasant on the slopes: W 40 early, W 45 midday, WNW 45 (affecting lifts, but not all the lifts) in the evening, and NW 15 after midnight.
Friday looks clear. Some high clouds might or might not swing through midday – call it partly cloudy. The weather is back to clear overnight. No precip. Free air freezing level (FAF): 3000′ in the morning, 5500′ 'in the afternoon, 7000′ in the evening, and 10,000' overnight. Wind: NW 15-20 early, N 10 midday building to N 20 overnight.
Saturday will be clear, sunny, and warm. The FAF hovers around 10,000′ all day with temps at 850mb (5000′) in the low to mid 40's. Wax warm! Wind: N 20 in the morning, NNE 10 in the afternoon, and overnight. Sunday looks sunny in the morning with high clouds in the afternoon and temps on the slopes in the low 40's. NE wind at 10mph builds to NW 20-25mph in the afternoon. Enjoy the sun!
Note on wind speeds. Different wind directions are experienced in different ways on Mt. Hood. For example, west wind at 50mph will hit the slopes and exposed ridges at W 50. SW 50 may hit the ridges at SW 50, but will likely only be SW 20 below tree line. Hence the ranges for wind. Depends where you are on the mountain. Hopefully that helps clarify.
Gorge Wind Forecast
Light and variable wind Thursday morning quickly flips to westerlies strong enough to get you on the river if that's what you want. As high pressure builds offshore behind a front, the wind picks up. Expect gusty 22-25 from Stevenson to Viento with 12-15 in the central Gorge and gusty 22-25+ east of The Dalles. River flow is 145kcfs, river temp is 38F, and high temp forecast is 49F. Friday starts with W 14-17 from Stevenson to Mosier with 10-=13 out east. It appears the wind will hold all day. Saturday starts with E 10-15 from Rooster to Viento and builds to E 20-25. Sunday: easterlies.
Coast, Jones, Coast
Done until spring, unless there's an obvious Coast or Sauvie's or Jones day.
Hood River Weather Forecast
Cloudy, rainy weather this morning gives way to partly cloudy sky this afternoon. Temps will be in the upper 30's early and upper 40's later. Moderate westerlies. 99% chance of rainbows. Friday will be mostly cloudy and then mostly clear. Temps will be in the mid 30's early and mid 40's later. Light westerlies. No rainbows. Saturday starts with partial Nothing and turns clear. Temps will be in the upper 20's early and mid 40's later. Light easterlies. No rainbows.
Looking for a complete Columbia Gorge forecast? Looking for more humor in your weather? Obscenities? You're looking for my TATAS: Temira's Awesome Travel Advisory Service on Facebook.
Cycling
FREEZE-THAW ALERT: if you notice that temps were below freezing last night and will be above freezing today, don't ride any trail that's not under a tree canopy. If you do so, you WILL do significant damage. DON'T DO IT! Plentiful rain recently means most tree-covered trails are muddy. Please don't ride them either. If you do, you'll be doing significant and possibly permanent damage. No really, please don't. There are lots of gravel roads and lots of pavement you can ride instead. Enjoy!
Local Events
Please let me know about events. I often only hear about them if you folx let me know!
Ferment's Tuesday night 4-mile walk/run is back. Meet there at 6pm. At 7:15am on Wednesdays, there's a run from the White Salmon Bakery. There's a night-lit shop mountain bike ride with the Mountain View Cycles crew at Syncline on Wednesday evenings at 5:45pm.
Sprinter Van of the Week!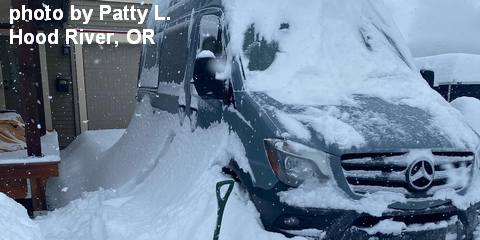 Click here for the Sprinter Van map of the world!!! Have an awesome day!