Random Morning Thoughts
It's been a shitty past week for me (no pun intended, of course!). Hell, it's been a rough 6 months. And I was really starting to feel pretty depressed after 4 days of stomach virus time on the couch and Ellen dying and everything else that's been going on. I was thinking it was going to take some serious self-reflection and misery before I started feeling better.
And then I got a text from my friend Mark Deresta early yesterday evening. If you scroll down to the White Sprinter Van of the Day, you'll see what he texted me about. Strava, if you don't know, is a website that enables people to track their runs/rides/windsurf sessions/etc and compare times with other people. I LOVE Strava. It's raised my self-esteem several notches. No, really. It has. Plus, it's just fun. And I know how many miles I've ridden and how many feet I've climbed this year.
Anyway, seeing that Sprinter Van pulled me right out of my dark place.
If Mark hadn't taken the time to text, I'd still be pretty F'ing miserable. So here's my point: if you come across something that you really, truly know will make a friend smile or laugh. You know, something that is so "that person" that it makes you smile because you're thinking of your friend, pass it along. Take a photo. Buy the item. Send a text. Whatever it is, make it happen. Because you're going to make your friend's day by making the effort.

Thank you for using this forecast!
Please donate to support it!
Thank you to everyone for using this forecast. Does it save you time, gas money, or help you find more wind, powder, or just plain fun stuff to do? Please consider making a donation to keep it going! Use it here for free or make a donation and get on the mailing list for wind for the summer and Mt. Hood snow in the winter. It's not $99/year. Not $50/year. No, just $12.34 or more gets you on the list for 12 months. Do it via PayPal/CC by clicking on my happy photo below. Don't PayPal? You can send a check to Temira @ PO Box 841 in Hood River. Thank you for your support, and thank you for trusting my forecast. You guys mean the world to me.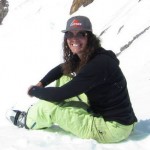 ---
Gorge Wind
It's a good thing I look at the weather models twice a day and take notes, as I woke up this morning to the UW's website being down. Sure, I can use the HRRR for the short-term forecast, but nothing beats the WRF-GFS 12k and 4/3k for forecasting the Gorge. So, I'm working off last night's notes and the gradient (.03 from PDX-DLS). Expect light westerlies this morning, perhaps 5-10, picking up to 15-18 midday and 21-24 by mid-afternoon as a thermal trough shifts eastward. Strongest wind today will be from Swell to Mosier early, filling in from Stevenson to The Dalles this afternoon. I hate to jinx it, but it should be pretty steady.
Tomorrow sees a weak weather system move through, and that's going to make the wind less steady but stronger. Expect 17-21 for your Dawn Patrol from Swell to Mosier, possibly even further east (although that will make it weaker), picking up to 21-24 late morning and 25-28 by mid-afternoon. The morning wind will be strongest at Swell and Mosier, most likely, and will fill in as far east as Rufus in the afternoon.
Friday also looks windy, as an approaching trough sends more clouds and cooler temps into Portland. This is really far out to be working on last night's models, but it looks like we'll see 13-16 early and 25-29 in the afternoon.
As of right now, it looks like we'll see some weather systems moving through on the weekend. That will keep temps down and west wind flowing, although it's a little early to be calling wind strength. I suspect we will have a decent Labor Day weekend for wind sports.
Out on the coast, today's forecast is this (north/central/south): light/10-15/20-25, W3@8. Tomorrow: light/15-20/25-30, W 4@9. Friday: light/light/20-25, W3@9.

Today's Gorge Wind – these are ranges for the average speed, not a predicted wind range. =)

Your favorite beach
Dawn
Patrol
9am-
11:30a
11:30a-
3pm
3pm-
dusk
Rooster's Rocks
sunshine,
sand
and
skin
Steven's Locks
light
5-10
10-14
20-23
Hatchery/White Salmon Sandbar (minus a few for Hood River)
light
10-13
15-18+
21-24
Doug's, Lyle, Rowena
light
10-13
15-18+
21-24
Rufus, etc.
light
light
10-13
15-18
Roosevelt, etc.
light
light
light
light
Temira's sail: 35-40: 2.9 / 30-35: 3.2 / 26-30: 3.5
23-26: 4.0 / 20-23: 4.5 less than 20: something bigger!
Tonia's kite: 35-40: 4m / 30-35: 4-6m / 26-30: 5-7m
23-26: 7-9m / 20-23: 8-10 / 15-20: 10-12 / 10-15: 13-15.
Advertising Worth Reading
Hood River Adventures: fishing tours, mountain bike shuttles, brewery and winery tours

Hood River Adventures is a local company owned by Drew Scharns, master guide specializing in fishing tours, mountain bike shuttles, and well as brewery and winery tours. Biologists predict this is going to be the biggest salmon run since 1938. Get some of it: Spend a day with Drew on the Columbia fishing for salmon, steelhead, and sturgeon or try fly fishing on the Klickitat. Feeling active? Head to the trails for shuttle laps with end-of-day car retrieval. Want to taste the local libations? Take a brewery or winery tour with HRA: no more arguments over who's going to be the designated driver – that's Drew's job! (541)4zero0-1216 hoodriveradventures.com
Gorge Weather
Today will be a sunny, lovely day in the Gorge. Temps will be in the low 60's early and upper 80's this afternoon. Tomorrow starts off sunny and sees some high clouds move in as a weak weather disturbance moves in. That should give us a colorful sunset, so don't be without your camera. Temps will be in the low 60's early and the mid 80's in the afternoon. Friday sees move clouds, especially late in the day, meaning we should see both a colorful sunrise and a colorful sunset. Temps will be in the upper 50's early and low 80's in the afternoon. There's a chance of rain this weekend. Call it a 2% chance of rainbows.

White Sprinter Van of the Day – KOM to Mark Deresta for the photo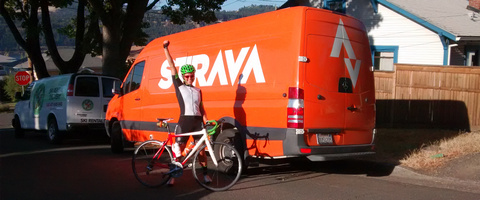 If you would like to get a photo of yourself with the White Strava Sprinter Van, you can find it parked outside one of the houses at the corner of 10th and Columbia.

Road and Mountain Biking
There's a slight chance of rain this weekend, and that would be great news for our trails. In the meantime, there's no chance of rain, and that means the road biking will be fantastic. Get it early while the pavement's cool. And don't ride Eastside Road at 5pm like I did yesterday – so hot, and so muggy with all the sprinklers going.


The Clymb: free membership. Cheap gear.
Temira approves. Click to join.
River Levels / Cheezburger update
The John Day Dam is reading 119-137kcfs. The Dalles Dam is putting out 141kcfs. The White Salmon is just below 2′. If you plan on running the White Salmon yourself, remember that there is a riverwide log about 150 yards below Cave Wave. The Columbia River is 72 degrees. I don't have any Cheezburger news today.

Events – email me if I've missed any outdoor-related events
If you don't have plans tonight, there are lots of options: At 5:30, there's Tai Chi at Wilson Park in Hood River, kid-friendly mountain biking at Family Man in Post Canyon, and a women's mountain bike ride at Dirty Fingers (complete the ride and you get a free pint of beer or a free glass of wine) There's sailboat racing at the Hood River Marina. a track workout in Stevenson at 6pm, and ping pong at the Hood River Armory at 6:30. There's also a group paddle on the White Salmon, brought to you by the Kayak Shed. One group is running the class II Lower White Salmon and one is running the Class III Lower-Lower White Salmon.
Coming up this weekend, Wamic hosts Barlow Trail Dayz both days. The Bunker to Bonneville 50k ultramarathon is on Saturday, finishing in North Bonneville, Windance Board Shop in Hood River has a customer appreciation BBQ and party on Saturday night, and of course the Roy Webster cross-channel swim (sold out) is on Monday. In Hood River on Sunday, CGWA has an all-sports swap meet at the Luhr Jensen parking lot, followed by a BBQ fundraiser for CGWA.
Have an awesome day today!
Temira