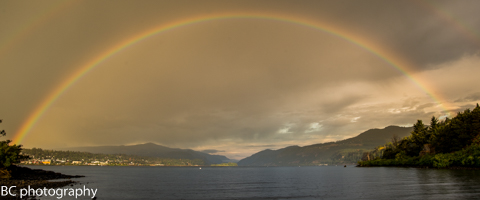 I had a great day on the mountain yesterday. Such lovely snow. I was pleasantly surprised at the coverage at Meadows. What a delightful change from last year! In even-more-exciting news, Skibowl is opening Lower Bowl and Multorpor today, and is hoping for Upper Bowl tomorrow night. Maybe not, given the forecast? Continued after the chart.
Mt. Hood Snow Forecast – 5000′

4a-8a
8a-12p
12p-4p
4p-8p
8p-4a
Today
1500′–0′
Tomorrow
0′->8000′->6500′
The next day
6500′->1000′
Mt. Hood Snow Forecast, continued…

Today starts off with snow flurries on Mt. Hood, and likely goes to partly cloudy sky with low clouds in the afternoon. The snow level will be 1500′ early, dropping to the surface (in the Gorge) tonight. Clouds move in during the evening, and snow starts back up by 10pm. We'll see .2-.3" water value (WV) this morning, for a couple inches of new snow by noon. The system arriving tonight will be moisture-packed, dropping 1-1.5" WV by 4am tomorrow. That's 10-16" of heavy new snow! Wind today will be WNW 40 early, WNW 20 in the afternoon and SW 15-25 tonight.
If you want snow tomorrow, get it as early as possible, because we're going to see a switch to rain. The snow level will be at the surface early, rising to 8000′ in the afternoon and dropping back to 6500′ overnight. We'll see 1-1.5" WV before the switch to sleet–>freezing rain–>rain around 10am. That should give us 6-10" of dense snow. Then we'll see 2-3" of rain by Friday morning. In an interesting twist, it's possible that Skibowl's base will see more snow than the bases of Timberline or Meadows, as they will remain in the cold pool longer. It's also possible that Skibowl's base will get hammered with freezing rain. Anyway, wind tomorrow will be SW 40 early, rising to SW 65-70 in the afternoon.
---

Donate and keep the forecasts coming
See below for details.
---
Rain will switch back to snow early Friday morning, transitioning to snow flurries in the afternoon. The snow level will be 5500′ early, falling to 2000′ in the afternoon, and then falling back to the surface (in the Gorge) overnight. We'll see .6" WV between 4am and 4pm, some of which may fall as rain, for 2-5" of new snow. Wind Friday will be SW 50 early, becoming W 35-40 by 7am and fading to W 20 by the evening.
As of right now, it looks like we'll see flurries during the day Saturday, followed by a stronger system Saturday night. At this point, it's hard to tell if that one will come in as snow or rain. Sunday looks colder and snowy. There's really no end in sight to the series of wet systems pounding the Pacific Northwest. Super El Nino, we love you!

Support your forecaster, Temira!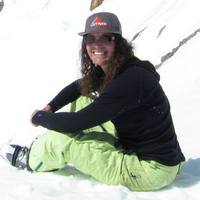 Thank you for using this forecast. Does it save you time, gas money, or help you have more fun in your life? Make a donation! Get your forecast here for free or donate and get on the mailing list for year-round wind forecasts and ski season snow forecasts. Just click on my photo to donate via PayPal or credit card. The email isn't $99/year. Not $50/year. No, just $12.34 or more gets you on the list for 12 months, and sometimes there are cool prizes. Don't PayPal? Send a check to Temira @ PO Box 841 in Hood River. Thank you for your support, and thank you for trusting my forecast.
---
Gorge Wind Forecast
There's a little westerly breeze out there this morning, with 20mph at the Hatchery and Arlington. Westerlies in the 18-21 range from Swell to Arlington will stick around until early afternoon before fading to light and variable conditions around 4pm. By 7pm or so, if all goes as planned, the cold air mass in eastern WA/OR will swing the wind to E 25-30. By tomorrow morning, we should have E 40-50 at Rooster Rock and E 30-35 at Steven's Locks. The 4/3k model for the Gorge suggests we'll still have E 15-18 on Friday morning. Other models suggest we'll have an earlier switch. This is only important because it impacts the precipitation type for the Gorge early Friday morning. Anyway… it does look like we'll see light westerlies by Friday afternoon. River water temp is 45 degrees.

Random Morning Thoughts
Nobody really knows what causes depression. Depending on background, a clinician may think it's a chemical imbalance, a brain integration problem, a maladaptive thought pattern, somatically stored trauma memories, or any number of other causes.
I think depression often has something to do with confusion about how we fit into the world around us. Perhaps we don't understand why we do the things we do, perhaps we don't understand how we connect to those around us, perhaps we haven't crafted a sense of meaning around life.
I believe that conscious exploration of the things that cause us confusion will bring more peace to our world. On the flip side, conscious exploration of things that make complete sense to us will also bring more peace to our world by giving us a sense of grounding. In order to do that, we must be able to see the confusion.
So, take a moment one of these days, and see if you can notice the things that give rise to confusion, bewilderment, frustration and helplessness in your world. What you find may likely be the source of your not-so-stellar days. Spend some time searching for deep understanding, and you may find more peace. Have an awesome day.
Disclaimer required by my grad school program: I am not your therapist. I am your weather forecaster. Take everything I say with a grain of salt, and consult with your actual therapist about your mental health issues.

Gorge Weather Forecast
Oh goodness gracious, what a mess we're expecting. Our local amateur forecaster Cap agrees, and so does my colleague Mark Nelsen of Fox-12. He posted a dire Gorge forecast on his blog.
This morning's model runs suggest less cold air than they did yesterday, but they're still convinced we go sub-freezing in the Gorge tonight by midnight. In an interesting twist, this is not how ice storms usually happen. In a standard setup, cold air would already be in place, and a warm system would ride over the top. Instead, building high pressure in eastern OR/WA will combine with Pacific low pressure to push/suck cold air into the Gorge tonight. Because the setup is unusual, I'd say there's still a small chance we'll be spared, but given a forecast of E 40-50mph wind at Rooster tomorrow, it's looking increasing likely that we're, in technical terms, screwed.
So. Expect a partly cloudy day today with a few sprinkles possible in the morning, sunshine midday, clouds late, and heavy precip after 10pm. Temps will be in the low 40's all day, dropping below freezing after midnight. Tonight's precip will start as rain and switch to snow by 1am, with 4-6" possible by tomorrow morning. Moderate west wind early, building east wind tonight, 5% chance of rainbows.
Tomorrow's NOAA forecast calls for temps between 32 and 34, but that just doesn't seem reasonable given the sounding model forecast. 28-32 sees more likely during the day, likely climbing just above freezing after midnight. If that's correct, we'll be sub-freezing for 24 hours with heavy precip the entire time. Tomorrow's precip will start as snow and switch to sleet or freezing rain by noon. Another 4-6" of snow seems likely, for a storm total of 8-12" before we see a switch to freezing rain or sleet. We'll probably get .25-.5" of ice/sleet before we see a switch to rain around midnight (assuming models are correct on the warmup, and they're usually way too quick about it). Strong east wind fades after midnight. No rainbows.
It's worth pointing out that we're expecting 2" water value during the period the Gorge is sub-freezing. Translate that to snow and ice, and we're looking at a huge winter storm event.
Friday morning sees continued light precip, likely in the form of rain, but possibly as sleet or freezing rain if we're really unlucky. Temps are forecast to be in the mid 30's early and the low 40's in the afternoon. By afternoon, we should just have cloudy sky. Light east wind early finally switches to light west wind in the afternoon. The sounding model suggests we drop below freezing Friday night for very icy roads. The long-range models suggest another snow event for the Gorge Monday night.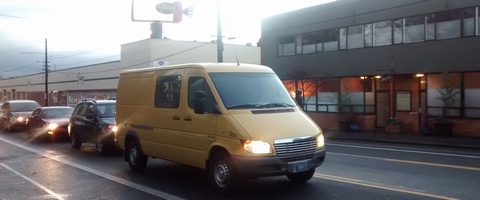 Road and Mountain Biking
Last chance to ride outside for a while…

Upcoming Events
Tonight at 5:30, there's ping pong at the Hood River Armory. At 6pm, there's Aikido at Trinity Natural Medicine in Hood River. At 6:15, 2nd Wind will be showing vintage ski movies, just in time for you to go skiing in the Gorge. The movie showing is a benefit for the HRVHS XC team. Due to the incoming storm, all bets are off on events for tomorrow.
Have an awesome day today!
Temira

The Clymb: free membership. Cheap gear.
Temira approves. Click to join.