The best snow forecast for Mt. Hood. The best wind forecast for the Gorge.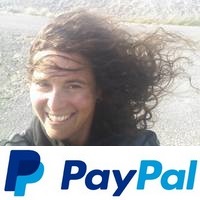 Thank you for using this forecast. Like it? Find it useful? Support it (and me!) by sending some cash my way. What's it cost to support me and get the email version? Not $99 a year. Nope. Not $49. Just $19.99 or more gets you a year. People are added to this list on Thursday and Sunday. My day job is crisis mental health, and I don't have time on other days. Thanks for your patience! Click below to contribute. Thank you!!
Credit card payments use this button
Click here to use your PayPal
Venmo: @theGorgeismyGym
Snail Mail: PO Box 841, Hood River, Oregon 97031
(note: I am not a non-profit entity. The only way to accept credit cards with a user-defined amount is to use the 'donate' button. Thanks for understanding!)

Auto-renewing subscription. New! Awesome!
The Forecast
Today's Gorge Wind – these are ranges for the average speed, not a predicted wind range. =)

Your favorite beach
Dawn
Patrol
9am-
11:30a
11:30a-
3pm
3pm-
dusk
Rooster Rock
gentlemen
start
tanning
your buns
Steven's Locks
LTV
5-10
13-16
20-23
Swell-Hood River
LTV
5-10
13-16
23-26
Lyle to Doug's
LTV
5-10
13-16
23-26
Rufus, etc.
LTV
LTV
5-10
13-16
Roosevelt & Arlington
LTV
LTV
LTV
LTV
Gorge Wind Forecast
Westerlies stick around all the way through the extended forecast with the exception of Thursday. Not only do they stick around, but temps stay in the 75-80 range through the weekend. If that doesn't entice you on to the river, I don't know what will!
Looking at Wednesday, we have a light and variable start with gradients of just 0.03 and 0.00. Offshore high pressure slowly builds today, and that assists the westerlies. Not much happens until late morning. Around 11am, the wind picks up to 12-15 from Stevenson to Mosier. High pressure strengthens offshore this afternoon. That nudges the wind upwards to 23-26 from Stevenson to Avery with Rufus a maybe in that mix. If it doesn't make it into the 20's, it'll probably make it into the upper teens. River flow is 231kcfs, river temp is 54F, and high temp today should be 81F.
Pressure gradients equalize across the Cascades for much of the day on Thursday. Wind speeds drop as a result. A weak thermal gradient in the afternoon combines with relatively strong offshore high pressure for light westerlies. Expect 8-11 or less from Stevenson to The Dalles to start the day. Midday, the wind goes calm. Evening wind picks up to 10-13 from Stevenson to Hood River, perhaps to Mosier. Desert on Thursday: light wind all day. High temp will, once again, top out around 81F.
A stronger marine push on Friday results in stronger westerlies. Morning wind will be in the 11-14 range from Viento to The Dalles. Afternoon westerlies climb to relatively steady 21-24 from Stevenson to Avery with 14-17 at Rufus. High temp: 76F
Extended (unreliable) forecast: Models suggest that westerlies will max out in the low 20's Saturday and mid 20's on Sunday. Significant uncertainty exists about the start of next week. About 60% of the models indicate that Tuesday will be a very windy day. The rest of the models suggest different timing.
Coast, Jones, Sauvie's
Coast (north/central/south, waves. Wind direction north unless otherwise noted. Swell forecast from NWS.) Wednesday: 15-20/20-25/30-40, W swell 3′ at 10 seconds. Thursday: 20-25/20-25/30-35, W 4′ @ 10. Friday: 15-20/25-30/30-40, W 3′ @ 10. Jones Wednesday: 18-22. Thursday: 12-15. Friday: 23-26. Sauvie's Wednesday: 12-15. Thursday: 15-18. Friday: 17-20.
Mt. Hood Weather forecast
On vacation unless some wintry weather happens.
Hood River Weather Forecast
Cloudy sky this morning turns clear later. Temps will be in the upper 40's early and low 80's this afternoon. Moderate to strong westerlies. No rainbows. Thursday starts with high clouds and becomes sunny. Temps will be in the upper 40's early and low 80's later. Light westerlies. No rainbows. Friday looks sunny all day. Temps will be in the low 50's early and mid 70's later. Moderate westerlies. No rainbows.
Looking for a complete Columbia Gorge forecast? Looking for more humor in your weather? Obscenities? You're looking for my TATAS: Temira's Awesome Travel Advisory Service on Facebook.
Cycling
Cows are out on Hospital Hill. No parking at the corral. No dogs on the trails. No exceptions. Please respect the wishes of the landowners – they let us use their land, and in return, we respect their rules! Post Canyon: clear of snow to the top. New Whoopdee: open. Other news: Mountain View Cycles women's ride is every Thursday, bottom of Post at 5:30pm. Dirty Fingers has the Post n' Pint on Wednesday evenings.
Sprinter Van of the Week!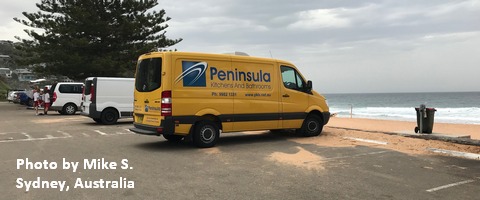 Click here for the Sprinter Van map of the world!!!
Local Events
Not much happening thanks to the pandemic… Have an awesome day!