Random Morning Thoughts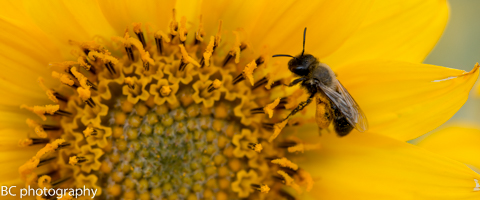 I took that Intentional Peer Support class last week, and the instructor brought up an interesting point about rules and guidelines and negotiations. So often, I see knee-jerk reactions to events; something bad happened, so we make a rule to punish people if that situation happens again, even if it was a rare and unlikely-to-be-repeated event. Or we make a rule that only applies to the person who did the "bad" thing. Or we find ourselves overwhelmed by something, and so we just stop doing it, rather than researching other options. What if, instead of coming up with a yes/no, black/white, good/bad solution or reaction, we were to sit down and brainstorm options? What if we explored how we end up in situations, rather than immediately jumping to conclusions and solutions and reactions and judgments? I bet we'd learn a lot about ourselves and other, and I bet we'd find some interesting and creative ways to react to unexpected events and developments.

Thank you for using this forecast!
Please donate to support it!
Thank you to everyone for using this forecast. Does it save you time, gas money, or help you find more wind, powder, or just plain fun stuff to do? Please consider making a donation to keep it going! Use it here for free or make a donation and get on the mailing list for wind for the summer and Mt. Hood snow in the winter. It's not $99/year. Not $50/year. No, just $12.34 or more gets you on the list for 12 months. Do it via PayPal/CC by clicking on my happy photo below. Don't PayPal? You can send a check to Temira @ PO Box 841 in Hood River. Thank you for your support, and thank you for trusting my forecast. You guys mean the world to me.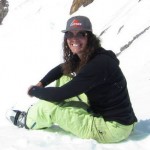 ---
Mt. Hood Snow Forecast – 5000′

4a-8a
8a-12p
12p-4p
4p-8p
8p-4a
Today
Tomorrow
The next day
Mt. Hood Snow
There are a lot of raindrops in the Mt. Hood snow forecast, but not a lot of snow. Don't you scrunch up your pretty little forehead in worry, because the snow will come soon, despite the dire predictions of El Nino. Wind will be W 25 for much of the day, SW 15 in the afternoon and SW 25-30 overnight. Light rain will start in the wee hours of Thursday.
Light rain showers Thursday morning continue through the day with heavier rain after 8pm. The snow level will be around 10,000 all day and all night. Expect about .3" rain during the day, followed by another (depending on the storm track) .5"+ overnight. Wind will be SW 20-30 early becoming S 15-20 overnight.
This warm, wet weather system moves east on Friday afternoon after another rainy day on Mt. Hood. The snow level will be 8500′ early and 6500′ in the afternoon. It's hard to say how much rain we'll get, as a small chance in the storm track could make a huge difference (this system is the remnants of Hurricane Ana, after all). Expect at least .5" rain during the day, followed by showers overnight. Wind on Friday will be S 10-20 for much of the day and SW 20-25 in the evening.
The snow level will be down around 5500′ by Saturday morning, but most of the moisture will be long gone by the time this happens. So we might see an inch at 5000′, but most likely we'll just see a trace.
Gorge Wind
We're in between wind seasons right now, so what we're getting is frontally-driven wind. Not the most reliable stuff – kinda like the difference between a Yugo and a Tesla. Expect light wind in the Gorge all day today, becoming slightly stronger, but still light, out of the east this afternoon. Tomorrow sees gusty easterlies at 30-35 at Rooster and 26-30 at Steven's Locks for much of the day. On Friday, expect a light and variable start to the day. As a cold front moves through in the afternoon, we'll see westerlies at 11-14 in the western Gorge and 21-24+ east of The Dalles, filling in to the far east desert beaches.
Gorge Weather
I just went outside to see if it was raining, and it was not. The sky had the low-hanging feel of doom, so there must be an inversion cloud above us. Expect that icky thing to burn off at some point, giving us a partly cloudy day that will become cloudy in the afternoon as the next system moves in. Temps will be in the mid 40's early and the low 60's this afternoon. No rainbows.
Tomorrow sees rain start around 5am, for a showery morning, partly cloudy weather midday, and another round of rain overnight. Temps will be in the low 50's eary and upper 50's in the afternoon. Rainbow chances tomorrow morning are 72% or more.
Expect rain, possibly heavy, for much of the day on Friday, becoming showery late in the day. Temps will be in the low 50's early and mid 50's in the afternoon with a 43% chance of rainbows after 4pm.

White Sprinter Van of the Day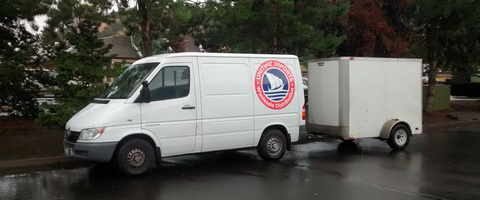 Road and Mountain Biking
I went for a jog in Post Canyon around 4pm yesterday, and it was 100% most definitely too muddy to ride. So don't go riding in Post today, please. I suspect parts of Whoopdee are too muddy too, so take yourself to Syncline or (what's left of) Hospital Hill.


The Clymb: free membership. Cheap gear.
Temira approves. Click to join.
Events – email me if I've missed any outdoor-related events
Today is Wednesday, and that means I'll be headed to Vancouver to see my therapist. You're welcome to come, if you want, although you'll probably be bored as you already know everything about me from reading my Random Morning Thoughts.
There's ping pong at the Hood River Armory at 5:30 tonight, there's a track workout in Stevenson at 6, and there's a group doing running intervals in Hood River, meeting at Shortt Supply at 6:30. Also this evening, the local Nonviolent Communication Practice Group meets at the Hood River Library at either 5:30 or 6pm.
Tomorrow night is the Pretty Faces girls' ski movie at the Skylight theater (7pm/9pm), benefiting the HRVHS ski team. Pretty Faces is a film celebrating women who thrive in the snow. The concept for the film was originated by professional big mountain skier and SheJumps co-founder, Lynsey Dyer with the objective of giving women and girls, young and old, a source of inspiration through a unique look at what is possible when boundaries are broken, dreams captured and friendships cultivated. In Lynsey's words "I wanted to give young girls something positive to look up to…I wanted to give them their Blizzard of Ahhs, Ski Movie or High Life, but done in a way that also shows the elegance, grace, community and style that is unique to women in the mountains."
Have an awesome day today!
Temira