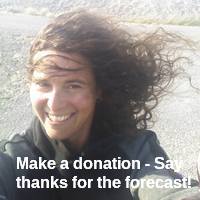 Get the email free through the end of January – try it out! Click here.

Thank you for using this forecast. I offer it freely so you can have more fun and plan your life. It does take significant time and energy to produce. If you find yourself using it often, or if you feel your life is enhanced by this information, please make a donation. I count on your support to pay my bills, and am deeply grateful to you for choosing to help support me. You can get this forecast via email by donation. The email subscription isn't $99/year. Not $50/year. Donating $12.34 or more gets you on the list for 12 months. Click on my photo to donate. Don't PayPal? Send a check to Temira @ PO Box 841 in Hood River. Thank you for your support and thank you for trusting my forecast.
Mt. Hood Snow Forecast – 5000′

4a-8a
8a-12p
12p-4p
4p-8p
8p-4a
Wednesday
1500′-2000′
Thursday
1500′->10,000′
Friday
10,000′->7000′->9000′
---
Mt. Hood Snow Forecast

Happy Wednesday morning. I went up and inspected Teacup and Meadows for you yesterday. I found some really lovely packed powder groom at Meadows and mostly powdery conditions with a few crusty areas at Teacup. This suggests to me that the backcountry skiing right now is crap, but you'll find amazing packed powder groom at the higher ski resorts today. Get it right now, because the extended forecast … sucks.
For Wednesday, there will be light snowfall during the day and flurries overnight. The snow level will be 1500′ early, 2000′ midday, and perhaps as low as 1000′ overnight. About 1" of snow falls during the day and a trace overnight. Widn will be WNW 15 until sunset and W 15 after dark.
Thursday starts out ok, but everything falls apart in the afternoon as warm, wet air arrives. The snow level will be 1000′ early, 5500′ in the afternoon, 6500′ in the evening, and 10,000′ after midnight. Whoa. The snow is gonna switch to rain sometime between 1pm and 6pm. Before that should be fun, both alpine and Nordic style. When the precip picks up, there might be an inch to a few inches of snow. After that, 2" rain falls overnight. Boo hiss no fun. Wind Thrusday will be W 15 early, W 20 in the afternoon, SW 25 early evening, and WNW 35 after midnight.
The not-fun continues on Friday with very strong wind and continuing rainfall. The snow level will be 10,000′ early, 7000′ in the afternoon, and 9000′ after midnight. About 1/2" rain falls by 4pm, followed by a trace overnight. Those amounts could be amped up by intense orographic effects due to the wind: WNW 35 early, a lift-stopping WNW 50-55 late morning through the evening, and WNW 40-50 overnight.
Saturday and Sunday look like this, assuming nothing changes in the forecast: Light rain or mist. Snow level 8000′-10,000′. NW wind at 35-40. The long-range forecast continues to show mild weather under a setup that looks decidedly summery in nature (if not in temperature).

Random Morning Thoughts
My day is super busy starting at 8am, so I'm going to leave you with your own thoughts today. May they be peaceful and comforting. Have an awesome day.

Disclaimer required by my grad school program: I am not your therapist, but I am seeing clients at this time at Comprehensive Healthcare in White Salmon. In the meantime, I am your weather forecaster. Take everything I say with a grain of salt, and consult with your actual therapist about your mental health issues. One other thing: I plan to keep doing this forecast indefinitely. Forecasting and counseling are both deeply meaningful and nourishing to me.

Gorge Wind Forecast
For Wednesday, we'll have light west wind all day long. On Thursday, we'll have E wind at 10-15 near Rooster Rock all day long. On Friday, we'll have an interesting situation: Classic Gorge Setup mid-winter. Strong high pressure offshore combines with lower pressure inland for a string of west wind days. The GFS and ECMWF are both agreeing with this, so it seems mostly likely to pan out.
Friday's forecast currently has W 15-18 or so through much of the Gorge early in the morning. In the afternoon, the temp rises to 55 degrees (river temps is currently 39) with west wind at 26-30 through the entire Gorge. River flow today is 204kcfs at The Dalles, a good number for The Wall. I normally won't issue a long-range wind forecast. However, given the unusual nature of this setup, I'll say that the GFS currently has Saturday and Sunday with W 23-27 east of The Dalles. If you're going to get on the water, please do so with a buddy – with the river temp so cold, hypothermia and death are possible if you break down.

Gorge Weather Forecast
It's cloudy out there this morning, unfortunately for SuperAmazingExtraSpecialMoon viewers. We'll see mostly cloudy sky today with occasional sprinkles and light rain after 7pm. Temps will be in the upper 30's early and mid 40's in the afternoon. Light west wind. 79% chance of rainbows. Thrusday looks dry in the morning, rainy in the afternoon, and torrential in the evening. Temps will be in the upper 30's early and mid 40's in the afternoon. Light east wind. 1% chance of rainbows. Friday onward looks like this: temps in the low 40's early and mid 50's – WARM! – in the afternoon. Scattered sprinkles to the west with mostly sunny sky. Moderate to strong west wind. 89% chance of rainbows.
For weather specifically directed at travel through the Gorge, please visit Temira's Awesome Travel Advisory Service on Facebook.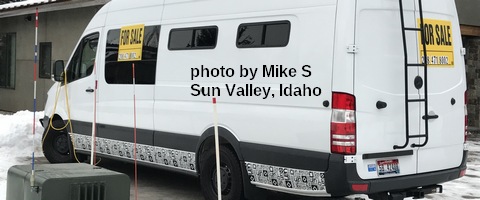 Road and Mountain Biking
Post Canyon is currently closed to all users to protect the trails from damage. Whoopdee is closed to bikes and horses for the same reason. Syncline remains mobbed. I'm not sure about the upper half of Nestor, but the Horse Camp section is in good shape with one tree down.

Upcoming Events
It's Wednesday. There's community yoga, free or by donation, at FISH Food Bank in Hood River at 10am. There's community meditation at Trinity Natural Medicine at noon. There's ping pong at the Hood River Armory at 5:30pm and Zumba at the St. Francis House in Odell at 6pm. There's by-donation YogaFaith (Christ-centered Yoga) at Pure Yoga in The Dalles at 6:45. There's a backcountry ski movie thing at Double Mountain tonight starting at 6:30, and Pfriem has a presentation on the Oregon Trail thingie… can't remember the name tomorrow night at 6pm.

Click here for the full events calendar.
Have an awesome day today!
Temira