Random Morning Thoughts
I'm the kind of girl who still gets a little thrill from being old enough to buy beer and liquor. I think that comes from purchasing too much beer before I was 21. Strangely, nobody ever carded me – I guess they saw the old soul hiding in my young body. I also grew up in the '80s, the heyday of the "Just say no" campaign, where the government, teachers, and TV told me that my brain would fry like an egg if I used drugs. (Having tried some drugs, I can assure you that they are more like putting your brain in a relaxing hot tub than putting it in a smoking hot frying pan.)
With those two things in my past, I giggle every time I drive into Washington, where marijuana is legal. And now I can giggle in my own state, Oregon, where marijuana will be legal to possess and grow as of July 1st, 2015.
I have a couple of comments: 1) huge change happens, and you/we can make a difference. 2) I'm not sure what drove the "War on Drugs", but it wasn't the government's charitable desire to protect us from the dangers of marijuana. Yes, drugs can do damage, but so can incarcerating people for drug offenses. And encouraging an illegal market run by criminals is more dangerous than drugs – just ask Mexico. I'm excited (and stunned and amused and a lot of other things) that pot/la mota/pakalolo/weed/420 is going to benefit us through taxation and regulation, rather than subjecting us to a criminal underworld and crazy government propaganda. I can only hope this helps Mexico, land of the cartels, as much as it helps us.

Thank you for using this forecast!
Please donate to support it!
Thank you to everyone for using this forecast. Does it save you time, gas money, or help you find more wind, powder, or just plain fun stuff to do? Please consider making a donation to keep it going! Use it here for free or make a donation and get on the mailing list for wind for the summer and Mt. Hood snow in the winter. It's not $99/year. Not $50/year. No, just $12.34 or more gets you on the list for 12 months. Do it via PayPal/CC by clicking on my happy photo below. Don't PayPal? You can send a check to Temira @ PO Box 841 in Hood River. Thank you for your support, and thank you for trusting my forecast. You guys mean the world to me.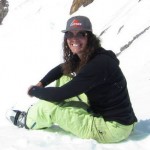 ---
Mt. Hood Snow Forecast – 5000′

4a-8a
8a-12p
12p-4p
4p-8p
8p-4a
Today
Tomorrow
The next day
Mt. Hood Snow
Still no snow in the forecast. For today, expect a cloudy day with a few showers on Mt. Hood, increasing after 1pm, but really no measurable rainfall. The snow level will be at 10,000 early and 12,000 in the afternoon with WSW wind at 15-20 in the morning and SW 20 in the afternoon, building to SW 40-50 overnight.
We'll see rain on Thursday, followed by sunbreaks and showers in the afternoon, for .3" or so of rain. The snow level will be 11,000 early, 8000′ late morning, 6500′ in the afternoon, dropping briefly to 4000′ overnight. However, the moisture will all move through before the snow level drops, meaning the best we'll see is a few snowflakes as the cold front moves through. Wind on Thursday will be SW 40-50 in the morning, becoming WSW 35-45 late morning and dropping to W 25-30 in the evening.
Expect icy roads on Friday morning before the temps warm up under sunny sky. The free air freezing level will be 6000′ early and 12,000′ in the afternoon, holding through Sunday morning. Wind will be NW 10 early Friday, becoming light and variable during the day.
Saturday looks clear, warm (50 degrees) and sunny. Sunday starts out warm and then sees some rain midday. No snow in the forecast. Sorry.
Gorge Wind
This morning started out with easterlies driven by a .05 gradient. Expect the east wind to hold at 15-18 at Rooster and less at Steven's Locks for the morning, picking up to 22-25 at Rooster and 17-20 at Steven's Locks this afternoon. Thursday starts with westerlies at 10-13 through much of the Gorge, picking up briefly mid-afternoon to 15-18 from Steven's Locks to Mosier and gusty 22-25 from Lyle to Maryhill, also blowing briefly at Arlington (maybe a bit stronger).
Friday looks like an east wind day at 21-24 or so, Saturday brings stronger easterlies at 26-30, and Sunday, depending on timing, may bring a shot of strong westerlies.
Gorge Weather
You know it's a good day when you wake up, sit down at the computer, look out the window, and see a rainbow. We'll see a mostly cloudy day today with a few sunbreaks and a few showers (but not many of either). Temps will be in the low 40's this morning (I saw my breath when I walked outside) and low 60's this afternoon. Rainbow chances, since I already saw one, are 100%, but honestly, I think that was a fluke. Given the weather setup, rainbows are not all that likely today.
Tomorrow looks cloudy with a few light showers. Temps will be in the low 50's early and upper 50's in the afternoon. Rainbow chances are 95% after noon and less in the morning. High pressure builds in on Friday, likely leaving us with an inversion cloud in the morning and sun in the afternoon. If it stays cloudy, just go west or up to find some sun. Temps will be in the mid 40's early and upper 50's in the afternoon. Saturday looks like Friday. We'll probably see some showers on Sunday along with rainbows.
White Sprinter Van of the Day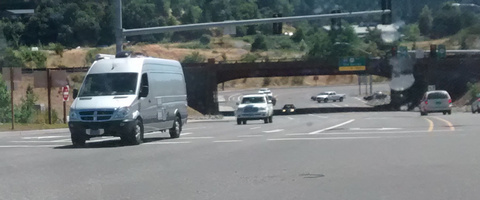 Road and Mountain Biking
I didn't go riding yesterday, so I feel quite out of the loop. I suspect you'll find some nice dirt on Syncline and Whoopdee, and I suspect Post is muddy. But what do I know? I do know that we'll see light wind and few, if any, showers near Hood River today, so road biking is a good option.


The Clymb: free membership. Cheap gear.
Temira approves. Click to join.
Events – email me if I've missed any outdoor-related events
It's Wednesday, and that means you could have gone on a running interval workout at 7am if you were awake and not watching rainbows like I was. I'm going to have lunch with my friend Matt and then see my therapist in Vancouver today, but your probably don't want to do that. After that, I'm going to train Aikido with Neil and crew at Trinity in Hood River at 6pm. Aikido is fun. It's not free, but it's fun, and I encourage you to try it. Also this evening, you can play ping pong at the Hood River Armory at 5:30 or join the Columbia Gorge Running Club in Stevenson for a track workout.
Coming up tomorrow, head to Double Mountain for a fundraising party in support of Cascadia Wildlands, working to give rural communities a voice when public lands are used for development and other projects. Friday is the annual Fashion Show, benefiting the Hood River Christmas Project. The Gorge Gear Swap is next weekend at HRVHS (drop off gear on Friday, shop on Saturday). The Mt. Hood Independent Film Festival is next Friday through Sunday, Mt. Hood Meadows employee orientation is next weekend, and so is the Oregon Mediation Association annual conference.
On Sunday, the Columbia Gorge Tri Club folks are riding the Petersburg Loop at 10am. Finally on Sunday, local filmmaker and cyclist Manny Marquez's film Psychopath plays at Skylight as part of the film festival. It's a fantastic documentary about his uncle's haunted house theme park. Trust me on this one. Go see it.
In interesting events not related to sports this weekend, there's a Death Cafe in Hood River on Saturday at 2pm at the Library. I'm pretty excited. I've always wanted to go to a death cafe.
Have an awesome day today!
Temira