Random Morning Thoughts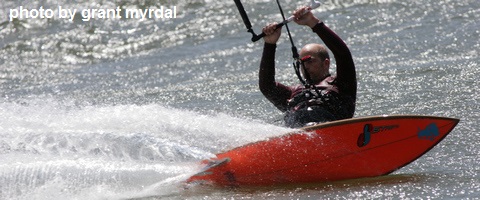 I wrote and erased the Random Morning Thoughts several times this morning because my mind is on suicide, and it's a tough topic. Robin Williams took his own life a few days ago, and my friend's Aunt Bee took advantage of Death With Dignity yesterday (in fine form, with a smile on her face, a sense of humor, and an incredible amount of bravery).
I've lost several friends to suicide, and when I think of them, I feel compassion to the very depths of my soul. Depression is awful; the emotional pain fills every cell of the mind and body. The pain feels hopeless, timeless and endless, and when you're in that space, you cannot conceive of any other way of being. Perhaps the worst part about depression is the feeling that you are completely disconnected with others.
Our society's view of mental illness doesn't help. For the most part, when a friend is in physical pain, we turn toward them and offer assistance. But many times, when a friend is in deep emotional pain, we turn away. I'm blessed to have friends who don't turn away when I'm hurting. I hope you are too.
And I encourage to you to treat mental pain in your circle of friends in the same way you'd treat physical pain: with kind words, compassionate questions, frequent visits, and understanding. Because those are the things that will help your friends recover – when you turn away from emotional pain, you make your friends' illness worse. May you all find peace with your emotional pain, may you find the strength to support your friends through their pain, and may you find some understanding of your friends who have left this world by suicide.

Thank you for using this forecast! Please donate to support it!
Thank you to everyone for using this forecast. Does it save you time, gas money, or help you find more wind, powder, or just plain fun stuff to do? Please consider making a donation to keep it going! Use it here for free or make a donation and get on the mailing list for wind for the summer and Mt. Hood snow in the winter. It's not $99/year. Not $50/year. No, just $12.34 or more gets you on the list for 12 months. Do it via PayPal/CC by clicking on my happy photo below. Don't PayPal? You can send a check to Temira @ PO Box 841 in Hood River. Thank you for your support, and thank you for trusting my forecast. You guys mean the world to me.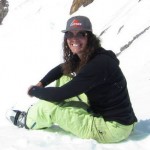 ---
Gorge Wind
We started off the day with west wind in the teens near Hood River and single digits out east, supported by gradients at .05 (pdx-dls) and .02 (dls-psc). We'll see the wind at 15-18 this morning, slowly building to hit the gusty 21-24 range from Stevenson to Mosier early in the afternoon, with a chance of 26-30 from Stevenson to Doug's after 2pm as Upper Level Low #2 (ULL) moves across the region and high pressure builds off the coast. That prediction comes with the same disclaimer as yesterday's: the ULL will likely trigger thunderstorms, and that will mess up the wind.
It looks like low clouds will make it to Hood River or a bit further east tomorrow, meaning the western Gorge will see gusty, up-and-down, 10-15mph wind. East of Hood River, expect 15-18 early and 21-24 in the afternoon, filling in all the way to Roosevelt. Friday starts off light and picks up to 22-25 in the afternoon.
Your long-range, and nearly completely useless, weekend forecast suggests light westerlies on Saturday and stronger westerlies on Sunday with a Classic Gorge Setup moving into place during the day on Sunday and holding for a few days early next week. Again, that forecast is completely unreliable, and I suggest you disregard it.
There's not much happening out on the coast as far as wind goes, but there's a W swell 4@10 today and W 4@13 tomorrow.

Today's Gorge Wind – these are ranges for the average speed, not a predicted wind range. =)

Your favorite beach
Dawn
Patrol
9am-
11:30a
11:30a-
3pm
3pm-
dusk
Rooster's Rocks
raindrops
keep
falling
on your
bare
butt
Steven's Locks
light
8-11
15-18
???
Hatchery/White Salmon Sandbar (minus a few for Hood River)
13-16
17-21
gusty
21-24+
more ???
Doug's, etc.
8-11
13-16
gusty
21-24+
more ???
Rufus, etc.
light
5-8
15-18
more ???
Roosevelt, etc.
light
8-11
12-15
lightning
Temira's sail: 35-40: 2.9 / 30-35: 3.2 / 26-30: 3.5
23-26: 4.0 / 20-23: 4.5 less than 20: something bigger!
Tonia's kite: 35-40: 4m / 30-35: 4-6m / 26-30: 5-7m
23-26: 7-9m / 20-23: 8-10 / 15-20: 10-12 / 10-15: 13-15.
Advertising Worth Reading
Camp 1805 Distillery on the Hood River Waterfront

Here's a sad story: In 1805, Lewis and Clark were camping in Gorge. Unfortunately they'd run out of whiskey upriver, and hadn't had a drop in months. Well, that won't happen again. The Gorge has a distillery now: Camp 1805, on the waterfront. Camp 1805 makes Whiskey, Rum and Vodka on site in a handmade copper still. Enjoy handcrafted cocktails in a laid back setting (no minors please) and watch the whiskey and rum flow from the still. Bottle sales on site too. Food coming soon. Let no flask go unfilled, let no life go timidly by. Camp 1805.
Gorge Weather
At 6:30am, we were in the calm between the storms, with plenty of blue sky and colorful clouds. Don't you worry, though, because things will get more interesting today as two low pressure systems move through. The first, will move through this morning, spreading showers through the Gorge. The second, more powerful system, will move in this afternoon, likely bringing heavier rain and a chance of thunderstorms (less chance than yesterday due to cooler temps and less instability). Unfortunately, we are likely to see a big cloud shield, which will block the sun, and drop the rainbow chances down to 13% today. Temps will be in the mid 60's early and the mid 70's in the afternoon.
Tomorrow starts with showers and a chance of thunder and lightning. Temps will be in the upper 50's early and low 70's in the afternoon. Rainbow chances will peak at 62% around 1pm. Friday looks partly cloudy, quickly becoming sunny. Temps will be in the upper 50's early and upper 70's in the afternoon.

White Sprinter Van of the day – Photo by Terrydactyl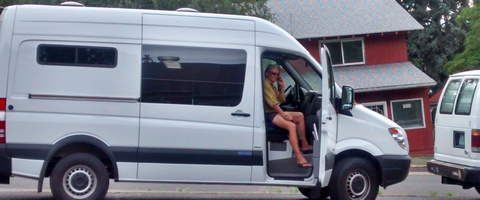 Road and Mountain Biking
I'm going to issues a TACKALERT for the 44 Road Trails, because they got a lot more rain up there yesterday than we did down here. I suspect you might even find puddles at the higher elevations. Hood River received .1" of rain yesterday. Parkdale got 1". So, expect mixed, but much better conditions in Post Canyon and good dirt at Syncline. Hospital Hill and Whoopdee are still closed due to fire danger. Highway 30 has reopened between Mosier and The Dalles.


The Clymb: free membership. Cheap gear.
Temira approves. Click to join.
River Levels / Cheezburger update
The John Day Dam is reading 131-150kcfs. The Dalles Dam is putting out 147kcfs. The White Salmon is around 2.2′. If you plan on running the White Salmon yourself, remember that there is a riverwide log about 150 yards below Cave Wave. The Columbia River is 72 degrees.
Events – email me if I've missed any outdoor-related events
Coming up tonight, there's free Tai Chi at Wilson Park in Hood River at 5:30, there's the women's Post n' Pinot mountain bike ride at 5:30 at Dirty Fingers, there's a track workout at 6pm in Stevenson and there's ping pong at the Hood River Armory at 6:30. There are sailboat races at the Hood River Marina tonight (sometimes you can get on a boat if you show up with a six pack).
Movies in the Park is showing the Lego Movie in Cascade Locks on Friday night, and Wall-E is showing at Jackson Park in Hood River on Saturday Night.
The biggest thing going this weekend is the Kleeway work party, so mark your calendar for Saturday morning, when the trail adopters need all runners, bikers and equestrians to help clear sticks off the trail corridor in preparation for a descending-only trail. Wear long pants and bring hand saws and gloves, and Meet at 8:30 at Family Man, and please carpool.
Have an awesome day today!
Temira