Random Morning Thoughts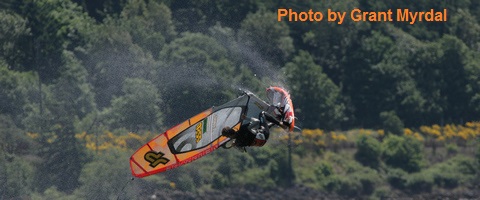 Today is August 6th, and this marks the 69th anniversary of the day the United States dropped the atomic bomb on Hiroshima. I was living in Japan for the 50th anniversary and wanted to go to Hiroshima to pay my respects and give my apologies, but the Japanese are big on respect, and I felt that it would be disrespectful for a gaikokujin (white person) to be in that place at that time. Instead of jumping on the Shinkansen, I stayed in my little town and spent the day ashamed of what my people had done.
I worry when I see stories of drones and missiles and weapons of mass destruction. Taking the life of another person into our hands is the ultimate responsibility, and we have placed a huge distance between killer and proposed victim. Killing has become routine and easy and thoughtless. We have turned war into a video game; people with joysticks and keyboards kill unseen humans thousands of miles away.
And while this may reduce deaths, injuries, and PTSD on "our side", it allows killing to happen without the mitigating sense of responsibility developed by knowing a culture and the people in that culture. Distance feeds the idea that we are "Us" and those far-away folks are "Them", and this us vs. them mentality makes it very hard to create the workable truces and understanding that will lead to treaties and cooperation, rather than more violence. I wonder if, by just getting to know the people around us who we consider "them", we could slowly create more understanding across a wider web of humanity.

Thank you for your donations during the Summer 2014 Pledge Drive!!!
Thanks to all of you for your support over the last month. You guys have shown me an incredible amount of support and love and appreciation, and I'm humbled and grateful, and my bikes will stay repaired for the rest of the year. And I'll stay caffeinated and able to forecast almost every day. You guys rock. New to this forecast? Use it here for free or make a donation and get on the mailing list for wind for the summer and Mt. Hood snow in the winter. It's not $99/year. Not $50/year. No, just $12.34 or more gets you on the list for 12 months. Do it via PayPal/CC by clicking on my photo. Don't PayPal? You can send a check to Temira @ PO Box 841 in Hood River. Thank you for your support, and thank you for trusting my forecast. You guys mean the world to me.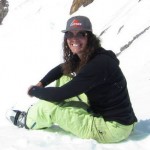 ---
Gorge Wind
It's windy already, duh. You knew that because your neighbor's garbage can (not yours, of course!) was rolling down the street when you wandered out to walk the dog this morning. I was going to talk about the wind, and then I remembered that I should mention the wildfire: a fire started last night near Rowena Crest, and highway 30 is closed east of Mosier. I am not sure how quickly the fire is spreading, but keep this in mind for both your travel and windsporting needs today. And cross your fingers for the folks in Rowena and The Dalles.
Anyway, on to the wind, which is not good wind for fighting fires. It's going to be very windy today. Early morning gradients were .13 (pdx-dls) and .07 (dls-psc), signifying that you will be happily windsporting away somewhere between Swell and Rufus starting right about now. Expect 28-32 today in those river sections with 23-26 at Stevenson and Roosevelt.
Tomorrow sees the approach of a weak low to the coast, but we'll still start with 17-21 and see 24-28 by noon, strongest from Hood River to Mosier early and from Stevenson to Rufus in the afternoon. We may see a period of 26-30 in the afternoon.
Friday starts with 15-18 and picks up to gusty 24-28 in the afternoon. At this point, Saturday looks like mid to upper 20's and Sunday looks like low 20's. But you know how I feel about those long-range forecasts. The general trend is positive. I will say that.

Today's Gorge Wind – these are ranges for the average speed, not a predicted wind range. =)

Your favorite beach
Dawn
Patrol
9am-
11:30a
11:30a-
3pm
3pm-
dusk
Rooster's Rocks
you have
better
things
to do!
Steven's Locks
8-11
15-18
15-18
23-26
Hatchery/White Salmon Sandbar (minus a few for Hood River)
24-28
28-32
28-32
24-28
Doug's, etc.
15-18
20-24
28-32
28-32
Rufus, etc.
15-18
20-24
28-32
28-32
Roosevelt, etc.
10-15
10-15
21-24
23-26
Temira's sail: 35-40: 2.9 / 30-35: 3.2 / 26-30: 3.5
23-26: 4.0 / 20-23: 4.5 less than 20: something bigger!
Tonia's kite: 35-40: 4m / 30-35: 4-6m / 26-30: 5-7m
23-26: 7-9m / 20-23: 8-10 / 15-20: 10-12 / 10-15: 13-15.
Advertising Worth Reading
Stoked Roasters on the Hood River Waterfront

STOKED ROASTERS is here to support your daily shred, be that SUP, run, bike, hike, kayak, or any other adventure that you seek. In doing that we are here to provide the very fuel to ignite the fire. Come visit us before or after your session for your favorite coffee, just the way you like it.
Gorge Weather
It's a fine day, people open windows… Mid 60's this morning. Low 80's this afternoon. Zero percent chance of rainbows due to rain – 100% chance of rainbows on the river. Thursday looks like upper 50's early and low 80's in the afternoon. Friday looks like Thursday.

White Sprinter Van of the Day with green, red and brown Poison Oak of the Day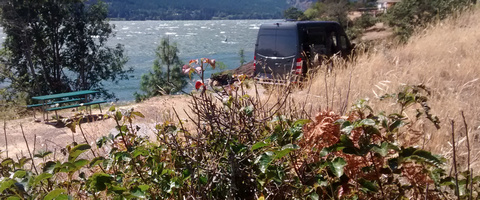 Road and Mountain Biking
All trails except Hospital Hill and Whoopdee are open. Those two are closed due to extreme fire danger. Speaking of fire danger, Highway 30 east of Mosier is closed this morning due to a wildfire, which means you cannot ride to Rowena Crest, and you cannot ride Marsh Cutoff.


The Clymb: free membership. Cheap gear.
Temira approves. Click to join.
River Levels / Cheezburger update
The White Salmon is at 2.2′. Please be very careful if you run it, as there is a riverwide log about 150 yards below Cave Wave. Cheezburger reminded me yesterday that the Perseid Meteor Shower is next week. The John Day dam is putting out 104-150kcfs and The Dalles dam is reading 142kcfs. Columbia river temp is 70 degrees at The Dalles Dam.
Events – email me if I've missed any outdoor-related events
There's women's mountain biking leaving Dirty Fingers at 5:30 (Post n' Pinot – a free pint or glass of wine if you finish), there's a track workout in Stevenson with the Columbia Gorge Running Club at 6, there's ping pong at the Hood River armory at 6:30, Sailboat racing at the Hood River Marina, and free Tai Chi at Wilson Park at 5:30.
On Friday night, there's Movies in the Park in Cascade Locks, and on Saturday Night, there's movies in the park at Jackson Park in Hood River. Coming up this weekend, there are downwind races for sailboats, outriggers, surfskis, windsurfers, and kiters from Stevenson and Cascade Locks to Bingen and Hood River, so be prepared for lots of traffic on the river!
Have an awesome day today!
Temira